Pierre Marcus - Following the right way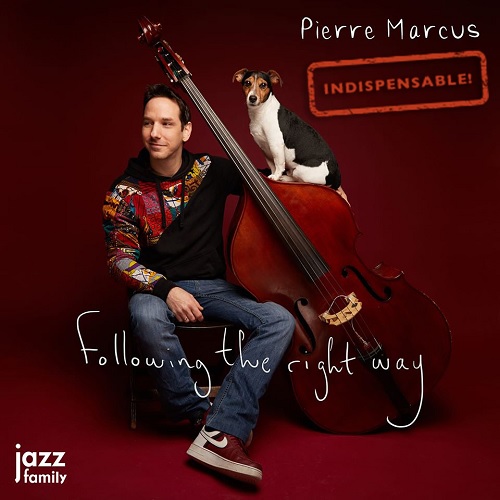 P
Jazz Family / Socadisc
Pierre Marcus s'est d'abord tourné, en autodidacte, vers la basse électrique et a joué dans des groupes funk. Ce n'est qu'à 23 ans qu'il entre au Conservatoire de Nice et se tourne vers le jazz.
La rencontre avec François Chassagnite, trompettiste du premier Orchestre National de Jazz réuni par François Jeanneau et du Big Band Lumière de Laurent Cugny, sera aussi déterminante pour sa carrière. Il croise ensuite le saxophoniste Pierre Bertrand avec qui il enregistre Fast Line en 2015. La même année, il forme son propre quartet et enregistre Longue Attente. En 2018, sort Pyrodance, en grande partie, avec la même équipe que pour ce Following the right way.
Aux saxophones alto et soprano, Baptiste Herbin qui a étudié au Conservatoire de Paris, sous la direction de Ricardo Del Fra. En 2011, il a enregistré Brother Storm, avec le pianiste Pierre De Bethmann, Sylvain Romano et Dédé Ceccarelli. On l'entend au soprano, sur les deux versions de Bulgarian Time, thème sautillant inspiré d'une mélodie traditionnelle (très beau solo sur la plage d'entrée) et sur Bye Bye Philou. Ensuite, à l'alto sur des plages comme Following the right way ou sur la ballade Marienonica.
Au ténor, Irving Acao qu'on avait découvert dans le quartet de Frank Amsallem (album Gotham Goodbye). Né à Cuba, il a beaucoup joué avec Chucho Valdes puis, arrivé à Paris, il a croisé Alain Jean Marie et Stéphane Belmondo. Sur Pyrodance, il n'était invité que sur deux plages, ici, on peut l'entendre notamment sur Misthios, thème écrit en souvenir d'un séjour en Grèce; sur African Brothers dédié aux rencontres effectuées à Brazzaville et Yaoudé, sur Mister Chassagnite, en souvenir du trompettiste;  sur Bemba Swing de Monk et Nostalgia in Time Square de Mingus.
A la batterie, Thomas Delor. Né à Nice, il a d'abord été professeur de mathématique avant de gagner Paris et de se consacrer entièrement au jazz. On l'a entendu en compagnie du guitariste Philippe Petit (album Quaor) et au sein du Chamber Metropolitan Trio de Matthieu Roffé (trois albums dont Tempus fugit).
Au piano, petit changement par rapport à Pyrodance, Fred Perreard cède sa place à Simon Chivallon qui a enregistré, à son nom, Flying Wolf avec Julien Alour et Baptiste Herbin (beaux solos sur Bulgarian Time et Bemsha swing).
Enfin, selon les plages, Pierre Marcus accueille des invités. D'abord le trompettiste Renaud Gensane, bien mis en valeur sur Mister Chassagnite, Nostalgia in Time Square et Following the right way. Ensuite, au vibraphone, Alexis Valet sur la ballade Bye Bye Philou en compagnie du soprano d'Herbin.
Sur la deuxième version de Bulgarian Time, qui clôt l'album, le soprano d'Herbin est rejoint par Aleksandar Dzmigov, à la gaita, une petite cornemuse qu'on trouve au Portugal et dans les Balkans: un apport de couleur locale.
Enfin, sur deux titres, Simon Chivallon cède sa place à Jerémy Hinnekens: sur la ballade Bye bye Philou et sur Tricotism d'Oscar Pettiford joué en trio piano-basse-batterie.
Ainsi au total, l'album réunit 7 compositions du leader, autant de témoins de ses rencontres et voyages, et trois "classiques" qui rendent hommage à des inspirations majeures: Monk, Mingus et Oscar Pettiford (belle intro de Nostalgia in Time Square et subtil unisson contrebasse-piano sur Tricotism).
Un album qui reflète la générosité du leader.
© Claude Loxhay