Phil's Music Laboratory - Repetitive Mind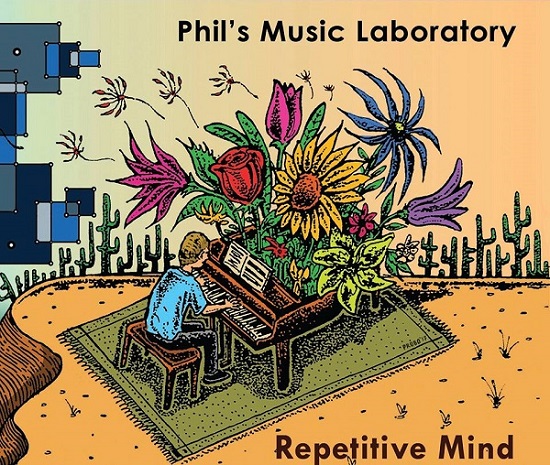 P
Phase to Phase
Phil's Music Laboratory est un septet dirigé par Philipp Rüttgers, le pianiste du Chronometer's Orchestra dont on a chroniqué dernièrement un album.
Né à Berlin, Rüttgers s'est installé à Amsterdam et collabore avec le Conservatoire d'Arnhem. Il a son propre trio, Toons, et fait partie du KA-MA quartet de la saxophoniste Katharina Maschmeyer, groupe qui a enregistré dernièrement A Love Supreme, un hommage à Coltrane, en compagnie du percussionniste indonésien Nippy Noya.
Au sein du septet, on retrouve la trompettiste américaine Allison Philips, qui est membre, elle aussi, du Chronometer's Orchestra et dont un EP a été chroniqué il y a peu.
Au saxophone alto et au soprano, Miguel Boelens, musicien formé au Conservatoire d'Arnhem. Membre de Contraband, groupe fondé par le tromboniste Willem van Manen, il a aussi joué avec le saxophoniste Hans Dulfer et Anton Goudsmit, le guitariste du quartet d'Eric Vloeimans.
Au saxophone ténor et à la clarinette basse, Nils van Haften, membre du Dutch Jazz Orchestra (album Moon Dreams), du Bob Brookmeyer New Art Orchestra et du Clazz Ensemble, avec Tineke Postma.
Au trombone, Kobi Arditi, musicien né en Israël qui s'est fixé à Amsterdam. Il fait partie du quintet de cuivres K.O.Brass, avec le trompettiste Randell Heye et The Amsterdam Jazz Orchestra (album Finding the way).
A la contrebasse, Tobias Nijboer qui a étudié à Amsterdam et New York, tout comme Felix Schlarmann, batteur qui a enregistré, en quintet, Counter Life, avec Franz von Chossy, le pianiste du quartet de Pascal Schumacher.
Bref voilà une équipe de musiciens expérimentés.



Pour Repetitive Mind, deuxième album de la formation, Rûttgers a écrit dix compositions originales, ce qu'il appelle "a journey through the abysses and pearls of our sociaty": "I research for emotions present in our everyday world aiming to express the frustrations, uncertainties, and the inner fight between ourselves and our brain, while also showing the positiveness and joy in our life".
Dès la première écoute, une évidence saute à l'esprit: le septet fait preuve d'une belle homogénéité et d'une parfaite cohésion. Sous l'impulsion énergique de la rythmique, frappe sèche de Schlarmann et écoute attentive de Tobias Nijboer, Rüttgers use de sa section de souffleurs, à la manière d'Andy Emler avec son MegaOctet, comme d'une masse sonore à la palette très large, tout en gardant de larges espaces d'impros solos.
Les quatre souffleurs et le piano sont ainsi mis en valeur à tour de rôle: belle alliance entre saxophone alto et clarinette basse sur Brain Prison, parfait équilibre entre les quatre souffleurs sur Spiral, avant solo de trompette et de saxophone alto, saxophones alto et ténor mis en avant sur Story of squares and points, après intro de piano sur fond de batterie et solo de Rüttgers, intro de trombone sur Agile Mountain Goat, avant que le reste du septet ne se joigne, débouchant sur un  solo de trombone avec sourdine.
Sur Rage, c'est la contrebasse qui dialogue avec les souffleurs, avant que ne déboule le ténor rageur de Nils van Haften.
Chorale se déroule sur un tempo plus lent, dominé par la clarinette basse, alors que Ambiguous Times adopte un tempo vif, avec solo de contrebasse.
Changing Landscapes permet à Allison Philips de prendre un beau solo de trompette et Desert Flower s'ouvre sur une intro de piano, sur fond de cymbales, avant solo de trombone.
Enfin, sur Repetitive Mind, un thème qui se développe en circonvolutions obsédantes, on assiste à un beau dialogue entre saxophones alto et ténor.
Que ce soit pour sa masse sonore compacte ou ses espaces de solos, ce Music Laboratory ne peut que séduire: une formation à découvrir.
Claude Loxhay