Philippe Mouratoglou – Ricercare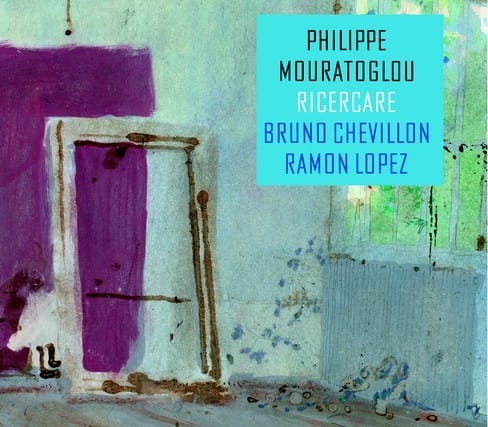 P
Vision Fugitive
De link tussen de Franse kunstenaar Georges Braque, de zestiende-eeuwse luitspeler Francesco Canova da Milano en Jimmy Rowles? Gitarist Philippe Mouratoglou laat het allemaal horen en zien aan de hand van zijn nieuwste trio-cd inclusief kunstboekje.
Philippe Mouratoglou is een meesterverteller op akoestische gitaar. Kies willekeurig een opname uit zijn discografie en je komt nooit bedrogen uit, van solowerk tot zijn releases in duo, trio of uitgebreider gezelschap. Hij verdiepte zich in het verleden reeds in het werk van Benjamin Britten, John Dowland, Franz Schubert en Gabriel Fauré.
Voor 'Ricercare' haalde hij bassist Bruno Chevillon en drummer Ramón López mee naar de studio. Openingstrack 'Visions (Cherokee)' is opgebouwd rond een omzichtig beroeren van snaren zij het wel met onderhuidse spanning die extra opgedreven wordt door het cymbaalwerk van drummer López. Anthony Phillips zijn 'The Geese & The Ghost' is niet ver weg. Naargelang de cd vordert, worden deze krijtlijnen steeds heftiger uitgetekend.
Mouratoglou en zijn twee compagnons wisselen echter regelmatig van register. Zo gaan ze ook al eens kuierend de impressionistische toer op, keren nog verder terug in de tijd ('Ricercare XXXVIII' – Francesco da Milano) of wagen ze zich aan 'The Peacocks' van Jimmy Rowles. Dat de gitarist daarbij meestal opteert voor "open tuning" helpt om een heel verscheiden klank te bekomen, net als het feit dat hij afwisselend op een zessnarig, twaalfsnarig, klassiek of baritonmodel speelt. De drie etaleren een vorm van "écriture automatique" zonder zich echter vast te hechten aan voor de hand liggende canons van het genre.
Hoes en bijgevoegd boekwerkje (een echt kunstobject) zijn van Emmanuel Guibert die zich liet inspireren door het atelier van Georges Braque. De tekenaar werd vorig jaar (2020) nog bekroond met de Grote Prijs van de stad Angoulême en won daar bovendien in 2017 de Prix René Goscinny van het grote stripfestival. Verschenen bij het label (mede opgericht door Mouratoglou) dat vorig jaar nog in eenzelfde lijn 'Wild Beasts' van Jean-Marc Foltz uitbracht. Wie wil zich met dergelijke uitgaven beperken tot een digitale link?
© Georges Tonla Briquet



Musici:
Philippe Mouratoglou: gitaren
Bruno Chevillon: contrabas
Ramón López: drums

https://www.visionfugitive.fr/fr
https://open.spotify.com/album/59tnB5zVPbRxnhRvq5mPIm