Peter Jensen, Morten Büchert & DR Big Band – Light Through Leaves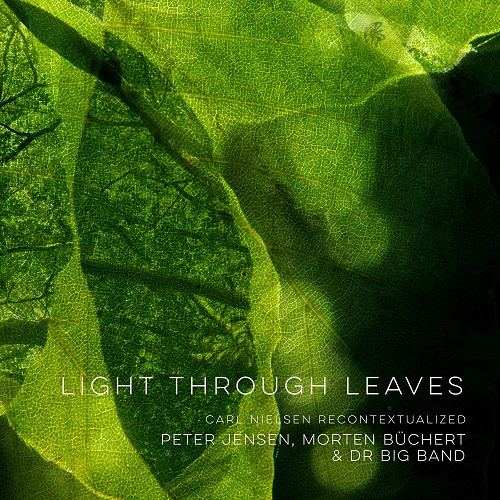 P
ILK
Op 'Light Through Leaves' gaan Peter Jensen, Morten Büchert & Danish Radio Big Band aan de slag met werk van de Deense componist Carl Nielsen. Een hallucinante luisterervaring.
Carl Nielsen (1865-1931) was violist, orkestleider en componist maar bleef ondanks zijn veelzijdigheid een buitenbeentje. Pas na zijn overlijden volgde de erkenning. Het trieste verhaal van een miskend genie dat een eigenzinnig leven leidde, een eigenschap weerspiegeld in zijn muziek.
Peter Jensen is op zijn beurt een hedendaags Deens componist, arrangeur, producer, orkestleider en muzikant die reeds verschillende internationale prijzen in de wacht sleepte en recent nog opmerkelijke cd's afleverde ('Crystal Palace'-ILK, 'Stand On Your Feet And Fight'-ILK) terwijl producer Morten Büchert zijn reputatie te danken heeft aan de sonische creaties die hij uit zijn arsenaal instrumenten tovert. Beide heren schreven de partituur voor dit concept. Om hun ideeën de nodige grandeur te verlenen, betrokken ze de DR Big Band bij hun project. Dit orkest (opgericht in 1964) werkte met de grootste namen zoals Thad Jones, Jim McNeely, Miles Davis en Stan Getz.
IJle spacetonen die stilaan uitgroeien tot een epische dimensies met aanzwellende orkestraties weerspiegelen perfect de openingstitel, 'Light Through Leaves'. Tot abrupte electronics dit hemels plaatje verstoren en het spanningselement geïntroduceerd wordt. Het volume wordt imposanter om al even snel gereduceerd te worden tot bizarre effecten die zo uit de catalogus van Raymond Scott en zijn 'Manhattan Research' geplukt lijken. Tot het toerental van je platenspeler ongewild gewijzigd wordt, althans zo klinkt het. Plots verheffen zich ook nog scheve en schotse trompetklanken die duiden op nog andere onderliggende lagen. Het is een surrealistische en barokke aanloop naar het meer vertrouwde universum van Carl Nielsen. In 'Ripples' zetten ze de deur op een kier om toegang te verlenen tot Nielsens bekendere omgeving van akoestische instrumenten in een mooi uitgelijnde soundtrackformatie. Pure symfonische poëzie die de geest van zijn oeuvre in alle glorie laat weerklinken.
De korte opener van kant B, 'Celebration' belicht aanvankelijk de magistrale impact om al snel te verglijden naar een meer broos weefsel van muzikale vondsten. De feeërieke sfeerscheppingen van 'Crop Circles' en 'Huntsmen' sluiten hierbij rechtstreeks aan. Licht golvend en met uiterste omzichtigheid worden de contouren bekrachtigd.
Het is onmogelijk deze opname samen te vatten op papier. Luisteren is beleven. Denk daarbij aan Matthew Herbert en Louis Cole die verloren gelopen zijn in de decors van 'Fantastic Beasts And Where To Find Them' of ook nog met hun bigbands de strijd aangaan met Doctor Strange.
Voor alle duidelijkheid, Nielsen zijn muziek werd niet in een jazzjasje gegoten. Wel werden flarden van zijn symfonieën gekoppeld aan nieuwe elementen. De DR Big Band kreeg daarbij de opdracht enkel deze laatste stukken te spelen en de oorspronkelijke partituren zo goed als helemaal links te laten liggen. Het vereiste van Jensen en Büchert een gedetailleerde dissectie van de originelen om daaruit de meest essentiële ankerpunten te halen en hiermee van start gaan. Doorgedreven recyclage en gedurfde herwerkingen waren de basisideeën. Dat dit in twee verschillende etappes tot stand kwam (26 en 27 oktober 2015, 10 tot 12 juni 2020), vermindert geenszins de uniciteit van het hele opzet.
Digitaal beschikbaar maar ga voor de flashy gele vinyl editie! Zeker voor wie 'The Planets' van Gustav Holst tot zijn favorieten rekent. Absolute tip voor de grote concertzalen te lande.
© Georges Tonla Briquet