Peter Hertmans Quintet - Live at Dommelhof (jpg)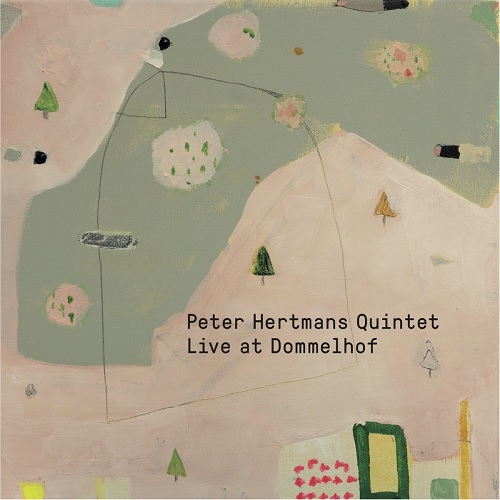 P
Elnegocito Records
Que tombe dans ma boite aux lettres ce cd huit mois après sa sortie me fait penser que d'autres ont sans doute déjà eu la très bonne idée de le chroniquer (et vérification faite, c'est le cas par mon ami et fin connaisseur Claude Loxhay). Au risque de répéter ce qui a déjà été dit, je ne peux m'empêcher d'écrire sur cette musique qui m'a fait un bien fou dans une période complètement dingue où la seule musique live qu'on puisse se mettre dans les oreilles est celle gravée sur galette.
« La parution d'un CD live est complètement différente d'un album en studio. Les imperfections de l'excitation du moment font partie intégrante du charme de la chaleur du live difficile à atteindre en studio » dit Peter Hertmans dans les notes de pochette. On lui répondra qu'en effet rien n'égale la liberté et l'interaction qu'offre la performance en public et que son album en est un parfait exemple.
Pour ce quintet live au « Dommelhof » de Pelt, le guitariste réunit un quintet d'enfer : Steven Delannoye au sax-ténor, Nicola Andrioli au piano, Jos Machtel à la contrebasse et Marek Patrman aux drums. Le saxophoniste propose en ouverture une de ses compositions aux accents très boppish où chaque musicien développe son discours avec une énergie communicative, en particulier Nicola Andriloi très en verve déjà il y a huit ans (il enregistrait à cette époque « Côté Jardin » avec Philip Catherine).
« Racconti » du même Nicola Andrioli est une petite merveille de lyrisme et de musicalité tel que le pianiste des Pouilles peut en distiller dans ses projets.
Les trois compositions de Peter Hertmans forment l'ossature d'un répertoire dynamique et ouvert où les solos de Delannoye et Andrioli, sur « The One Step » entre autres, s'entrelacent dans les notes de guitare avec une fluidité parfaite. « Merci Philip » s'ouvre sur une improvisation du guitariste mêlant énergie et finesse dans un esprit très « Catherine » le morceau débutant en douceur avant de s'envoler dans un groove intense, souvenir sans doute du « Guitar Orchestra » auquel Philip l'avait invité en compagnie de Pierre Van Dormael, Victor Da Costa et Quentin Liégeois. Le solo de Steven Delannoye suit dans la même construction de détente-tension, ainsi va aussi le solo de piano qui suit passant d'un intimisme velouté à la puissance d'accords à la McCoy Tyner. « Is That You » clôture ce très beau concert avec le sax de Steven Delannoye qui avait déjà participé à la version studio enregistrée sur « The Other Side ».
Une album-témoin d'une session live où les quatre musiciens atteignent en même temps un niveau de musicalité et d'interconnection remarquable.
© Jean-Pierre Goffin