Peter Hertmans Quartet - Live at Dommelhof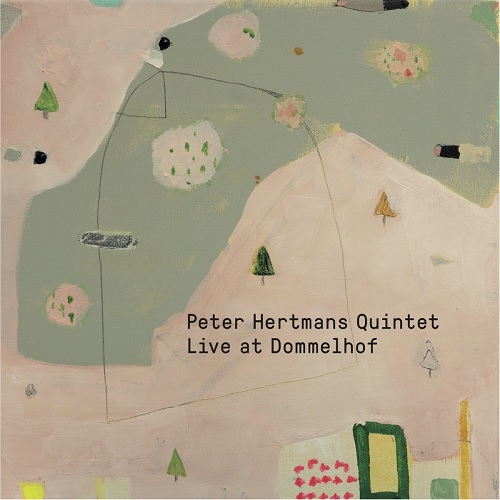 P
El Negocito
Peter Hertmans est un de nos meilleurs guitaristes, avec une discographie comportant une quinzaine de titres.
Son dernier album, enregistré en trio avec Benoît Sourisse et André Charlier, date de 2018. Voici que sort Live at Dommelhof, le club très actif de Neerpelt. L'album a été enregistré en 2012 mais la musique n'a pas pris une ride, au contraire, ce CD comble un vide et présente quelques nouveautés.
Cet enregistrement live s'intercale entre deux albums de Peter, en quartet avec Daniel Stockart au saxophone alto: Cadences de 2008 et Dedication de 2015 (chroniqué en son temps). Par ailleurs, si Peter Hertmans a croisé plusieurs saxophonistes, tels Erwin Vann, Jeroen Van Herzeele, Daniel Stockart ou l'Allemand Paul Heller pour le récent album Positive de Michel Herr, Steven Delannoye (ts) n'avait encore jamais gravé de disque avec lui, sinon comme invité pour The other side en 2004.
En 2012, Steven Delannoye jouait avec son New York Trio et venait d'enregistrer Uptown avec Franck Vaganée en invité.
Par ailleurs, Peter Hertmans a rarement enregistré avec un pianiste si ce n'est pour Positive, avec Nathalie Loriers, sur la musique de Michel Herr. Il invite ici Nicola Andrioli qui vient d'enregistrer Côté Jardin avec Philip Catherine et qui croisera Steven Delannoye, en 2016, pour Dining in the dark.
A la contrebasse, Jos Machtel, membre du Brussels Jazz Orchestra durant de nombreuses années (on le retrouve sur tous les albums sortis entre 2002 et 2018), mais aussi du groupe de Bruno Vansina (Stratocluster) et du quartet Del Ferro - Vaganée (Happy Notes en 2012).
A la batterie, Marek Patrman qui a souvent joué aux côtés de Manolo Cabras, soit dans le quartet ou quintet de Ben Sluijs, soit avec le trio d'Erik Vermeulen.
Par ailleurs, l'enregistrement live a ses propres caractéristiques : spontanéité et interactivité accrue entre les musiciens et contact direct avec le public qui les galvanise: l'enregistrement live possède "a charming live warmth that is difficult to achieve in studio… let's not forget the role of the audience,without the audience, this music could not exist" (texte de pochette).
Au répertoire du concert, six longues compositions (trois de 10 à 14 minutes). D'abord trois compositions de Peter Hertmans: The one step et Merci Philip déjà présents sur Cadences auxquels se joint Is that you repris à The other side. Ensuite deux compositions de Steven Delannoye (le bopisant Up-Town et One Chance de l'époque du New York Trio) et une d'Andrioli (Racconti).
Le live permet aussi à chacun de prendre des solos ad libitum. Beaux solos de guitare qui mettent en évidence la vélocité de jeu de Peter (Up-Town, Is that you) comme son sens mélodique (Merci Philip, Racconti). On y retrouve la voix chaude du ténor de Steven aux inflexions vigoureuses (le très bop Up-Town, The one step), une voix parfois teintée d'une sonorité veloutées dans les ballades (Racconti, One chance). On retrouve aussi le lyrisme mélodique de Nicola (Racconti) comme son toucher énergique (Up-Town). Jos Machtel impose la sonorité ronde de sa contrebasse  (solo sur Up-Town) et Marek Patrman assure un drive vigoureux au quintet.
Chacun est mis en valeur à son tour.
© Claude Loxhay