Peter Beets - Our Love Is Here To Stay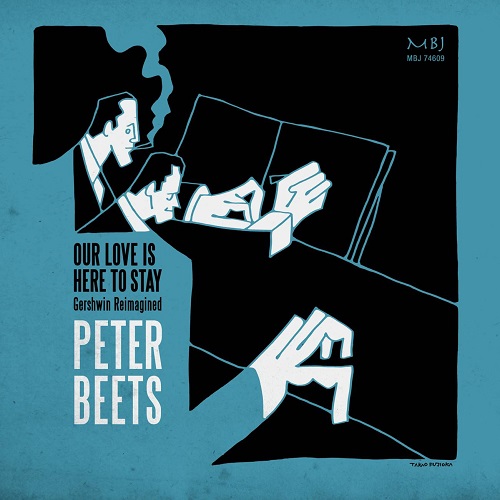 P
Magic Ball Jazz Records
Das Trio um den niederländischen Pianisten Peter Beets verneigt sich mit dem vorliegenden Album vor einem der wichtigsten Jazz-Komponisten des 20. Jahrhunderts: George Gerswhwin. Eröffnet wird das Album mit dem Song "Our Love Is Here To Stay", gefolgt von "I Loves You, Porgy". "Summertime"  – vielfach interpretiert und gecovert – darf auf dem Album ebenso wenig fehlen wie "'S Wonderful" und "I've Got A Crush On You". Zu hören sind zudem Kompositionen wie "How Long Has This Been Going On?" und "Lady, Be Good!".
In den Liner Notes lesen wir als O-Ton von Peter Beets folgende Anmerkungen: "It is a great honor and pleasure to reinterpret some of George Gershwin's most celebrated compositions and in ways that I hope highlight his incomparable genius, while presenting them in fresh and imaginative styles. Truly, we will never say "goodbye" to this greatest of 20th century composers. As this recording makes clear - Our Love is Here to Stay!"

"Our Love Is Here To Stay" - Trommelwirbel und starke Tastensetzungen vereinen sich. Beschwingt und swinging ist das, was wir vernehmen. Hier und da werden Klangkaskaden eingestreut. Doch eine Verwässerung ist nicht auszumachen. Schwergewichtiges fehlt. Statt dessen ist Leichtigkeit angesagt, auch im Diskant. Rollende Klangsequenzen bilden sich nach und nach. Und dazu vernehmen wir feinste Blechverwirbelungen. Hier und da vermeint man gar, einen "Monk-Duktus" auszumachen, dem Peter Beets bei seiner Interpretation des Gershwin-Songs folgt. Weiter geht es mit einem Song aus "Porgy & Bess", dem eher lyrisch ausgelegten "I Loves You, Porgy". "Porgy & Bess" ist eine Oper in drei Akten, an der auch George Gershwins Bruder Ira beteiligt war. Bei der Uraufführung der Oper in Kopenhagen 1943 diskreditierte die Nazipropaganda Gershwins Werk als "jüdische Negeroper mit Urwaldgeschrei". Verfilmt wurde diese Oper, die mit der Ermordung des Nebenbuhlers von Porgy dramatisch endet, im Jahr 1959.

Up-Tempo kommt "Embraceable You" daher. Peter Beets verliert sich dabei nicht ausschließlich im Diskant und sucht immer wieder eine nachhaltige Akzentuierung. Verwaschenes Tastenspiel ist ihm fremd. Dezent ist Kennedys Spiel auf Fellen und Blechen. Stromschnellen gleich entwickeln sich die Melodielinien. Nachfolgend heißt es "'S Wonderful", das von einem sehr lebendigen Basssolo eingeleitet wird.  Dazu fahren Besen, so scheint es, über Felle und Bleche. Gleichsam wie Galoppsprünge und Hufgetrappel erscheinen die Sequenzen, die uns Peter Beets auf seinem schwarz-weißen Tastenmöbel darbietet. Teilweise rasant geht es im weiteren Verlauf des Stücks zu, das auch im Repertoire von Ella Fitzgerald Aufnahme fand. Bei Peter Beets müssen die Hörer allerdings auf Ira Gershwins Lyrik wie "Don't mind telling you, in my humble fash / That you thrill me through, with a tender pash,/ When you said you care, 'magine my emoshe ..." verzichten. Wer die Interpretation Beets mit der Version Gershwins von 1927 vergleicht, wird schnell bemerken, dass Gershwins Original eine Nähe zu Ragtime, Charleston und Boogie aufweist. Zudem wird von Gershwin viel dezidierter die Basshand gepflegt.



Legendär ist der Song "Summertime". Einer starken Blues-Note wie in einigen Interpretationen folgt Peter Beets bei seinem Vortrag nicht. Er bevorzugt ein durchaus perlendes Spiel, das er mit einem klanglichen Malstrom anreichert. "Summertime" aus der Oper "Porgy & Bess" sangen, das sei an dieser Stelle angemerkt, auch Billy Holiday und Ella Fitzgerald: "Summertime, and the livin' is easy / Fish are jumpin' and the cotton is high / Oh, your daddy's rich and your ma is good-lookin' / So hush, little baby, don't you cry ...".

Zum Schluss hören wir "Lady, Be Good!". Dabei handelt es sich um einen Song aus einem gleichnamigen Musical von Gershwin. Von diesem Song gibt es unter anderem Interpretationen von Count Basie, Benny Goodman, Django Reinhardt, Zoot Sims und Joe Pass – und nun auch von Peter Beets. Neben Beets sehr abwechslungsreichen Phrasierungen findet sich in diesem Schlussakkord des Albums auch ein kurzes Bass- und Drumssolo als Interventionen in die quicklebendigen Tastenströmungen.



Text © ferdinand dupuis-panther – Der Text ist nicht public commons!

Informationen
Line-up
Peter Beets - piano
https://peterbeets.com/
www.facebook.com/peterBeetsNL

Tom Baldwin - bass
http://www.jazzconnect.com/tombaldwin/

Eric Kennedy- drums

Label
https://www.challengerecords.com/products/15483363443371
https://naxosdirect.com/labels/magic-ball-jazz-records-5375