Paul Wertico / John Helliwell Project - The Bari Session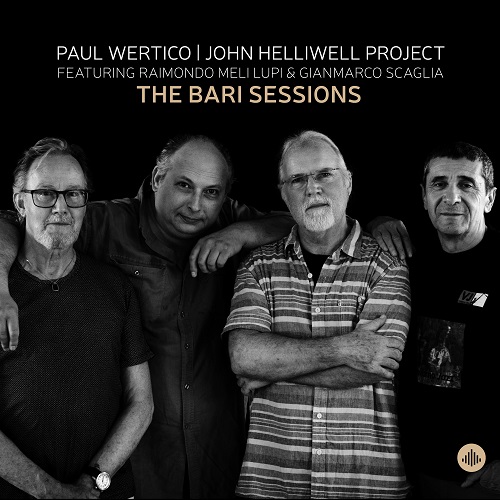 P
Challenge Records / Newartsint.
Voilà une équipe de (plus ou moins vieux) potes qui se retrouvent pour un enregistrement dans le Sud de l'Italie, d'où le titre de l'album « The Bari Session ». Paul Wertico, John Helliwell, Raimundo Meli Lupi et Gianmarco Scaglia ont formé ce quartet en 2008 laissant pour seule trace de leur collaboration un double album live intitulé « Live Under Italian Skies », soit l'enregistrement de deux concerts en 2008 et 2012. Ce « Bari Session » est donc leur premier album studio enregistré dans les Pouilles en 2019.
Le contrebassiste Gianmarco Scaglia a étudié au Berklee College de Boston et aussi avec Dave Holland et Miroslav Vitous. Parmi ses collaborations, on compte nombre de musiciens italiens comme Paolo Fresu, Fabrizio Bosso, Ettore Fioravanti, Claudio Fasoli (il formera un trio avec ces deux derniers)… et Raimundo Meli Lupi avec qui il forme un trio en 1994.
Raimundo Meli Lupi est guitariste notamment dans le quartet de Paul Wertico, mais aussi impliqué dans l'enregistrement et mixage de beaucoup de projets.
Pour les fans de Pat Metheny, le nom de Paul Wertico rappellera sans aucun doute la période des années 80 où il était le batteur attitré du guitariste. Il a aussi accompagné Larry Corryell et plus récemment Kurt Elling.
Enfin, le nom de John Helliwell résonne plus aux oreilles des amateurs de pop/rock puisqu'il fait partie des membres fondateurs de « Supertramp » où sa polyvalence instrumentale fait merveille.
Ces quatre lascars se sont réunis à Bari pour enregistrer ces sept thèmes dont un de l'épouse de Paul Wertico, un autre de Jeff Czech, contrebassiste occasionnel de Wertico. Les cinq autres compositions sont de la plume des membres du quartet. Si le line-up est bien celui d'un groupe de jazz traditionnel, les influences respectives des quatre musiciens plongent bien leurs racines dans un pop/rock trempé de jazz acoustique et le tout donne un album très agréable à écouter. « Circular Motion » en ouverture est une très belle composition du guitariste Meli Lupi.
« Toms For Talia » est un solo de batterie de Wertico qui s'enchaîne habilement avec « Cowboys & Africans » de Jeff Czech. « It Seemed that Life is so Wonderful » sont les paroles du tube de  "Supertramp", "The Logical Song", où on ressent pleinement l'importance de la mélodie dans les choix du quartet. C'est aussi le cas sur la tendre composition de Barbara Wertico « What Would the World Be » et aussi sur « Tuning Song », une composition collective qu'on pourrait imaginer inspirée par « Killer Joe ».
Il y a beaucoup de plaisir dans cette musique qu'on écoute sans voir le temps passer, on se surprend même à fredonner des mélodies qui collent très vite à l'oreille.
© Jean-Pierre Goffin
Une collaboration JazzMania / Jazz'halo