Paul Van Gysegem Quintet - Square Talks (bl)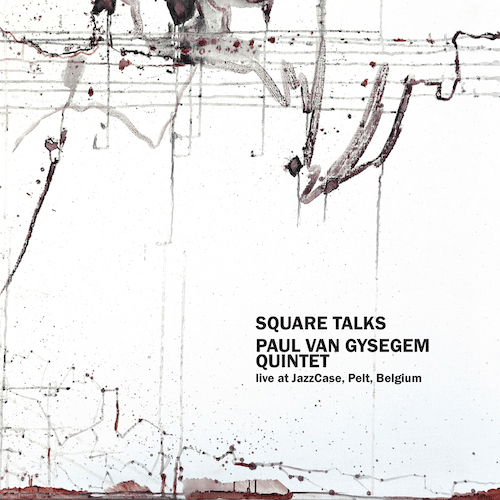 P
El Negocito Records
Live at JazzCase, Pelt, Belgium


In de jaren 60 was de Gentse beeldhouwer, schilder, graficus en jazzbassist Paul Van Gysegem (1935) het boegbeeld van de freejazz. Samen met Patrick De Groote en Cel Overberghe groeide de aanzet van het Avant-garde festival in het Gravensteen in Gent.
Met 'Boundless' (El Negocito Records 2017) kwam Paul Van Gysegem na zovele jaren opnieuw in de kijker, samen met Patrick De Groote en Chris Joris. En in september 2019 nodigde hij de vertrouwde rasmuzikanten van het eerste uur uit en verruimde zijn kwintet met pianist Erik Vermeulen en drummer Marek Patrman voor een opname in september 2019 bij Jazzcase (Pelt). Die fijne locatie van Cees van de Ven moest intussen helaas de deur sluiten.
En natuurlijk past dit bij het alternatieve label van Roger Verstraete. Hij brengt de opname nu uit met een hoesafbeelding uit het werk 'Scores' (2016) en binnenin een schilderijweergave (2018) van Paul Van Gysegem.
Laat je niet afschrikken door de sixties referenties, Paul van Gysegem toont zich als herboren en blikt niet terug op het verleden. 'Square Talks' klinkt vanaf het begin ontvallend fris en open ('Haaks'), leidt tot verkennende met wisselende conversaties ('Brisk', 'Wings'), wervelende expressie ('Shout', 'On The Edge'), en zelfs vrij poëtische en introspectieve uitdieping ('Woodpecker', 'Melancholia' - met Cels persoonlijke herinnering aan Joske), maar is zeker vrijgevochten en free ('Square Talks').
Pianist Eric Vermeulen bewijst hoe inventief en raak hij met toetsen omgaat. Patrick De Groote en Cel Overberghe zijn de kleurrijke bruggenbouwers, Paul Van Gysegem de drijvende inspiratie en Marek Patrman de subtiele finesse ('On The Edge').
'Square Talks' vraagt een onvoorwaardelijke benadering, eens je in het muziek verzeild geraakt, kun je je er moeilijk van losmaken en valt er telkens opnieuw wat te ontdekken. Uiteraard is een livebelevenis de beste voorwaarde om de diepte van deze muziek te ervaren!
© Bernard Lefèvre

Musici:
Cel Overberghe (tenor- en sopraansaxofoon)
Patrick De Groote (trompet en bugel)
Erik Vermeulen (piano)
Paul Van Gysegem (contrabas)
Marek Patrman (drums, percussie)

Beluister het album op https://elnegocito.bandcamp.com/album/square-talks