Paul Jost - Simple Life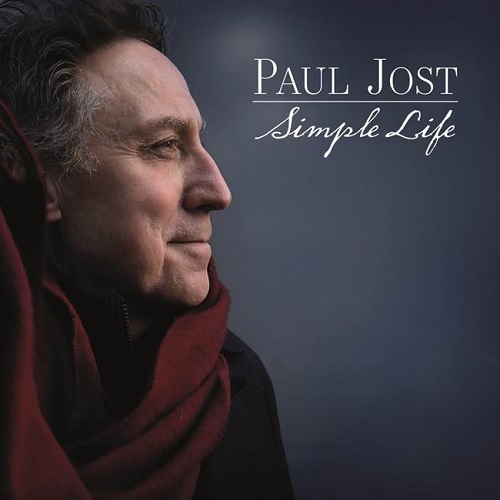 P
Jammin'colors / L'Autre Distribution
Tempo soutenu de contrebasse, entrée en force de Joe Locke au vibraphone, scat, dès l'entrée de « Blackbird », ce standard des « Beatles » maintes fois repris, on sent que Paul Jost va nous surprendre : il ne s'agit pas de reprendre des standards rock-pop pour faire « joli », mais les faire renaître dans un esprit 100% jazz.
Scatter sur « Blackbird », c'est neuf et parfaitement au point. Sur la ballade-standard « If I Only Had a Brain », on découvre le timbre vocal étonnant de Paul Jost, à mi-chemin entre Mark Murphy et Jimmy Scott. « Caravan » est chanté avec respect du tempo et s'évade dans un scat endiablé suivi d'un solo de Joe Locke, le vibraphoniste invité sur les quatre premiers morceaux de l'album.
Le thème de « Macadam Cowboy » composé par Fred Neil, « Everybody's Talking » prend aussi de nouvelles couleurs : un soupçon de « Stolen Moments » - réécoutez « Blues And The Abstract Truth » d'Oliver Nelson – puis le texte parlé se fait bluesy jusqu'à un final débridé puis apaisé. « Give me The Single Life » est joué en tempo medium sur lequel Paul Jost se met à siffler. « The Touch of your Lips » en revient à une école plus classique avec de beaux solos de Jim Ridl (pianiste du Mingus Big Band, de Dave Liebman et du quartet de Joe Locke), de Dean Johnson à la contrebasse ( sideman de Joe Lovano, Randy Brecker ou Wynton Marsalis) et de Tim Horn à la batterie ( Mark Murphy, Hank Jones).
La ballade alanguie « Folks Who Live on the Hill » vous fera craquer tant Paul Jost parvient à y mettre des accents vibrants d'émotion. Reprendre un thème aussi intouchable que « With A Little Help From My Friends », il faut oser ! Et Jost en sort une version étonnante et tout à fait personnelle. Pas de lyrics sur « No Moe » de Sonny Rollins mais un scat qui penche vers Jon Hendricks avant de revenir à une autre reprise pleine de surprise « Girl from the Northern Country » de Bob Dylan.
L'album se termine sur deux compositions personnelles et une version romantique de « Shenandoah ».
La force de Paul Jost, outre une faculté séduisante d'utiliser sa voix dans des atmosphères variées, est de créer une unité stylistique sur un répertoire on ne peut plus éclectique, et d'asseoir sa place parmi les voix nouvelles du jazz. A découvrir.
© Jean-Pierre Goffin



Musicians:
Paul Jost: Vocal, Harmonica, Guitar, Whistle
Jim Ridl: Acoustic Piano, Synth (Bk. Vocals)
Dean Johnson: Acoustic Bass, (Bk. Vocals)
Tim Horner: Drums, (Bk. Vocals)
Joe Locke: Vibes on Tracks 1,2,3,4 (Bk. Vocals)