Paul Hazel & Steve Waterman - Out Of This World With Sun Ra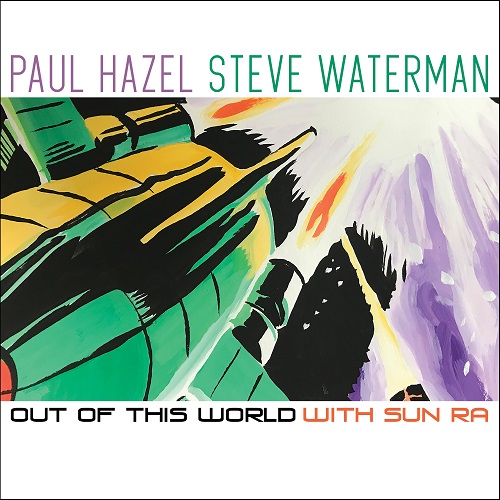 P
https://paulhazelstevewaterman.bandcamp.com/
In 2020 Paul Hazel released "Osaka stories" featuring Steve Waterman as trumpet and flugelhorn soloist. Having enjoyed that EP I was intrigued to see the two musicians collaborate on a set based around the music of Sun Ra. This turns out to be very much a joint project, working together on arrangements and recordings. Four distinctive soundscapes give space to explore trumpet styles from Bubber Miley to late Miles Davis.
How do you even go about arranging a Sun Ra piece? It's often impossible to detect the boundary between the composer's ideas and the free improvisation of Arkestra members. Hazel and Waterman have been careful not to paraphrase the composer's work or mimic his sound. Each track is very different from the Sun Ra version and signature sounds like echo and phaser are taken several stages further with modern technology.
Track 1 "New day"  features a gradual build up of electronic percussion then a repeating bass guitar riff played by David Westmore, transforming the latin percussion/bass groove of the Arkestra version into something even more infectious. Narrative is provided by multi-coloured trumpet from Steve Waterman; plunger mute creates Bubber Miley style vocalisations and growls which are further shaded by Paul Hazel's electronic treatments; the trumpet is echoed, panned, pitch-shifted and distorted to heighten the drama.
"Somewhere in space" begins with the distinctive vibrato of a Clavioline, an early form of synthesiser which Sun Ra used in the early 60s. It's a rare sound in jazz, more often heard in "B" movies or used by pop artists destined for a tragic end (Joe Meek, John Lennon and Del Shannon RIP). The Sun Ra original recording has a tasty brass arrangement, flute and sax solos and a swing groove, but this version settles into a Cuban dub feel. Jonathan Edwards plays a tasty acoustic piano solo which shares a Latin flavour with the trumpet workout which follows.
It is "Mu" which differs most radically from the original, where Sun Ra's phased clavinet moves restlessly and apparently spontaneously between 3/4, 5/4 and 7/4 time, with only a muffled sax and some very boxy congas for company. That recording is intriguing but strangely incomplete. The new version offers an imaginative take on how the composition could have developed, building an electronic orchestration worthy of Joe Zawinul and keeping the shifting time signatures. The trumpet hots things up with be-bop acrobatics and phrygian mode lines, contrasted with some nicely edgy guitar from Paul Hazel, who also plays bass, keyboards, percussion, and did all the programming.
"There are other worlds (they have not told you of)" features more exciting guitar amp abuse, this time from Gethin Woolcock, of Wales based grunge/prog band Prosperina. It begins with a haunting wordless female vocal from Kim Waterman which drifts in and out of the mix with various treatments. A dub feel develops under a hypnotic 3 chord sequence, the lead role again falling to trumpet, this time muted and with a dry phased tone which you can almost touch. The Sun Ra version is full of dis-embodied voices, spooky piano and tension; this new take moves in a much more ambient direction.
What we have here is a completely different experience from listening to Sun Ra but just as compelling. Paul Hazel's production skills and techno-influenced soundscapes complement Steve Waterman's inventive refinement on trumpet and wind synth. They take on the challenge of developing core Sun Ra ideas and pushing them further into the future. The EP format suits tracks which repay repeated listening and also encouraged me to return to the Sun Ra originals with fresh ears.
© Stephen Godsall

Available now as digital download on Bandcamp.
CD available from 24th May 2021
https://paulhazelstevewaterman.bandcamp.com/