Pat Metheny – From This Place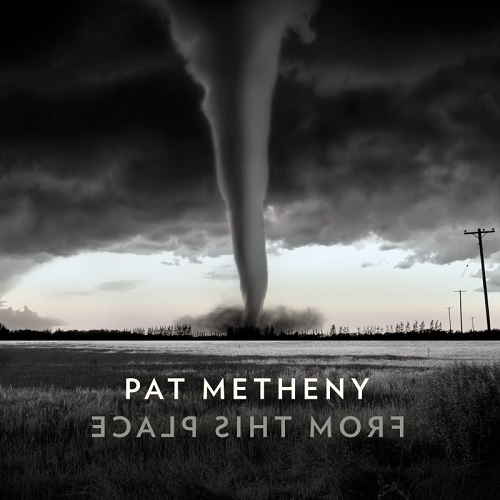 P
Nonesuch
De tornado op hoesfoto geldt duidelijk als waarschuwing. Zesenzeventig minutenlang scheert en raast wervelwind Pat Metheny voorbij. Meteen het volgende epos in de uitgebreide discografie van de gitarist die nooit verlegen is om nieuwe paden te bewandelen.
Openingstrack 'America Undefined' duurt op zich reeds dertien minuten en bevat alle typische Metheny-ingrediënten annex crescendo opbouw. De gevleugelde pianowolken, een stevige ritmesectie en de gitaaruithalen van de meester zelf, alles volgens een gestroomlijnde melodielijn. Extra aanvulling zijn de strijkers van The Hollywood Studio Symphony. Toch wel groots opgevat dus met een "dreamcast" uit een Hollywoodprocuctie : Gwilym Simcock (piano), Linda May Han Oh (bas) en Antonio Sanchez (drums). Laag na laag wordt het geheel opgebouwd om uiteindelijk een epische grandeur te bereiken. 'Wide And Far' is dan weer terug "down to earth" volledig in jazzmodus en een bassolo om af te ronden. Met de gitaarsolo in 'Same River' komt er opnieuw een vertrouwd herkenningspunt.
Tien nummers in totaal die van elkaar verschillen en toch weer naadloos bij elkaar aansluiten met de gitaar als moderator. Cameo's zijn er voor Meshell Ndegeocello (vocals!), percussionist Luis Conte en Gregoire Maret (harmonica) die 'The Past In Us' helemaal naar zijn hand zet. Powerdrummer Sanchez mag zich op zijn beurt even laten gaan in 'Sixty-Six'. 'Love May Take A While' is de rustige afsluiter, als een slaapliedje met nog eens de strijkers die voor een gepaste omkadering zorgen.
Pat Metheny-fans van het eerste uur zullen even schuifelen voor ze "in the zone" geraken maar uiteindelijk zorgt de meester gitarist wederom voor een aantal opmerkelijke stukken. Nu nog afwachten of het met dergelijk lange cd ook opnieuw marathonconcerten worden.
© Georges Tonla Briquet

Musici:
Pat Metheny: gitaar
Gwilym Simcock: piano
Linda May Han Oh: bas
Antonio Sanchez: drums
+
Meshell Ndegeocello: vocals
Gregoire Maret: harmonica
Luis Conte: percussie
Hollywood Studio Symphony

Live
26.05., 20.00, De Bijloke Gent
27.05, 20.00, Ancienne Belgique Brussel