Soo Cho – interview with the South Korean piano player who lives in the Netherlands
I met Soo Cho during the Steyr Jazz festival 2016 and had the chance to talk with her. Previously I had reviewed her CD Ballerina. She's playing together with the sax and flute  player Javier Girotto from Argentina now based in Rome (Italy).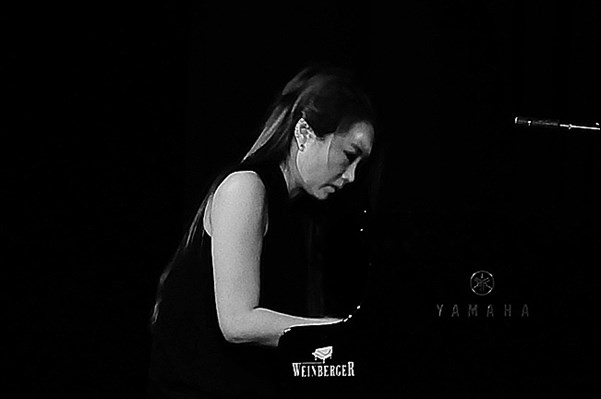 You've been born and brought up in South Korea. You made the way from Far East Asia to Western Europe to the Netherlands. Which role did your parents take regarding your career in the music business? Did you grew up surrounded by various types of music?
SCH: No, actually my family called me 'freak' because my father, my mother and my twin brothers are all sportsmen. My brothers were international basketball players. My mother was an international volleyball player and my father an international known judoka. They are all tall and I am tall too in comparison to a normal Asian woman. My parents expected that I turn up to become a volleyball or basketball player but I did not like it. I learn various forms of sport very quick. I did not cycle at all before coming to Holland but learnt it within five minutes. I think I have quite some gift for sport.
Of course I played classical music but this was regarded as luxury. My mother thought a girl should play the piano. That is why I started at the age of three but my mother didn't expect that I would be a pianist at all. I have to admit that the generation of my mother that grew up in Korea regards playing Jazz a bit coarse. Today it is much better. 15 years ago when I used to play in a bar she was very upset about it. Then I said to her that I would study Jazz and leave Korea. She didn't want to see me again. Now everything is okay again after I had played in Korea last year. Now she has accepted that it is my way. It was not easy.
But classical music was accepted or not?
SCH: My mother thought that is class! Jazz was linked with a dark bar and a bit vulgar in some respect. I told my mom: 'Hey, I don't strip but I play music you don't really know.' The image of Jazz was not a positive one as it is maybe now.
What was the motivation for you to study Jazz? What was the first Jazz record you ever listened to?
SCH: Well I studied classical music until I began to study at the university. Over the years I got really bored. Now I started to listen to classical music again but it is a different way of listening. I had taught young kids how to play the piano but again I was bored in the end. I wanted to do something else and I had to earn some money for living. Therefore I commenced to play in hotel lobbies, restaurants, bars and for wedding parties. That was still classical music and a little bit pop. One day I listened to a Jazz trio at the bar I was working. It was Duke Jordan I remember, It sounded for me very fresh. What is that? That's Jazz! Okay, that's interesting. I bought a CD of another piano trio and I really liked it. Then I found a person who taught me harmony and choruses and so on. He said to me that I have to listen to Jazz music and he gave me albums of Charlie Parker and Bud Powell. 'Oh, my god', I said to myself. This is not what I want to play. The Jazz I perform now is not based on Jazz tradition like Bebop. You will not find any Bebop lines in my compositions. I like to listen to Bebop but that is not the way I want to compose. That is how I discovered Jazz. That was again the reason why I came to Europe. There was a European Jazz trio famous in Japan and Korea with the bass player Frans van de Hoeven and the pianist Carla Bley. They were pretty much famous at that time. Okay, I said to me that is the audial colour I want to learn. American Jazz for me is straight away swing; the European one is more related to a kind of nostalgia. That's I found out. For me it was very clear to go to Europe to study Jazz.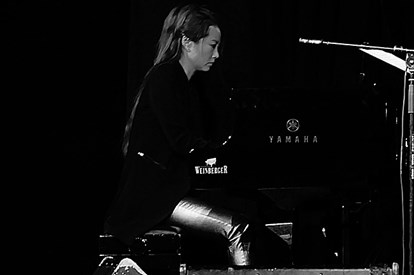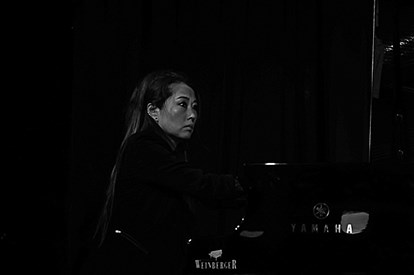 Why didn't you go to the Berklee College of Music in Boston or the New School in New York?
SCH: You know there are so many people wanting to study there. In Berklee e. g. 200 Koreans. Of course I was thinking about it too but the study fees were too high. The main reason not to study there was that I had the dream to go and settle and finally to study in Europe. I had a friend who studied here before and he introduced me to some music teachers. In the Netherlands you don't have to speak Dutch essentially. In France or Germany you have to learn the language first and that is doubling the time for me. When I studied in Amsterdam I never ever regretted it.
I went to New York for half a year in an exchange program. It was great but I got the impression that I was not accepted there. It is the way of teaching music. In Amsterdam the teacher was open minded and accepted my compositions. In New York I heard always: 'Hm, that's nice but you have to do it like this.' That meant I had to follow their teaching ideas. It was the last year to study for my master degree and I thought maybe going to New York for two years and learn more about the ingredients of Jazz would be great if I would have started my studies. Anyway it was a great experience. I missed Europe when I was in New York. I felt I am a kind of outsider. I thought I do not belong there.
Why did you stick to the piano when you left the field of classical music as a genre?
SCH: Well the piano is the only music instrument I could do. I played a bit flute too but that was amateurish. Many people think that piano players are so comfortable because they do not have to bring a bass or a saxophone. They just go and see but at the same time we have to accept any piano. Today I am lucky with the very nice piano. I am a composer too and I am working for hours on my compositions. As a pianist I found a lot of possibilities regarding harmony and melody. I love to play the piano. That makes me really happy. Sometimes I feel frustrated because I want to express myself but that doesn't work with the piano.
How do you see the character and the role of piano in the Jazz world? Rhythmical, melodical or harmonical?
SCH: The piano is everything. In reference to the duo I was not thinking about before. I learnt so much since I play with Javier Girotto. I have to be the bass and the drum and of course the piano. If I play in a trio I can take up the melody and harmony. The piano is a great instrument I think.
You mentioned Bebop but …
SCH: I love it but it is not my cup of tea. That was my big frustration when I stayed in New York. I think that for a European the swing is way off. But think about an Asian. You hear American swing and in contrast the European swing that's a big difference. Why should I try as an Asian to play Bebop and don't get it straight?
You formed Jazz United, your own quartet, and you play with Javier Girotto in a duo? A duo is quite fragile. You rely on each other permanently. There is no resting at all in comparison with a bigger band formation. Could you describe the different challenges you face playing in different ensembles?
SCH: Three years ago Peter Guschelbauer booked my quartet for the Steyr Jazz festival. We faced some difficulties to make it to Steyr and therefore Peter suggested a gig with Javier Girotto instead. I didn't play in a duo before. I called Javier and asked what he thought about it. He didn't mind to perform as a duo. It was not easy to make a decision because as I told you I never played in a duo before. Being a female pianist and not rooted in the tradition of Jazz I was not really sure if I wanted to do it but I had to be brave. So we played and after the concert Peter approached us and suggested to do some recordings. Wow, wow, what's going on.
Back to your question: I ruined my left wrist before. I had problems with my right hand since 15 years too. Many pianists face those problems. I feel I am naked on the stage when playing alone but in a duo or quartet it is sort of a relief. I love both ways of performing and that is really challenging. I am normally a cold person, my hands are cold too. But when I play in a duo I sweat. Of course each of us concentrates during the concerts but in the duo I concentrate two hundred per cent because I must not miss one thing or twist something. I have to follow Javier's energy. It is not easy for me. What I like the most is the fact that I can control the dynamic myself. I can be soft or loud or everything.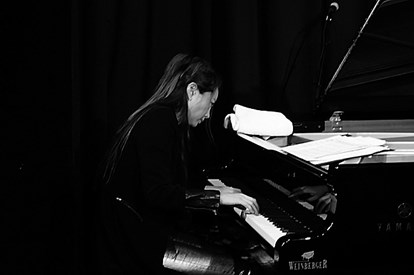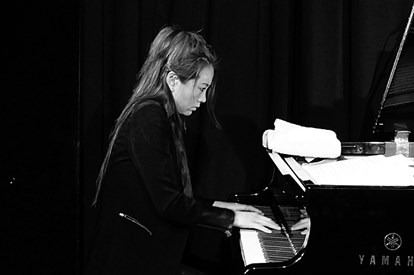 How did you got to know about Javier Girotto?
SCH: He played in a duo with Biondini in Arnhem. The guy who was in charge of the Jazz club there was doing some public relations for Javier in Holland. Javier stayed in Holland and got to know my compositions and he wanted to get the scores intending to perform with me. For me it was a lucky strike. That happened six years ago and it was a great opportunity for me. Now I really write tunes for him. I know what he can do. He can really express my melodies i. e. the essence of the melody. I do not have to say to him: 'Can you do it a bit softer here or anything else.' Javier knows how to play the tunes.
Do you play only compositions of yours when playing with Javier?
SCH: Yeah.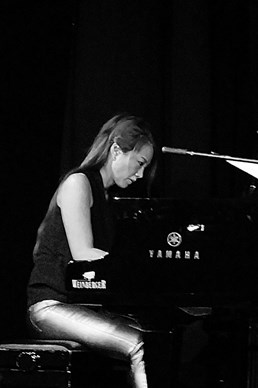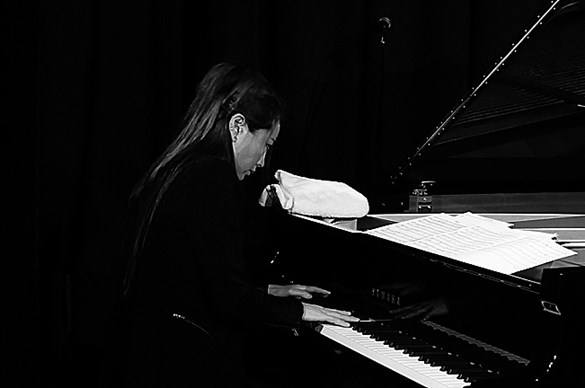 What are the sources and the base for your compositions? Listening to the album "Ballerina" I could detect bits and pieces of classical tunes? Sometimes I thought about Bach when I listened to the songs you wrote but only for a short moment. Other parts had a slight Renaissance touch for me.
SCH: My strong points and my weak points are based in my classical music background. I did not listen to Pop or Rock when I was a teenager. That was not allowed when I grew up. Going back ten years ago when I began to compose all pieces had a classical character. After few hundred tunes I think I found my way. Sometimes it is a special situation to start to compose e. g. recently a friend died and I had finished my composition for him in 40 minutes. Sometimes I can't finish one tune in six month. Maybe I write one line per day if I am lucky. All kinds of feelings are necessary for me to compose. Many times I write down two bars and then hanging it on the wall. At the next day I start from the bars again. Sometimes it takes month after month to finish a song. I am sure I have Korean culture in my head. It is a sort of treasure I make use of.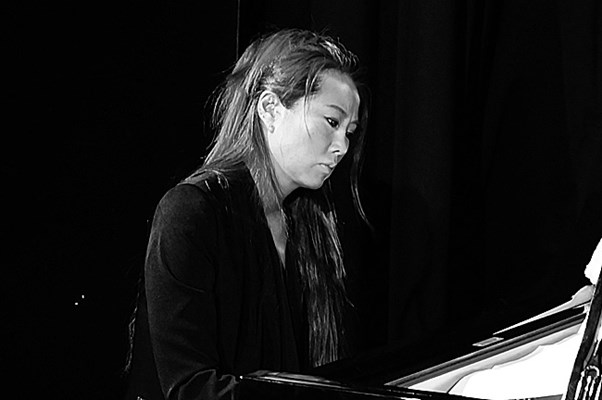 Thanks for talking with me.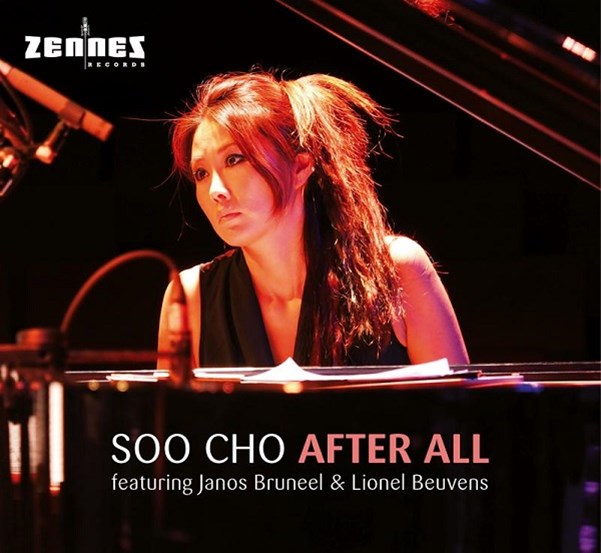 Last minute info: Soo Cho had just released a new record titled "After All" with her trio - She performs with drummer Lionel Beuvens and bass player Janos Bruneel. the CD is on ZENNEZ Records.
Interview and photos: © ferdinand dupuis-panther
Informations
Soo Cho
http://www.soocho.nl/
http://www.myspace.com/soochojazz
http://twitter.com/soochojazz
http://www.facebook.com/soochojazz
CD Review
http://www.jazzhalo.be/reviews/cd-reviews/s/soo-cho-javier-girotto-ballerina/