Sigurður Flosason: interview with the saxophonist from Iceland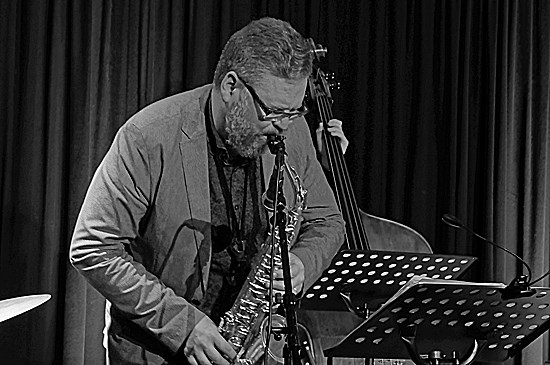 I met the saxophonist Sigurður Flosason before he was due to enter the stage of the Dachtheater in Warendorf.
When I think of Iceland I do not think about Jazz. I think about volcanic activity, about hot water springs, about badlands, about a country sparsely populated and about Björk. So, what's about Jazz?
SF: With Jazz it is like any other music. There is a lot of interesting music in Iceland. There is a high standard. There is a good music education system and there are good musicians in the field of Pop music, Jazz and classical music. It's a good music scene.
Would you state that this fact is not well known in the rest of Europe in comparison with Norwegian or Swedish Jazz?
SF: Yes maybe, but maybe not, when you consider proportion to seize. Iceland is a country with 300.000 people. So what do you expect? Maybe you could say that Pop music from Iceland has become very well known in the last 15 years. It is unusual and exceptional. The rest of the stuff, jazz and classical, is very good also.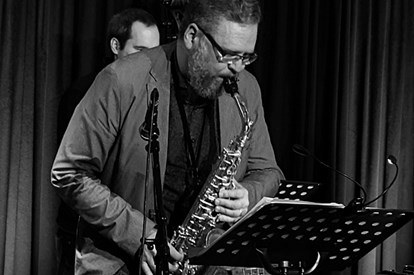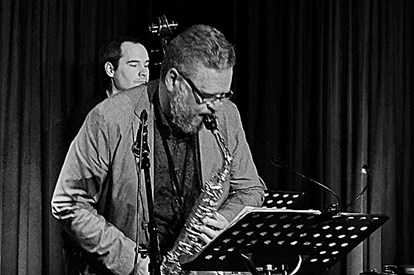 Do you remember the first Jazz album you listened to?
SF: No, I can't say so.
What was the first record you bought or got as a present as far as you remember?
SF: I remember the first one I bought. It was Dave Brubeck's Time Out.
Why? Have you been so fascinated by Dave Brubeck then?
SF: Well, I did not know so many artists, I guess. I knew Take Five and was interested in that. You know Paul Desmond played the instrument I had just acquired when I was 12 years old. Yeah , it became a fascination; I memorized Desmond's solo.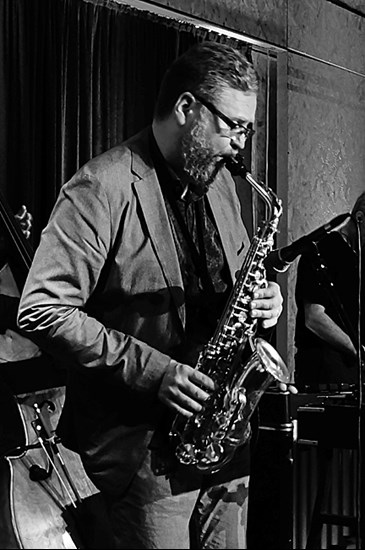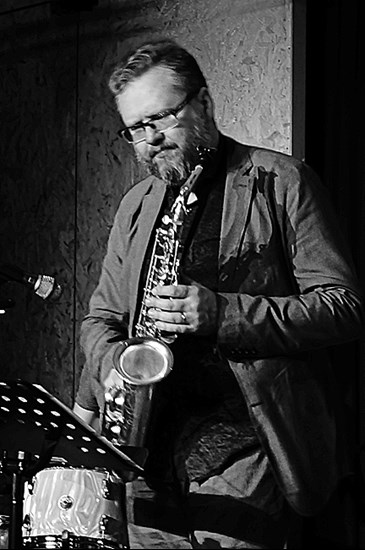 Why did you pick up the alto saxophone as your instrument?
SF: It is hard to say. I had been in music school since I was five years old playing first the reorder and then the flute. Then I wanted something else. I was curious in other instruments and maybe some kind of different music that could be played with instruments other than the flute. When I was 12 I received an award as an outstanding student at the music school. Then I said to my parents: "Well, now would you give me a saxophone?" They did and I played both instruments for a while. Later I switched to the saxophone and stayed with it until now.
Would you state that the saxophone has a similarity to the human voice?
SF: Many people think so. It has lot of colors. It is a very dynamic instrument. Some people think it is the instrument that is most like the human voice but that is something I do not think about much. I think about having an individual improvisational voice.
Iceland is situated at the outskirts of Europe. Does that mean Jazz musicians from Iceland show a stronger link to the Afro-American Jazz scene than elsewhere in Europe?
SF: It is in between I would say. Iceland is geographically in the middle, in the middle of the Atlantic Ocean. We have very strong cultural ties with the Scandinavian countries. It is a similar culture but we are geographically closer to the United States and Great Britain than they are. That has a bit of an effect. There was an American military base in Iceland since the II World War but they are gone now. Probably that had an influence also. The  Icelandic jazz scene is quite varied. We have a lot of people doing different things, traditional Jazz, Avant-garde Jazz, everything in between .... It is hard to generalize about it but there are certainly influence of both sides.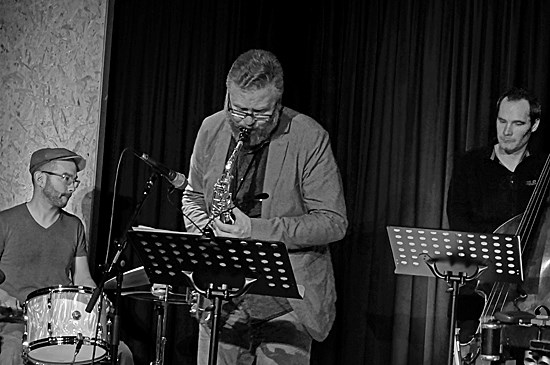 How strong  are you rooted in the Afro-American Jazz? Are you as well influenced by classical European music?
SF: Am I? The Jazz I listened to when I was 12 was American Jazz – Louis Armstrong, Big Bands and such. Then I worked my way up through history but I do have a classical background. I went through classical music education and got a BA and MA in classical saxophone. I am an European too. So it must be mixed in some way. I have to add that I am interested in the tradition of Jazz and have taught Jazz history for many years. I listen to a lot of Jazz music. There is a bit of everything.
In one of your latest recordings you played "Blue Moon", a title Billie Holiday used to perform. Duke Ellington's "Morning Glory" is another title on the CD Daybreak. Apparently you find Jazz from the 40th and 50th quite attractive and going back to the roots of Jazz seems on your agenda. Why?
SF: If you base your question on one CD I have to tell you that I recorded 29 and they are very different. There is a lot of original music, there is a lot of modern music. There is free music, there are a lot of Jazz standards. There is stuff with a symphony orchestra, there is stuff with a Big Band or with a choir. I have to say that you can't base your assumption about my music on one CD. The CD you mentioned is one of the two most traditional CDs I have done but I do have a very strong love for such kind of music. The jazz tradition is at the roots of what I do, but I'm also interested in many other kinds of music; jazz and other kinds.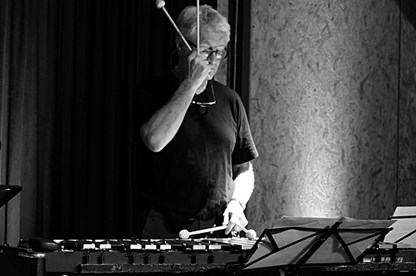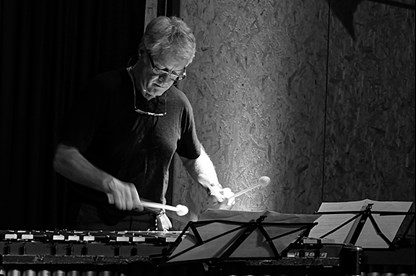 Could you tell me more about your cooperation  with Stefan Bauer and why it happen to happen that you perform with him?
SF: We met in Canada 15 years ago and played one gig. It is actually a long story. I was supposed to play in Canada again this April and I hired Stefan for the job. In the end I couldn't go. A few weeks later he sends me a mail: "How about to play in Germany instead?". Then I asked him to come to Iceland before heading to Germany. One concert that was supposed to happen in Winnipeg (Canada) turned into seven concerts in Iceland and Germany!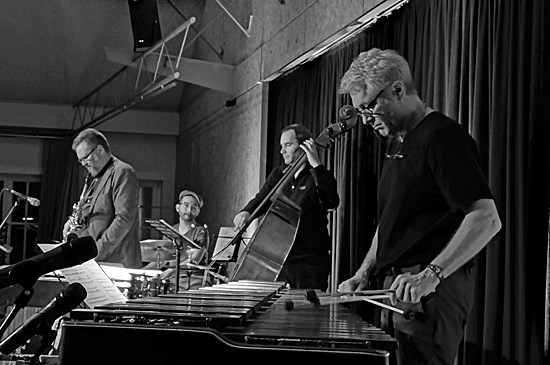 Would you say that there is a specific Icelandic sound of Jazz similar to the so called "Fjord sound" of Jan Garbarek?
SF: I don't think so. I said earlier that the Icelandic scene is quite varied. It is a small scene and it is very difficult to generalize. Maybe a person from the outside listening to us would find a kind of common tread. I am not the right person to do that. Maybe there is a slight melancholic streak somewhere.
How important is folklore for the Jazz you play? Similar strong than Swedish folklore for Esbjörn Svensson?
SF: For me it varies. I have arranged and recorded Icelandic folk music and written music inspired by it. It is interesting, you know. It is one string in my heart, one of many. It is a part of me but I would not say it's in the forefront.
What do you need to compose? Are you constructing the music? Are images in your head important or daily life situations?

SF: It varies a lot because I have written different types of music. The music of mine you can hear during the concert tonight is a sort of modern instrumental Jazz music. I have written a lot of vocal music as well. I have also written bluesy music for Hammond organ based bands. So it depends on the kind of music I am writing. When I am writing vocal music to poetry then it is precisely that. I am then very much into the words, the spirit of the words – the meaning of each word and the overall meaning. Other stuff is inspired by a title or a situation or a musical thing I am thinking about. There isn't a single answer to that question.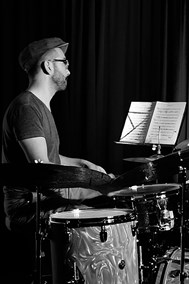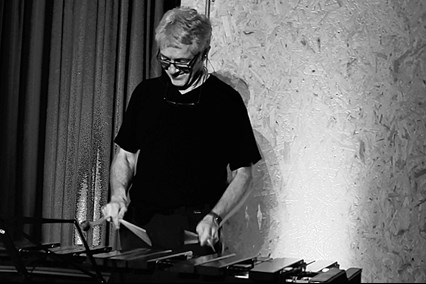 Would you mind to give an example of a tune we will hear tonight and describe the process of composing please.
SF: Maybe I can talk about "By Myself, All Alone". It has to do with travelling and plying with different people. You are always alone but then you meet other musicians and you are amongst friends. The music happens then naturally between good players. I start this song alone and then the band joins me.
How much of your music is written down?
SF: It is like most Jazz music. It is a melody with chords and then you stop playing the melody and improvise on the form and the chords structure of the melody. There are irregular form. They are not Jazz standards and have different kinds of chords but follow the same principles: improvisation based on harmony and form.
How important is the melody?
SF: The melody is the point of departure you could say. The melody is as well an important tool to reach out to the audience to get the attention to come on a journey with you. But when the improvisation starts happening I think of the melody as point of departure but sometimes not at all. Sometimes is has more to do with what the others I am playing with are doing and with my own imagination. But I can not generalize on the importance of the melody either. In fact I am against generalization over all. In music there is rarely a single right answer. If there is A, B is possible too, even C. I like the spectrum and the options.
Thank's for talking with me.
Text and photos © ferdinand dupuis-panther


Informations
Sigurdur Flosason
http://www.sigurdurflosason.com/

CD Review (only in German!)
Sigurður Flosason / Kjeld Lauritsen / Jacob Fischer/ Kristian Leth: Daybreak, Storyville Records (Denmark)
http://www.jazzhalo.be/reviews/cd-reviews/s/sigur%C3%B0ur-flosason-kjeld-lauritsen-jacob-fischer-kristian-leth-daybreak/