Sandra Hempel: an interview with the guitar player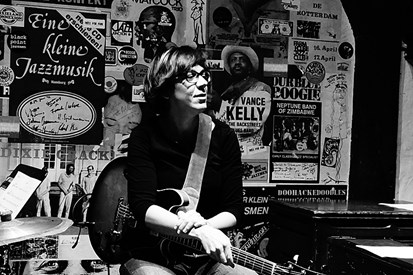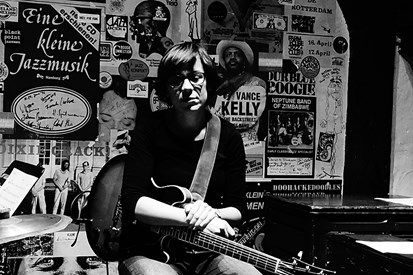 I met Sandra Hempel at the Farmhouse Jazzclub Harsewinkel after her gig with John Hondorp (organ) and Markus Strothmann (drums). The guitar player was born 1972 in Pinneberg. She grew up in a small village nearby, Tornesch, and played for some years piano and accordion. At the age of 15 she switched to guitar. Jazz was on her agenda and in 1991 she joined the Landesjugend-Jazzorchester Schleswig-Holstein.
After her studies at the conservatory at Hilversum and the Hochschule für Musik und Theater Hamburg she moved to Amsterdam and finished her studies at the conservatory there. Due to a DAAD scholarship she was able to stay at New York to continue her studies at the Aaron Copland School of Music of Queens College. In 2003 she achieved her "Master of Arts".
She played and performed with Steve Swallow, Herb Geller, Will Vinson, Seamus Blake, Rick Margitza, Nils Landgren, Wolfgang Schlüter, Ulita Knaus, the NDR Big Band, the Jazzbaltica ensemble, the Bundesjazzorchester "Bujazzo" and the Dutch New Cool Collective Big Band. She is a member of Dan Gottshalls Artful Earfull, the Lutz Krajenski Group, Operation Grand Slam, Hamburg Jazz Orchestra among others. And she has her own quartet with which she released her latest CD "Licht aus" in 2013 (Unit Records).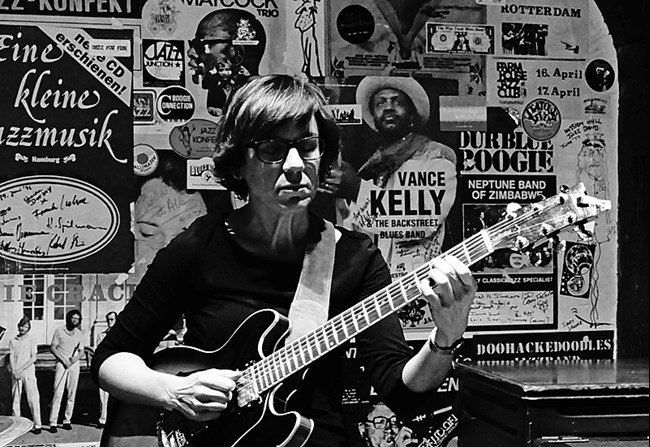 How important was your upbringing looking into your career as musician? Have you been surrounded by music? Did your parents keep a huge Vinyl collection you flicked through? Have you been surrounded by various music when you grew up?
SH: First of all my mom was a musician. She was a professional accordion player, gave lessons and conducted an accordion orchestra. Accordion was the main instrument I knew during my childhood and every musical experience was related to it. My parents didn't have a Vinyl collection or something like that. There wasn't even much music played in our house beside the music my mom used to play when she practised. These were my roots. I started to play the accordion when I was about five years old.
Did your mom or your parents forced you to play the accordion?
SH: It was a sort of natural thing I guess. I was surrounded by the sound of it, so, I wanted to pick up the accordian as well. My sister and I played it both.
The only difficult aspect was that we got lessons by our mom and that's quite often not that easy. At a certain point my sister decided to start taking classical piano lessons and I followed in her footsteps. Taking an interest in the guitar was a later process when I was about 15. I listened then to Rock music and my goal was to play the electric guitar in a band. This was the first decision I made by myself. I organised to buy an instrument and selected a teacher on my own.
Have you ever thought to take up playing the accordion again? It is quite rare in Jazz but more related to chansons, folk tunes  and musette.
SH: It is a beautiful instrument. Actually my sister did pick it up again and she is teaching it now as well which is a bit funny. I got too much involved in playing the guitar. When I would have the option to play another instrument I would definitely go for the drums. They are my favorite instrument. The accordion is so much related to my mom who died last year. So,whenever I listen to it, it also awakes a lot of memories to her.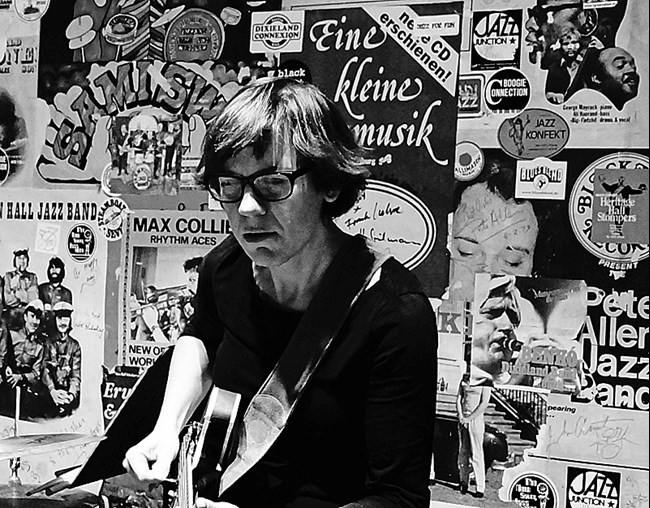 Please mention the most significant influence in your career as musician  and tell me why you wanted to play Jazz music? Did you ever think of forming an all girls Rock band?
SH:  There was this one tape I got from my first guitar teacher which was really important to me. I wanted to play music of Jimi Hendrix and stuff like that. But this tape was one of the Pat Metheny Group. It was the first album Metheny released with the group and it included "Phase Dance", a very famous tune of Metheny. I knew the song a bit because it was the opener of a late night radio show on the NDR, the Northern German Radio broadcasting station. Therefore I could relate to the song and liked it. I could not get a grip on the rest of the tunes first though. I had to listen to them over and over again to discover the beauty and the structure of the songs.
Obviously you got hooked to Jazz step by step ? Why was Jazz so fascinating?Pat Metheny presents a sort of mixture between Jazz and Rock.
SH: Yes, but you need a door opener. It was good for me that the music Metheny played was so close to Rock music. After I encountered that type of music I started to listen to the more Jazz related tunes of Metheny. Later I got a Wes Montgomery tape from my teacher too and I liked one song after each other after listening again
over hundreds of times to the album.
Usually girls start piano lessons before they are six years old rather than to pick up another instrument. Women in Jazz are mostly singers. Some play saxophones like Alto or Tenor. Women playing the guitar are absolutely rare. I like to mention Mimi Fox and Emily Remler. Are those women and you exotic in some respect?
SH:Only if people talk about it I get that impression. Whenever somebody raises that question I notice that I might be regarded as exotic. I know most of the female guitar players by name or have even met them. There are not that many, that's right of course. When I go to a concert and see a female drummer or guitar player I'm also surprised, since I don't see myself while I'm playing. I wouldn't say it's exotic but of course it is more uncommon then seeing men playing.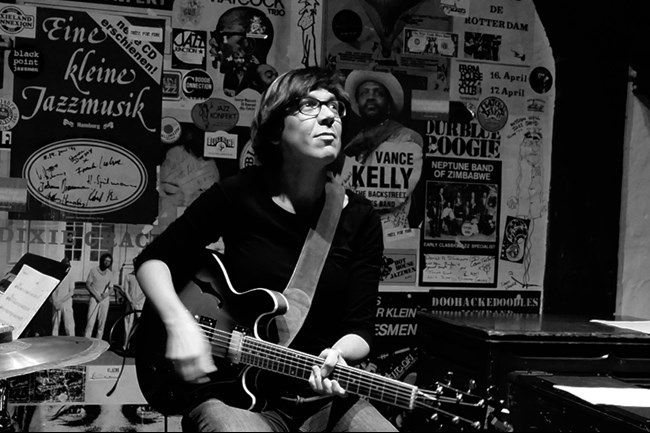 Jazz exists for a long time starting with New Orleans Jazz and Swing to Bebop and Hard Bop and so on. How important are those genres and subgenres for your own compositions and performance? How important are these roots for you?
SH: Very much I would say. I love to play standards and like to listen to the old recordings. Todays jazz music wouldn't exist without these roots.
How important are the so called legends in guitar Jazz like Wes Montgomery, Joe Pass or Jim Hall? Did they influence your compositions or the techniques and style of playing? Or are those mentioned musicians only a kind of figures of Jazz and that's it?
SH: Sometimes I ask myself how it would be to be a musician during the 1940s but playing exactly the same like I'm playing today. Of course that would not be possible because you are always also a result of what was before in jazz history. I listened to the music and transcribed a lot of solos of Jim Hall and Wes Montgomery. I love their recordings. I wouldn't sound the way I'm sounding if all those guys haven't been there.
Are there role models as far as your performance is concerned? If yes, mention those role models please.
SH: It's always changing. Sometimes I stick to somebody for a very long time. In the beginning Pat Metheny was my hero. Afterwards it was Wes Montgomery for a while. John Scofield turned up and stayed. Later I was totally fascinated by Kurt Rosenwinkel. I lived in New York for two years and I attended a few lessons with him and went to all of his concerts.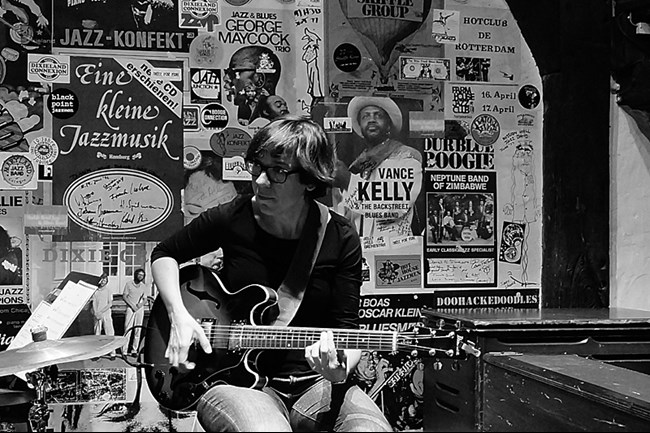 Do you think there exists a gender problem as far as Jazz is concerned? Most bands are male dominated.
SH: Of course, if you look at statistics there is a so called gender problem. When I play in a band and there are other women besides me playing in it I take notice of course and it is a bit unusual. But in general I don't think too much about it. I got used so much to the fact that I'm mostly surrounded by male musicians.
Probably a female car mechanic would feel the same. But it's getting more and more. I'm teaching at the "Hochschule für Musik" in Hamburg and nowadays there are already more female students then there used to be when I was studying. So it's also a question of time.
Jazz is more or less a dying genre of music, not really popular and not Zeitgeist at all as the double bass player Axel Kühn stated recently during his release tour of his latest album called 'Zeitgeist'. Is he right or is he wrong?
SH: It depends where you are in Germany or Europe. In a small villages people were often used to listen to Oldtime and Dixieland music performed at a Jazz Brunch on a Sunday. That audience is probably dying more and more. But I think Jazz in general  is not dying at all. It is always in process. For example nowadays the idea of being a band gets more and more important again. Younger musicians cultivate and create their images similar to Rock bands. They attract a new and younger audience, which is good of course. Jazz was and is a music for a minority. And it's very likely that it stays like this. But that's totally okay.
Thanks for talking with you.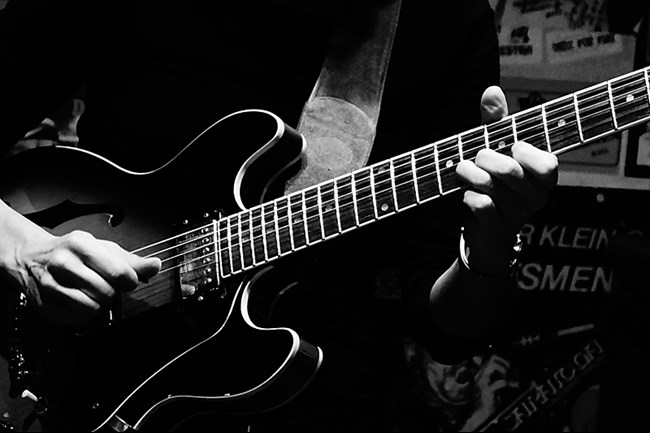 Photos and interview © ferdinand dupuis-panther
Informations
Sandra Hempel
http://sandrahempel.de/
http://sandrahempel.de/album/licht-aus/