Samuel Blaser, a conversation with the Swiss trombonist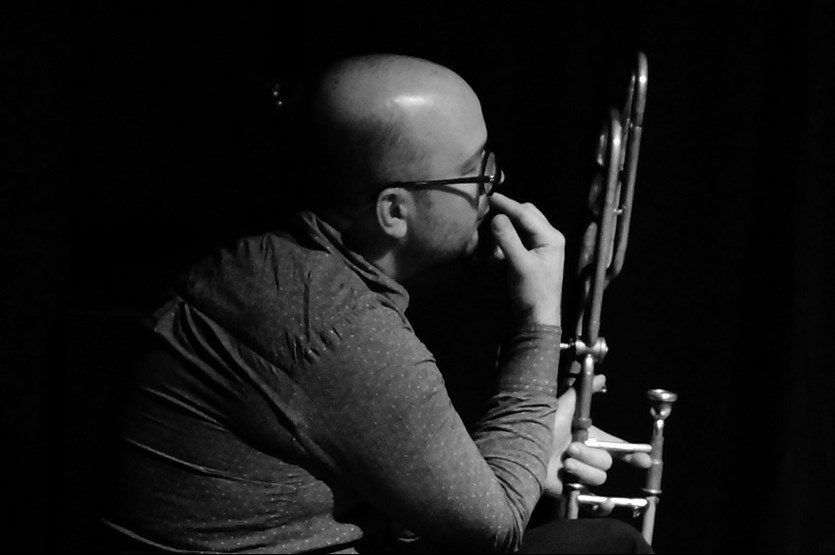 Just in connection with a concert at the Black Box Münster I had the chance to talk with Samuel Blaser who performed with Marc Ducret at the 18th of November 2021.

How important was your upbringing for your decision to learn to play the trombone? Trombone is not a very common instrument apart from church brass bands.
… marching bands. I wanted to play the trombone at the age of two. (laughing) It was quite clear from the very beginning. Maybe I was born with a trombone in my hands I don 't know (laughing again). Yeah, at the age of two seeing marching bands in the streets.

Did you experience a lot of music while you were  raised? And if yes, what genres of music can you recall?
Music was very important in my parent's home. They listened to all kinds of music. Of course I used to visit my grandparents during weekends and listened to Swiss folk music. That for one part and then R&B. My mother was listening to Ray Charles and Harry Belafonte plus Reggae e.g. Bob Marley and of course Rock 'n' Roll; well all kind of music. Louis Armstrong was very present when I grew up. We had a few tapes and played them all the time.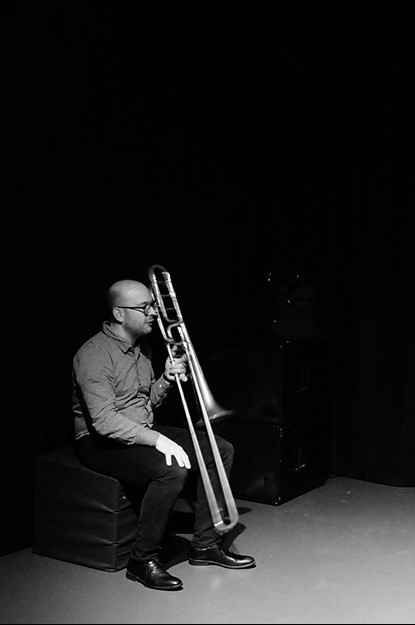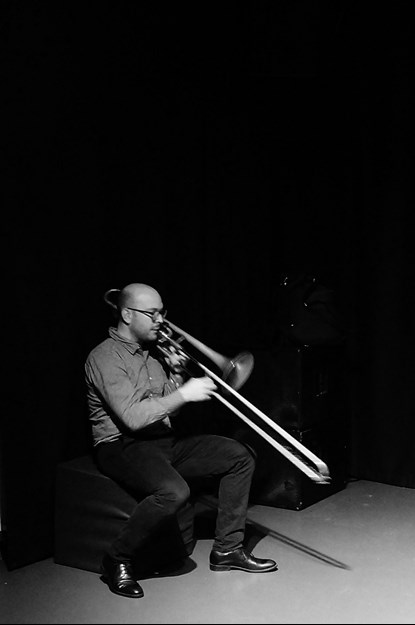 Do you remember the time you first listened to jazz and do you remember the tunes you heard?
The latest recordings of Louis Armstrong with tunes like "La Vie en Rose" and "The Saints go marching in". I listened to them a lot. The first tune I ever played on the trombone was "Blue Moon". That is still very present in my mind.

Can you remember the first recordings you bought or you got as present?
I bought three CDs I regard as most important and influential: "Kind of Blue", "Something else" and another one. Maybe it was an album by Curtis Fuller. The album cover shows him waiting on a train station platform ("New Trombone", Prestige 1957). It is one of his best albums as far as I am concerned. Maybe it was one of Art Blackey's albums, too. His music was likewise important when I started to play Jazz with my elder brother playing the drums and my younger playing the trumpet. We had a band when I was 12 or 13 and we were listening e.g. to the Jazz Messengers and to Dave Brubeck. We tried to play "Take Five" but we could not play it (laughing).

And what's about J. J. Johnson?
He came later to my mind. Before him I listened to Chet Baker. My aunt is a jazz fan and took me to a lot of jazz gigs in Zürich. She gave me two tapes: one of David Murray "Octopus Funk" and one of Chet Baker "No Problem". If you do not like them you can record Beatles songs she told me  but I liked them and still keep them.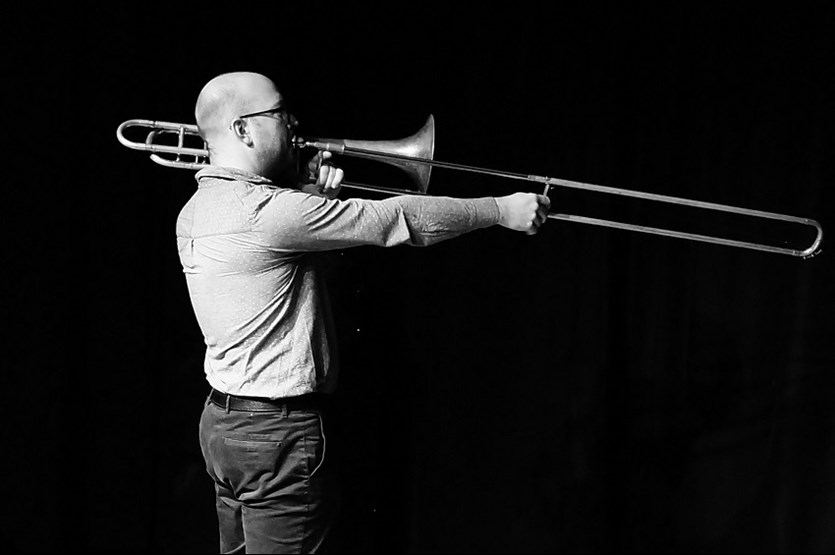 Do you see a relationship between your personality and the instrument you picked?
Yes of course. I see the trombone as an extension of myself and vice versa.

I would describe the sound of the trombone as guttural and throaty plus very much bass related.
Yeah, you could say that. It is so close to the human voice and you can reproduce the variations of the human voice.

You used to live in the French speaking part of Switzerland. Did that influence the music you play? Are you more connected to the French Jazz scene by chance?
Yeah, definitly. My first international trip was to Paris. For me it was the New York of Europe. Today my connections are mainly linked to France. That is the reason why I move back to Switzerland to be closer to Paris. My activities are mainly based in France.

Would you mind to mention some French jazz musicians you have strong bonds with.
Yes, the guitarist Marc Ducret, Daniel Humair a Swiss living in Paris, Michel Portal, the cello player Vincent Courtois and bass player Bruno Chevillon. I will start next year a trio with bass and cello. It includes Courtois and Chevillon.

How significant is the tradition of classical music for you?
That is the base of my music. I studied at the conservatory in my home town, La Chaux-de-Fonds. We studied different genres but classical music was the main subject.

What means Jazz for you? A four letter word only as Miles Davis used to state?
I can relate to Miles but I would say it has to do with conversation in a group of musicians. It means a get together with friends and converse.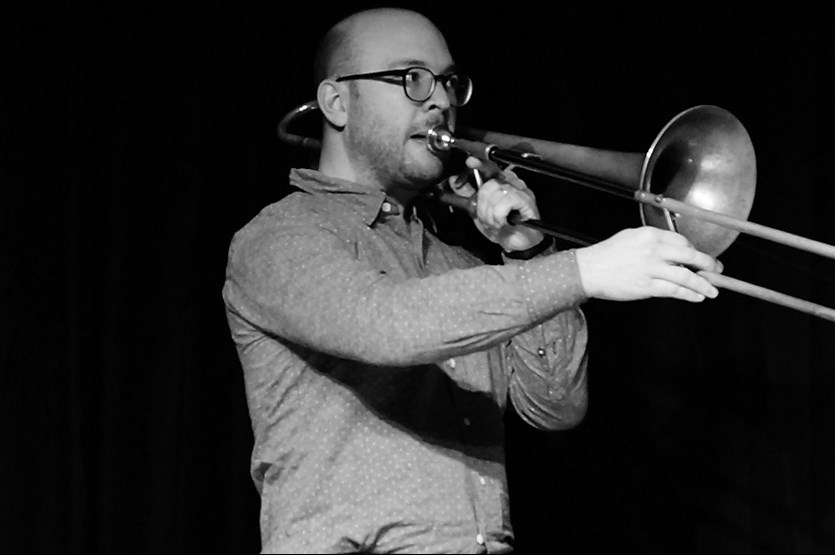 If this coming together is so important why did you record your solo project at the former Radio Broadcasting House in East Berlin?
(Laughing) I will actually bounce to an anecdote: I went to a masterclass of Ralph Towner and a student raised his hand and said: "Mr. Towner, you are playing quite often solo. Does that mean you do not get along with anybody?" I thought that was very funny. I had dinner with him two weeks ago and mentioned it. He did not recall that. Well, a solo project is a challenge especially when you had heard all the solos by Mangelsdorff. They are so strong and so significant. They are masterpieces. What can you do after listening to those solos? (grinning) That was my personal challenge. Therefore I decided to use the entire complex of the former GDR radio station building and finding other textures than Mangelsdorff.

When listening to the recordings I got the impression you play with the space. You used the space as a kind of counterpart which reflects your music. Your music seems to echo the space and to respond to the space. Sometimes there were steps on the floors.
It is a bit ambiguous. It is a solo performance but on the other hand a duet. And sometimes it is a trio recording. It is a duet because the sound engineer is walking with me through the rooms. You can see it on a documentary on Youtube showing the process of the recordings. Sometimes you hear his steps and sometimes mine. Sometimes you hear as well the reflections.

Is improvising the essence of Jazz for you?
Yeah, it is.

Is improvising a challenge?
No, I go on stage and play. The challenge for me is to master the tunes, to express everything I have in mind.

Anticipating what is next is not a problem then?
If you would start thinking you do not improvise anymore. I like to be spontaneous.

Is "Audio rebel" all improvised music done for the moment and in the moment?
It is mainly improvised. It was done during the last day of a tour in Brazil. That took place in a funky, smoky venue. It was hot and humid and there was everything you can imagine of Brazil. We just entered the stage and we played and then melodies were popping up.

Are you in any way rooted in Free Jazz?
No. I mean no. No, Free Jazz is a political movement for me. I am not part of it. I play Jazz and contemporary music.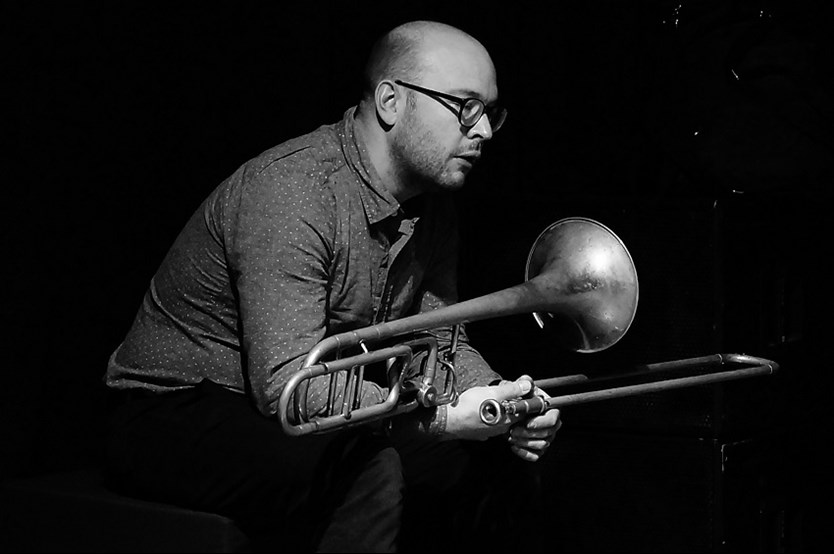 You perform as a soloist, with a duo, with a trio and quartet and in a septet. Do you see such performances as a facet of your career as musician and do you think they are equivalent?
I see differences. Every time I go on stage with a band I am so dedicated to the person or persons with me on stage. I forget if we are two or three or four. I feel more free with a small ensemble like with the drummer Pierre Favre. Sometimes we sound like a small orchestra. To play with Marc Ducret it sounds very airy. In a quartet you can relax more and you do not have to play so much but I never stay back because I want to have control the process of the performance.

Interview and Photos © ferdinand dupuis-panther

Infos