Reggie Washington: the shadow of Jef Lee Johnson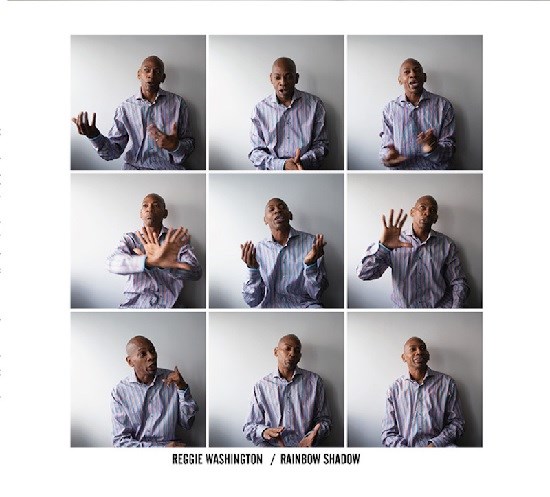 Reggie Washington's new cd "Rainbow Shadow" is coming out on the 1st of June 2015 (label Jammin'colors). The bassist who played and recorded quite a lot with Steve Coleman, Roy Hargrove, Ravi Coltrane and many others was in Liège (Belgium) last week before leaving for a European tour with Lisa Simone. He talked a lot about his friend Jef Lee Johnson who passed in January 2013; Reggie's new album is a tribute to him.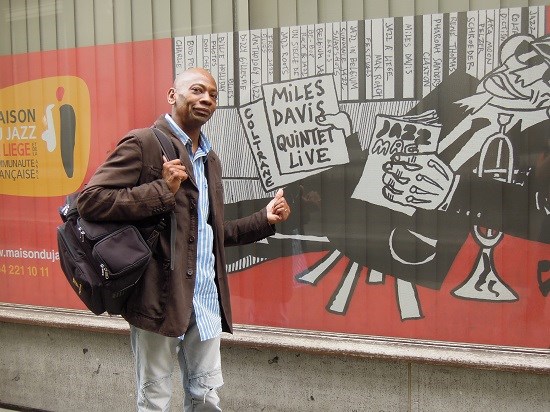 Photo by Jean-Pierre Goffin at Liège "Maison du Jazz"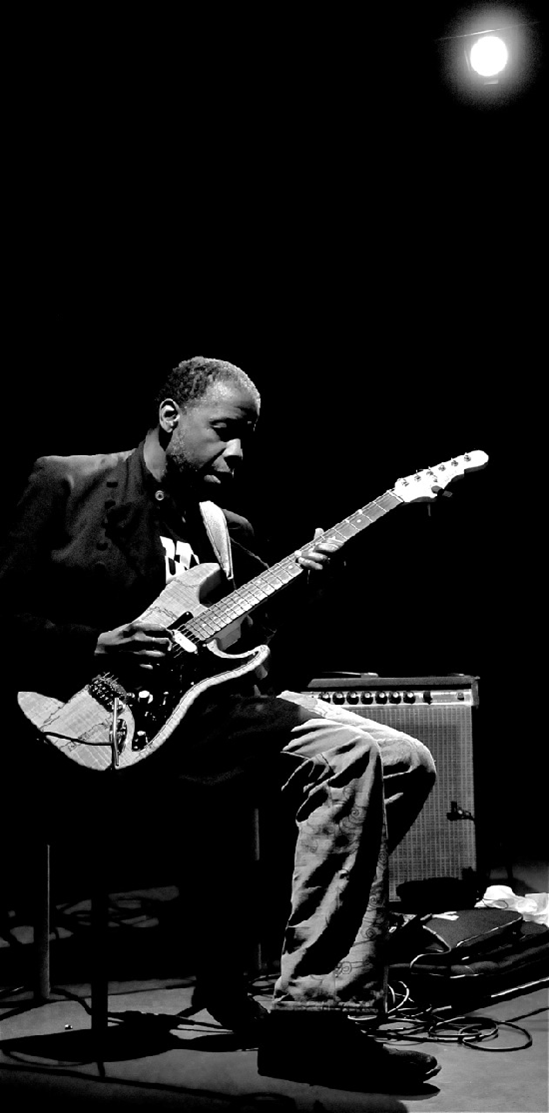 Photo Jef Lee Johnson by Guy van de Poel
Could you tell us about the first time you met Jef Lee Johnson?

"I was working with Ronald Shannon Jackson for a period of time and I had left the band maybe three or four months before, when Eric Person who was the saxophonist in the band told me : "Man, there is guy from Philadelphia, he is a beast, you got to check him out , his name is Jef Lee Johnson". This was in 1986, I guess. They were playing at the old "Knitting Factory" in New York, so I just wanted to see this guy, I went backstage and saw this man shredding on guitar and he said "Hey man, you are Reggie Washington, I know you… You badd, you badd! (meaning you can really play) " When I saw him performing, I thought this guy was special… very special… And I started to listen to him and check him out ; one of the first cds of his I listened to was "Blue": it was inspiring, not exactly new, but it was fresh, musically challenging, it wasn't going into those directions many guitar players were going at that time, a music with a high profile, he was playing with the darkness, but he was also playing with beauty, with ugliness, with all the emotions in his music; it was really the first thing that attracted me to Jef."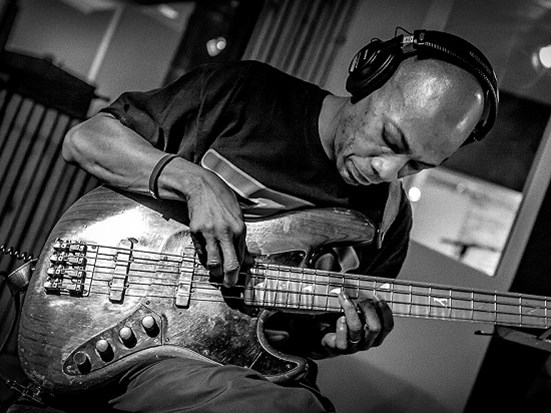 Photo by Renand Baur at Moods StudiosPhoto by Renand Baur at Moods Studios
The first tune on your new cd, " Black Sands", comes from the album "Blue"; in "Rainbow Shadow" you take pieces from different Johnson's cds: "Reckless" from "Things Are Things", "Cake" from "Wordy Mimes", "As Free" and "Move Shannon" from "Hype Factory", "Finding" from "Laughing Boys", "Take The Coltrane" from "News from the Jungle"… You recorded all this stuff before… Why didn't you write new compositions for this album?

"There was really no need, it was a tribute to him, to his music and the legacy he deserves. When I recorded the music for this album, I made very simple, I just took the tunes from Jef's I liked. You know, I loved "Black Sands": when he was alive, I asked him to play that tune and he replied "oh man, nobody wants to hear that!" … or he would say:" I don't remember the lyrics"… Well you didn't write the lyrics down? "No, man, nobody is going to read them!" And after a while, he told "oh you could do them"... So I started to do them myself. There are some many different personalities in his music, but I didn't want to play the tunes as he played them… You know Stevie Wonder, Herbie Hancock wrote some things you do not touch, you play them that way or you stay away from that tune and you enjoy the piece for the way the composer did it. "Cake", ,I like the twist, and I can play it live the way he did it, but "Black Sands" is not too far from the way he did it."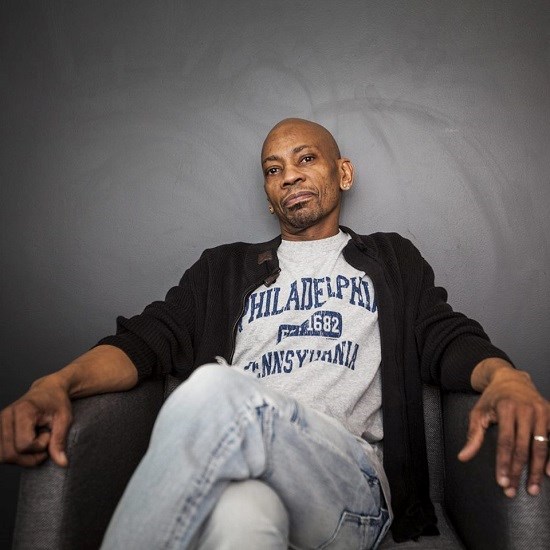 Photo by David CrunellePhoto by David Crunelle
You add an interlude to "Black Sands"

"That is the way it started: I wanted Alex (Tassel) to do a solo, so I said: "Alex, play another one… Ok! Play another one… Play another one…" We were experimenting like the way Marvin Gaye did with the vocals on "I Want You", I did it too with Roy Hargrove, I wanted to layer colors of music, and finally it was easier than I thought."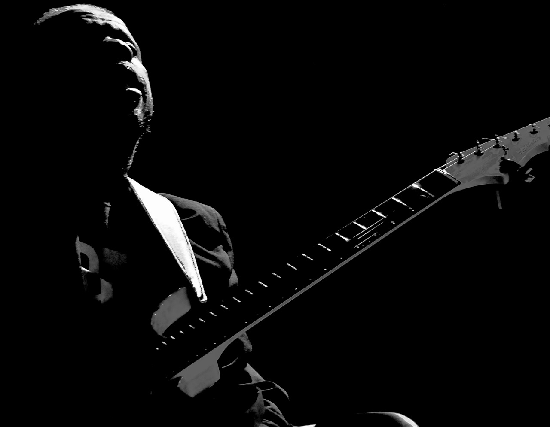 Photo Jef Lee Johnson by Guy van de Poel
"Take the Coltrane" is another piece you played with Jef Lee Johnson.

"O God! We did a concert with Jef and Michael Bland in Paris in 2002, we called it the most famous concert nobody saw! It was such a magical concert … So many things happened that evening, you know… brothers back together! The way he played "Take the Coltrane" in 7/4 time screwed me up, the way he put space under parts of the groove. It was a great challenge and a great feeling at the same time."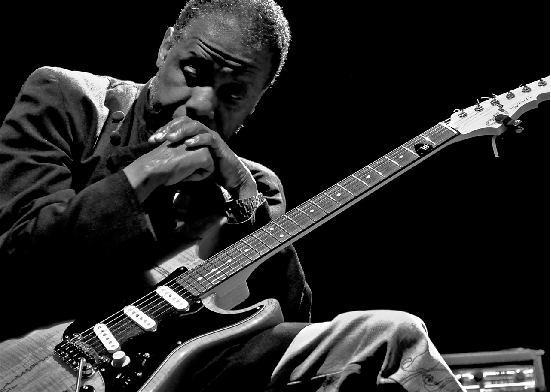 Photo Jef Lee Johnson by Guy van de Poel
This version was never released.

"No, we were doing "News from the Jungle" material, he also did "The Mooche" . We did the tune in 7/4 in my trio with Gene Lake but it got a bit difficult….And we decided to put a James Brown groove on it. In fact, the ending with Jef is an audio segment from the "Sons d'Hiver" festival in 2002 which was recorded with a walkman. I just took that piece because it was so strong."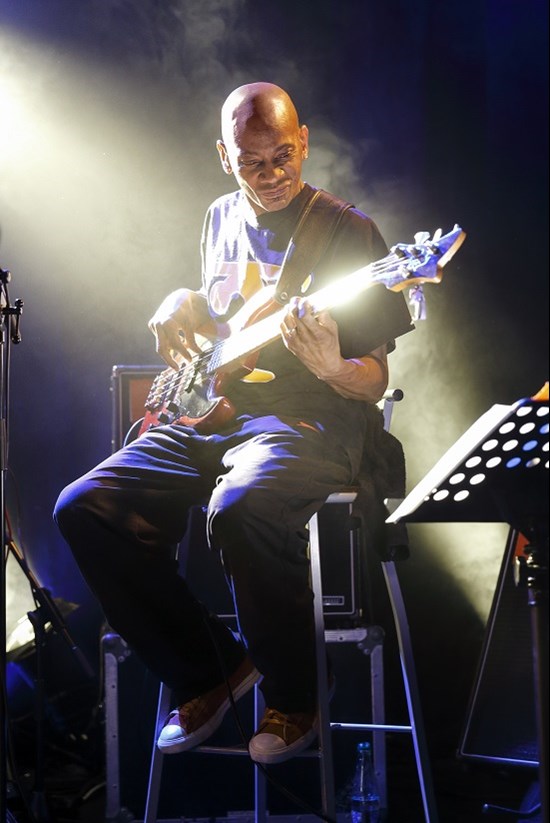 Photo by Yann Cabello
I notice that you didn't take tunes from "Freedom" for the new album: maybe are you already thinking of a volume 2…

"It was a good moment, a fun moment, some of the tunes we recorded were left on the studio floor , I was really anxious to release them… I just listened to them a couple of days ago because I hadn't heard them for two or three years … and I thought " Mmmm, we'll have to work some of this stuff out". By now, I have four or five tunes into volume 2 of "Rainbow Shadow", tunes I couldn't put on this one, because there was enough material, 14 tunes, and I wanted to keep it in the same spirit as Jef's albums. I also added some bass overdubs at home as Jef Lee did, he recorded at home in his basement, he had a 24 tracks studio board, there was stuff on the machine after he passed . I wanted to know what was on that machine! I'm very fortunate to be in contact with his family, his sisters and brother who were very close to him; they gave me a "carte blanche": "Whatever you need from us, no problem!" They knew me from what Jef told them about me. I don't know what he said about me and Stefany, but as soon as we contacted them they said: "We know who you are. Jef talked to us all the time, you are special to him". They were in a way surprised that I wanted to do this for Jef. When Léda Le Querrec ( from "Sons d'Hiver Festival") asked me and Stefany (Jef's manager) what we could do as an homage, we played in Paris with Jean-Paul Bourelly and Patrick Dorcéan; after the concert, we thought " it's done", but I said "No". You know, Jef told me : "I'm going to be famous when I'm gone" He was right, he was right…He was right! And I thought : this man and his music deserve wider recognition and I want to do anything to realize this project because he taught me a lot of the concepts that I use in music now. The way I record comes from the so many cds of his I listened to… It was about mechanical things, or how you visualize music , it is just a canvas in music you're painting across … Just close your eyes when you are listening and you can see the guitar moving … And it is a lot what Patrick Hardy and I were doing on this cd: we were painting, moving stuff in some places , you can feel this movement and everything…"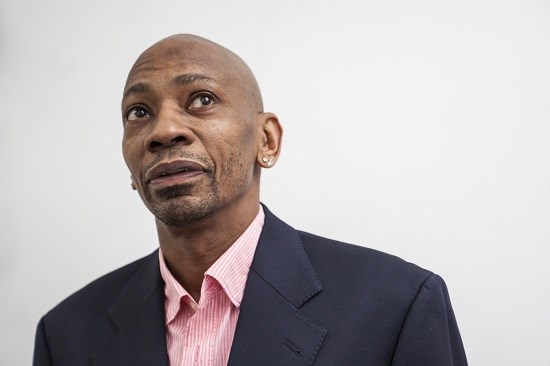 Photo by David Crunelle
It sounds like a musical landscape. We hear the crow in some tracks: was it DJ Grazzoppa's idea?

"No, actually I gave it to Grazz because it was easier for him to … Well, he didn't have that in mind, but I told him he should put the sound and the spirit of Jef into the music : I gave him sounds, footage of videos of Jef and me talking and I told him what to use on the cd . We sat for a few hours and talked about it , he grabbed voices, guitar licks, and also the crow that comes from a North American fable… And Jef gave so much to the music in the detriment of his career and his fame and his fortune… You know, I know so many musicians I respect, but Jef was purer than any of them. People preferred the glamour of a guitar player instead of the good of the music… What he played was what the music needed for the love of the music. That is how I want to play, that's what it's about… And my career started to change. You know some journalists and writers tell me that I don't jump on top or play high… And I reply:"Yes, there is no need for the bass to play so high because the bass is supposed to be a part of the band , the thrill is not the bassist but the band… When someone asks me if I could play louder, I say no, it isn't necessary, the music lives and breathes if I play for the good of the music."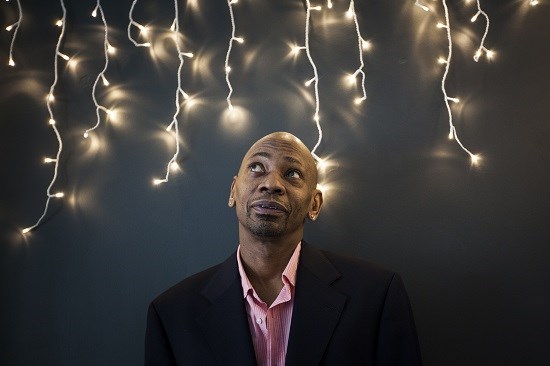 Photo by David Crunelle
It was a real challenge to find a guitar player for this album…

"Yes, but I didn't really pick Marvin Sewell, Jef did. Jef and I were not best friends and we didn't talk a lot or have thousands of e-mails. E-mails were brief. When we did speak, we talked about life, about movies, science fiction, about our past - we both had lost our wives within a few years of each other, he sometimes joked we were members of a special club. He talked about guys he respected and people he didn't respect, and Marvin Sewell often came up, Jef said " Hey man, you should listen to him". Marvin told me he heard Jef and flipped, and wanted to know everything about him, he was one of the few guys following Jef, seeking Jef out to talk to him… So I asked Marvin whether he was interested to play this stuff with us and he replied "Yes I'd love it!" And Marvin knew Jef's tunes."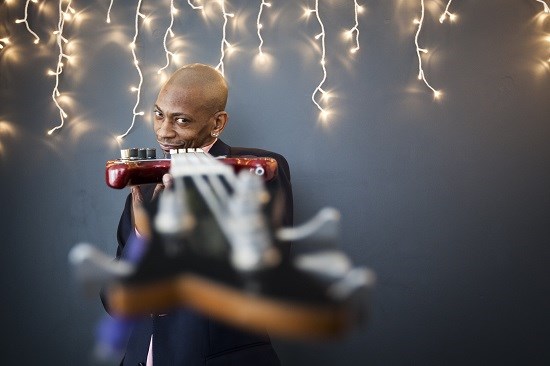 Photo by David Crunelle
Well, I realize I made a boob! There is well one new tune on the album "Sewell in the Grazz" with Wallace Roney as special guest.

"I was working with Wallace in a Miles's tribute and the thought came out of the blue . We didn't see each other for twenty years and we met in Skopje, he needed a bass player, and we started doing some gigs together …. "Sewell in the grazz" came this way: I was in the studio at the board with the engineer Jonathan Marcoz and what I always say is "always press the record button, man, always!" David Sanborn used to do that, Miles, all the cats did that. And the musicians were just messing around… Well it's not bad…Ok! We'll keep it and see what's happening … And I started thinking and said to Wallace: can you record something on this, man? You got a wah-wah pedal around? Check this out! And Wallace did something on it. Roney's sound was in my head. There was no bass on the recording and Wallace played things on it…and Waaaw it was great, this is inspiration. I took the tracks home and recorded the bass. That was so easy, too. You know, Wallace Roney is from Philadelphia like Jef, and I wanted to have musicians who knew Jef, but also who are from Philadelphia."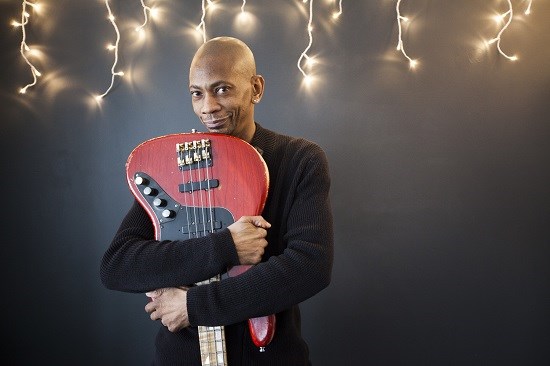 Photo by David Crunelle
You have often played with Belgian musicians and you know the Belgian scene quite well: what is your vision about it?

"It seems there's a division between musicians here. Groups like Aka Moon, Octurn or Pierre Van Dormael & the "classic jazz musicians as well as the R&B folks too. I also enjoyed playing with a guy like Paolo Radoni . The newer guys… There is some promise… I expect from musician that they share, when you are enthusiastic about things to go in another direction, like with Jozef Dumoulin, this guy knows his instrument, he is going someplace else, that's what I like to see. A lot of young musicians stay in a bubble, it doesn't help the Belgian scene. Sharing with other cultures is very important, Fabrice Alleman I love him, he's my brother. Nathalie (Loriers) is a wonderful player, too. Lionel (Beuvens) I've seen him grow as a musician, I like him because he is a listener; that is the kind of young musician I like to play with. There is a heritage here in Belgium, there is a language of music like in many European countries, France, Italy & the rest of the World… Like in the USA, there is a different musical vibe in Philadelphia, in Chicago, in Atlanta, L.A., Oakland, Detroit,… and everybody sounds different. In Europe, you can also hear their story… What is important is the question: what are you doing for the music? What are you doing to put it up to the next level? It's up to us to steer the music in a direction to last, God bless us."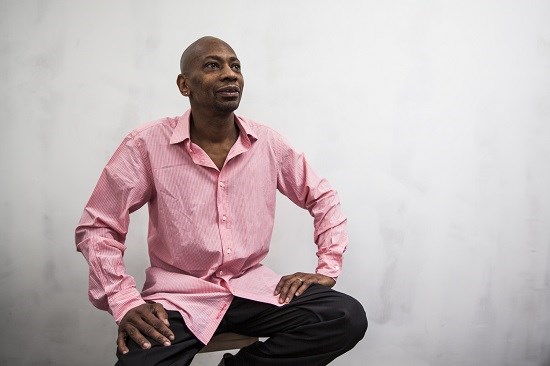 Photo by David Crunelle
Jean-Pierre Goffin
Liège, Maison du Jazz, May 11th, 2015