Mauro Pawlowski and Peter Vermeersch (Flat Earth Society)
A band of rebels, the anarchy of Jazz … that are 'keywords' to characterize the mega band FES. The band was founded in 1998 by the former architect, clarinetist, saxophonist, keyboard player, composer and producer Peter Vermeersch. It is not a traditional Big Band stepping in the footprints of Count Basie or Duke Ellington or Glenn Miller but a band which performs entirely contemporary music. The band consists of Stefaan Blancke (trombone), Benjamin Boutreur (alto sax), Berlinde Deman (tuba), Luc Van Lieshout (trumpet), Bart Maris (trumpet), Michel Mast (tenor sax), Marc Meeuwissen (trombone), Kristof Roseeuw (double bass), Bruno Vansina (alt & baritone sax), Peter Vandenberghe (piano & keyboards), Teun Verbruggen (drums & dustbingrooves), Pierre Vervloesem (guitar), Tom Wouters (clarinet, vibraphone & vocals). Mauro Pawlowski (guitar) is a permanent guest of FES. I had the chance to meet Mauro and Peter just before they were due to enter the stage of the Concertgebouw Brugge. I started to talk with Mauro first.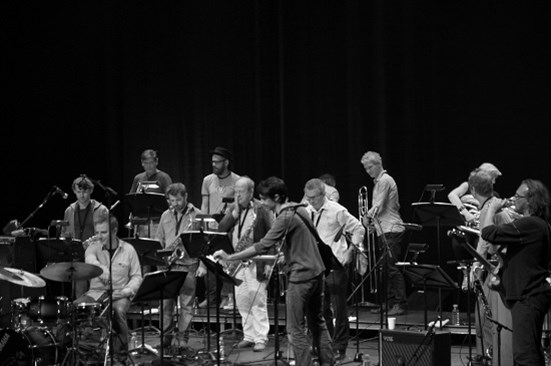 What does means jazz mean for you?

M. P.: Jazz is a genre, partly improvised music. For me Jazz is what Jazz is for everybody else.

Is Jazz an American or a European style of music?

M. P.: Well, I think it is American music but there is European Jazz and Asian Jazz. Jazz is worldwide but it still feels like coming from America. And black music even!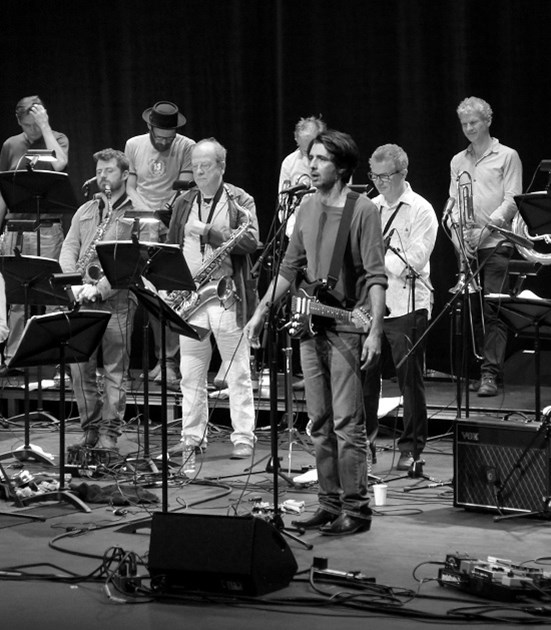 Do you take those roots into your performance?

M. P.: Oh, I hope so because I think most of the revolution in non-classical music has to do with the black culture. In Pop, in Dance music, improvised music, Jazz, yeah. Hip Hop was for me the last real revolution in music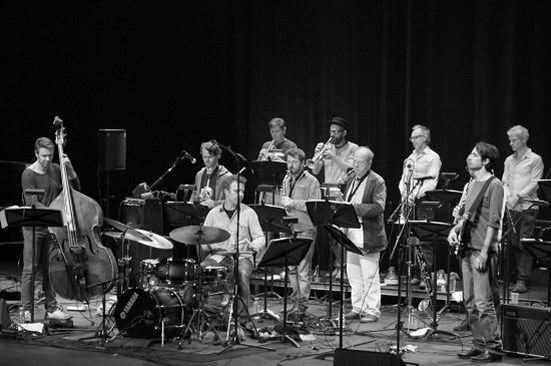 Do you see yourself as a pure Jazz musician or are you more related to crossover music?

M. P.: I am not too interested in pure Jazz. Of course I can enjoy it. Usually I'm losing interest if there is a long Bebop solo. I prefer other genres of music.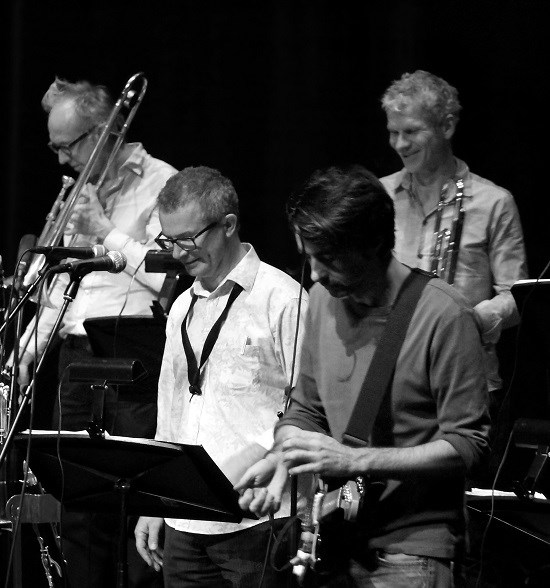 Could you give an example please e. g. Acid Jazz, Nu Jazz or Fusion?

M. P.: I have to admit I am a fan of Roland Kirk for instance. That is real Jazz for me. It is a very personal music and there is only one Roland Kirk. I like Pat Metheny too because I am a guitar player. I think the highest achievement man has made in music is John Coltrane's late work. That is one of my favorites of Jazz. Albert Ayler and John Coltrane were very spiritual, religious, exalted. That is music I am very fond of.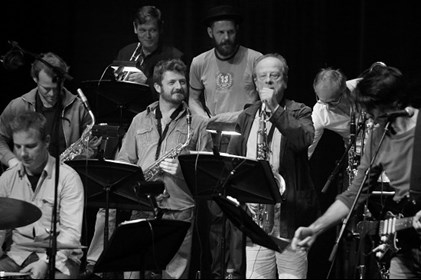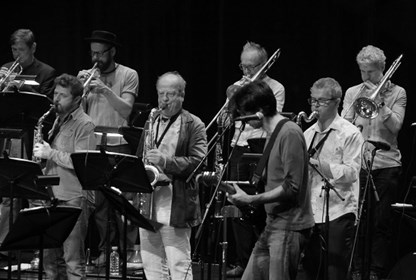 Considering the age of the Jazz musicians on stage and the public turning up there is an age gap. The audience is greying. Is that true?

M. P.: If you want a young audience then you have to play Pop music. I never considered Jazz as old peoples music.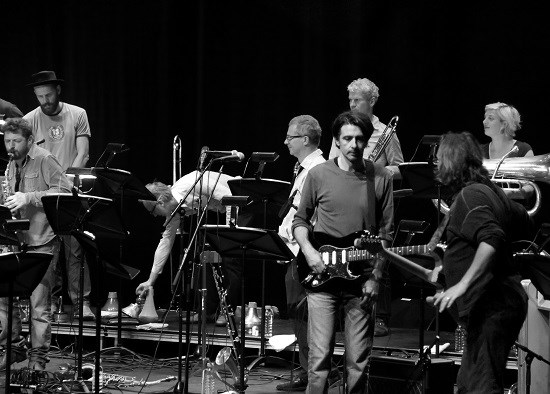 In the 20s, 30s and later on Jazz was the popular music.

M. P.: Yes, it was part of the social life of the society then. Now it is a different time. I really can understand that in the 20s and 30s it was the most exciting music. There was not anything else. It was a music of very exciting rhythms, challenging harmonies and atmosphere. Tchaikovsky's Waltz was once the hottest thing in town. Yeah, things changed a lot. Jazz has not to be the most popular thing for me. There is a time and place for everything. I can understand why Jazz is not a substitute for Pop music. It had its time as party music. Sometimes you can't force it.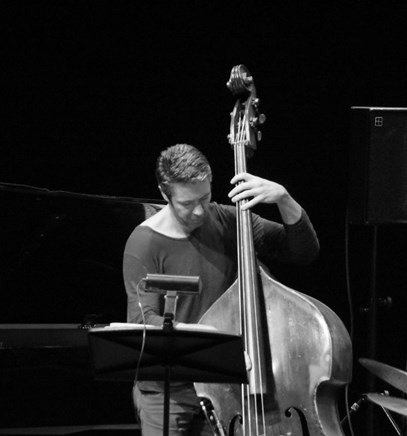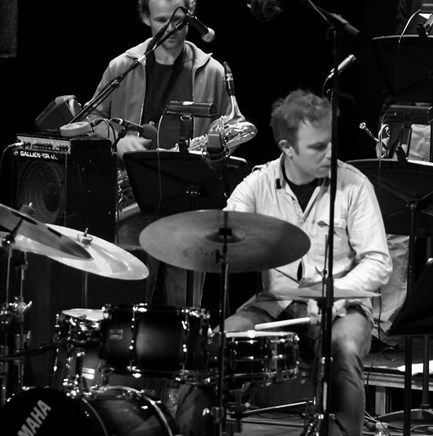 Would you say Jazz is just for the intellectuals?

M.P.: Not really. No, there are always exciting things happening in music, always. I do not believe people saying that in the 80s there was no extraordinary Jazz music around. It is impossible to find a month or a year without exciting Jazz music. I love the Jazz of the 80s. There's nothing wrong if you sit in a chair brain working and taking a few drinks and listening to Jazz but I am an old school Rocker and like the partying.

Did you ever take into account playing other genres of music than Jazz?

M.P.: When I started to play music as a kid and teenager I tried out every idiom of music. Jazz, experimental music, Rock, Pop, Top 40 you name it. I place my attention not on one genre because I am a child of my time. I never decided to play Jazz music. In the village where I come from there were a couple of good Jazz musicians in my age e. g. Michel Bisceglia. That is the kind of people I grew up with. I love Fusion by the way. I do not understand why someone does not like the Mahavishnu Orchestra. I can understand that by listening to the music you get tired a bit. Recently I bought a cheap box of Weather Report. I played it whilst driving my car and thought how amazing and unique this band was.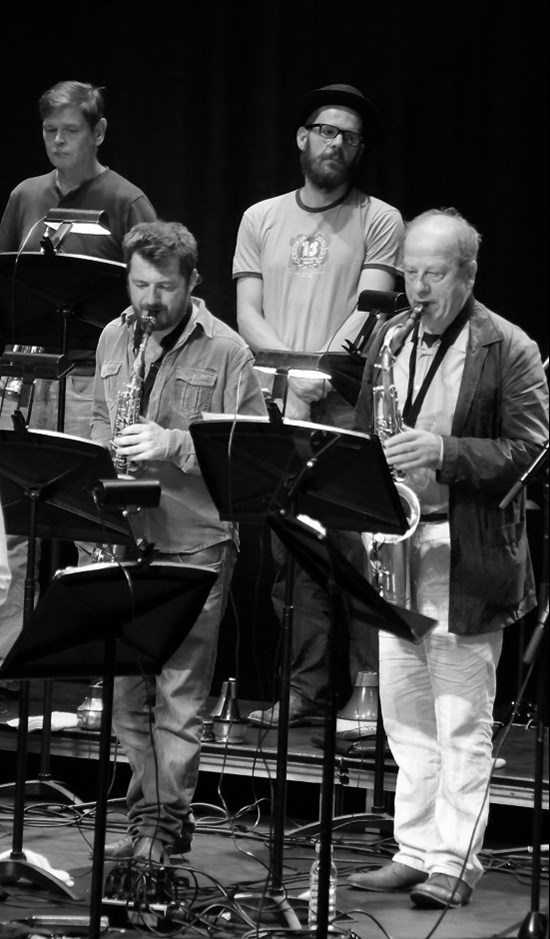 FES is labeled as 'Rebels of Jazz'. Do you agree with this statement or not?

M.P.: I know Peter (id est the bandleader Peter Vermeersch) evoluated from a very unique punk background to modern composition in Jazz. He is quite a unique figure. I know him for a long time.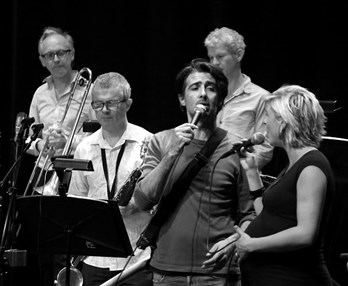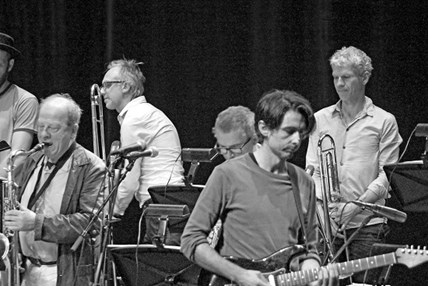 Then Peter Vermeersch joined us and we continued the chat starting with the label "Rebel of Jazz" for the big band FES.

P.V.: It is just the way people see us but we do what we want to do.

How would you characterize your music?

P.V.: It is very personal. I try to figure out what you can do with the band. I like to compose, I put things together and I like the chaotic part of it as well. In which direction you look at it it's everything. The music ends somewhere where I end and the musicians end.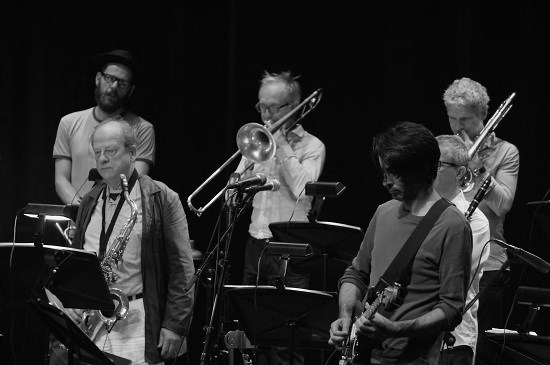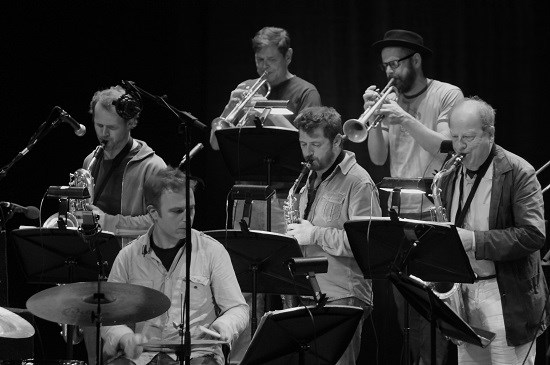 What are the roots of your music?

P.V.: Marc Ribot had a band named The Rootless Cosmopolitans. It comes close to it but we are in Belgium and we do not have roots. Belgium does not exist. There is nothing like Belgian music and language either. Some speak Dutch, some speak French, some German. I like sculptors, I like paintings and visual arts. Music entered my life in a very strange way. I did not study it but there is a lot I like if it is genuine.

When you start composing a piece do you have images in mind?

P.V.: Images are important. It could be a musical or visual image or an atmosphere to explore. I usually start my day by questioning what to do. Sometimes I am in a mood for something slow or gloomy or I am in a Humpdada mood then it is Humpdada.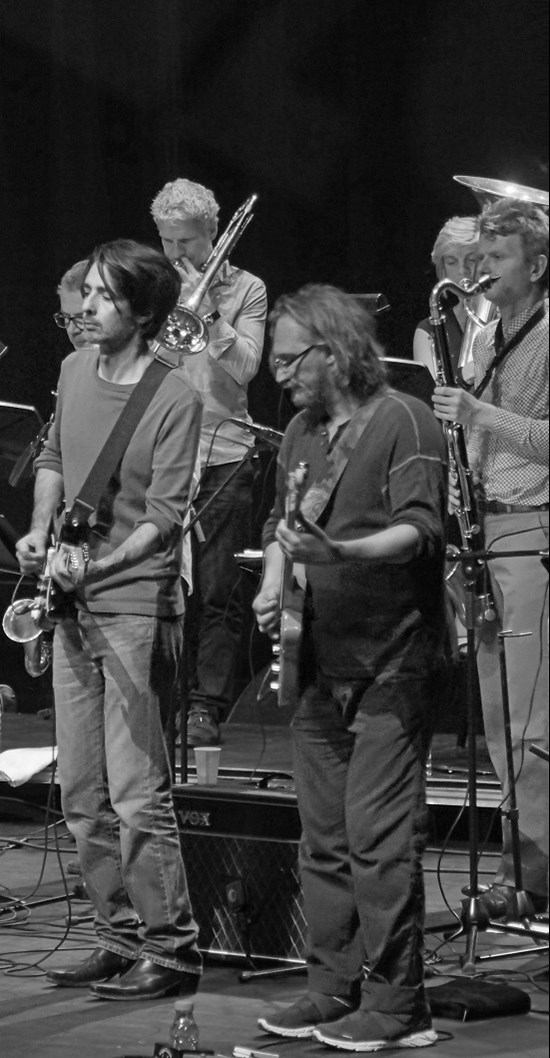 FES has a very 'brassy touch'. By purpose?

P.V.: Yes there are a lot of brass instruments played. I am very much interested in Jazz, in Rock and a bit in classical music but as a composer I am more focused on a musical event and bringing musicians together. As a composer I am more and more into the compositions of contemporary music. Those contemporary composers are my teachers. I am a Ligeti fan and Messiaens fan or Stockhausen. I am not intending to make this kind of music but this is the music I am influenced by.

How do you see the world of Jazz: Is it European or is it Amercian music?

P.V.: What we play is mainly West European music but in my musical life I always was like a sponge and I absorb everything, Jazz has to do with the slaves from Africa and the brass bands, the gospel and the folk and this made this bastard music. As long as it stays like this you can make Jazz and that is what I want to do.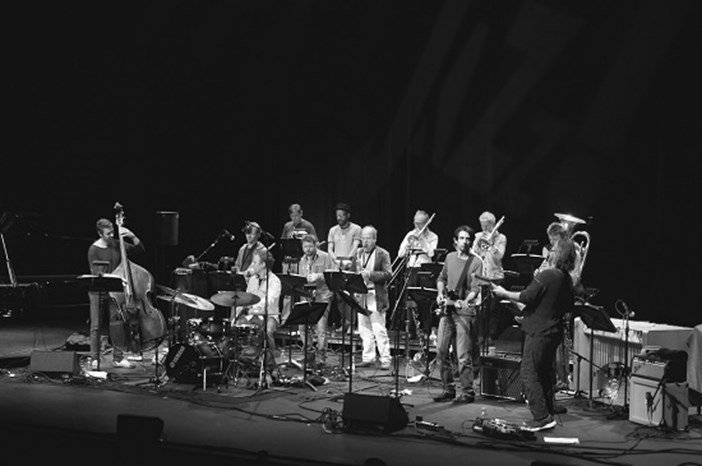 Interview and Photos: © ferdinand dupuis-panther

Informationen

FES
http://www.fes.be/overFESEN.html

Mauro Pawlowski
http://www.mauroworld.net/