Jelle Van Giel – Interview with the drummer and bandleader from Antwerp
I met Jelle van Giel at Jazzahead 2016. I had the intention to talk with him about his album "Songs for everyone" but as well about Jazz in general and his steps in his career taken during the last years. In regards to his album I quote hereby a review published at "Jazzmozaiek": "29 year old drummer Jelle Van Giel has worked for years on the album Songs For Everyone. He wrote all compositions, inspired by many of his travels, among which a trip to South Africa. This translates into the relaxed and magical beauty of the song Cape Good Hope. And it must be said, Songs For Everyone brings out the magical and lyrical harmony between renowned pianist Bram Weijters and the horn section." This in mind I started the interview going back to the beginning of Jelle's career as a drummer.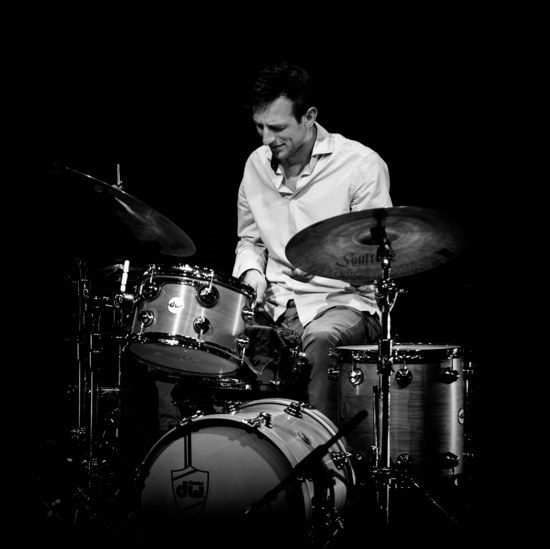 © Freddy Vandervelpen
Your biography starts with a nice little story. I would like to quote from your homepage the following lines: "At the age of two Jelle asked his first drumkit and he got it. Because of his enthusiasm, the poor plastic drumheads were broken after three days…". Do you keep this memory vividly in your mind? How did your parents react towards your desire to get a drums set?
JvG: They are musicians and understood me well. They played a lot themselves. When my mother was pregnant she still rehearsed with the Big Band. I think that's why I like to play in a Big Band. I was always drumming on all the jars of jam and spreads on the table when we had breakfast. My mother said: "Okay, no problem," and bought me a set of toy drums for Santa Claus but I broke it after two days and we had to buy a real one. It was not possible for me to play on that plastic stuff.
Was music a sort of daily diet during your childhood?
JvG: Yes, the Big Band music formed a big part of my life. I also started studying classical music when I was 5, 6 years old. I went to the local fanfare. That was the actual beginning of my musical 'career'. I attended music school until I was 18. Music was an extremely important part of my life, all my life actually.
Was there any change in music styles at the times of the puberty blues?
JvG:  As a teenager you discover many different sides of yourself and I listened to a lot of Rock, Heavy Rock like Papa Roach. Later on I leaned more to Hip Hop and other genres. Then I came into Jazz at the age of 16. I got a lot of influences.
Why Jazz then? Did you attend a special Jazz concert that attracted you or did you listen to records fascinating you?
JvG: I think it was because of my drum teacher. He was playing with the Freddy Sunder Big Band. Freddy was the conductor of the BRT Big Band when he was younger. Then he formed his own band and my drum teacher was too busy to keep on drumming there. He asked me to come to the rehearsal and try to play. I thought: "Yeah, why not". A year later I took his place. Thanks to the Big Band I came in touch with Jazz.
Why did you pick the drums as your favorite instrument? Was it a natural process? Did you ever consider to play another instrument instead?
JvG: For me it was a very natural process, like my biography shows, from two years on. It was immediately obvious that I would become a drummer. I also like to play the piano because as a drummer I sometimes miss to play harmony and melody. That is why I compose a lot. I feel the urge to play some chords and a melody and to write my own music.
The drummer in a Rock band takes the center of the stage and everybody is focused on him. In a Jazz band it is quite different. The drummer sits in the corner of the stage and keeps the background of the stage as his turf. How do you manage to get your message across to your band members?
JvG: It is most important for me that the bass player stands in the middle and the piano is a sort of counterpart. Then it is better to see everybody. I play also a lot of Rock music and sit in the middle but that is a very different point of view. For Jazz it is far better to be placed at the side of the stage.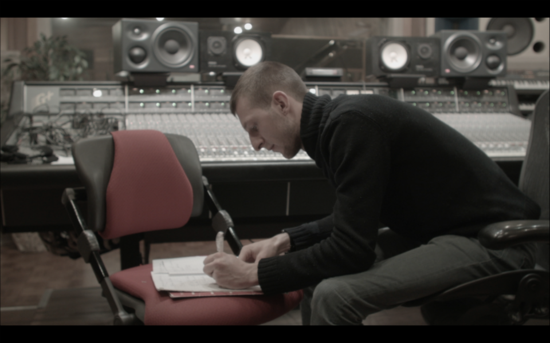 © Boet Hehuat
You formed your own band with well know Belgian musicians like Bram Weijters or Steven Delannoye and Erik Bogaerts. What was the purpose for doing it? Did you want to be a bandleader instead of a sideman?
JvG: I really felt the compulsion to write and do my own stuff. I really see it as a challenge too: "Let's see what I can make out of things." While writing the music I considered who I could invite to the band and who would fit in the band. It was very interesting. I learnt so much and I still learn every day. You have to be part of a network and to attend meetings like Jazzahead. You have to try to push everything. For a young Jazz musician it is most important nowadays to invest now if you want a long career. The group  puts me on the map. I also really feel the need to make music for the people, to make nice music for everybody. I have to share my creativity with the world.
How would you define your role in your own band?
JvG: As a drummer I am not really in the front. I think that the compositions should be the center of attention. On the CD there is only one drums solo. It is really not about the drumming, it is all about the compositions, the atmosphere, and the melodies. When I need more energy in the songs, as a drummer I can push the musicians to get more out of it of course.
And may I ask you if the drummer is the better bandleader?
JvG: Oh, I don't know. I am not sure about that. I think everybody could be a good bandleader. I see so many musicians, all doing a great job. I don't think that a specific instrument makes you be the better one.
I was thinking about the rhythm and the timing. That is an important part of the music and you the one who can force it or reduce it.
JvG. Yes, that's true, as I said: I can determine the energy I want for my compositions, but I prefer to give the other band members a lot of freedom too.
You can play loud and energetic, distinctive and soft. You can use sticks but as well brushes or Wok cleaner.
JvG: Oh, I never use that last one. It is too hard for my style. But I understand what you mean. The drummer can really send the music in a specific direction. In my band the arrangements are there. In a Big Band you have a shout chorus and you have to push in a certain direction. There is more of a line in the music. If you play in a trio then it is much easier to do more unexpected moves. That's the reason why I founded a trio with a London based guitar player and a bass player form Estonia because I missed that. I want to play more freely and to try new ways. It is more adventurous.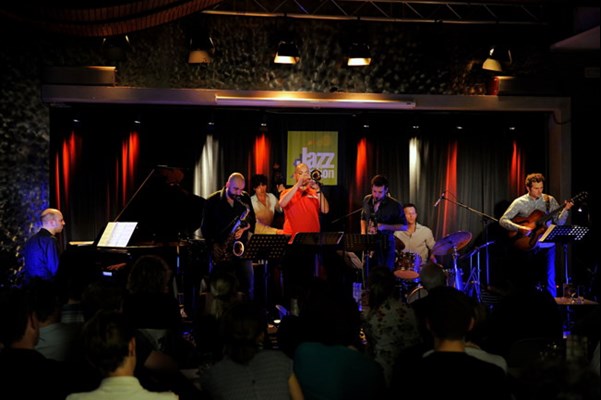 © Stefan Int Panis
Let's talk about your composition on your debut album. Could you describe the source for your compositions a bit. To make it easier I will mention "Cape Good Hope" and "Coast to Coast". It sounds to me like a travel you made or you read about it.
JvG: Those two compositions were created when I went to South Africa in 2013. Normally we had a tour there with a Big Band, but the concert was canceled last minute, due to financial problems. We got the plane tickets anyway as a compensation. We went to Cape Good Hope. When I was there, it was incredibly peaceful and quiet. The nature was so beautiful. That inspired me. I wanted to get a groove which was repetitive and like the flowing of the waves. I wanted to create a nice melody reflecting the nature. It was the peace and the quietness I wanted to express with Cape Good Hope. We went to a lot of coastal areas that all had a nice atmosphere. That's when I wrote the melody of Coast To Coast.
Do you need such experiences to compose?
JvG: No, but it helps. I also try to do it more theoretically as in classical music with reverse motion of harmony and melody. This kind of classical influence I used for Madness too. The challenge for me is to go from one note to the other and see how it develops. Sometimes I have no idea at all and I just play the piano to get a melody and see where the melody leads me and then I put harmony underneath. It is interesting because you don't know how the song will sound in the end. It is quite surprising.
Do you prefer lyricism and a narrative style and as well story telling?
JvG: I need both. A melody needs to stick to your mind and awake images. I placed 'Aturyah' on the album with all its intervals. When I studied with Kris Defoort he always challenged me to try to write down crazy ideas. In the end I started to like this song, but still I cannot sing the melody from A to Z. There are intervals and groups of seven and other special elements. In this case, it is just the atmosphere I enjoy. I put the storytelling in the music as well. Just like a good narrative story I use the structure of a beginning, a middle part and a clear end.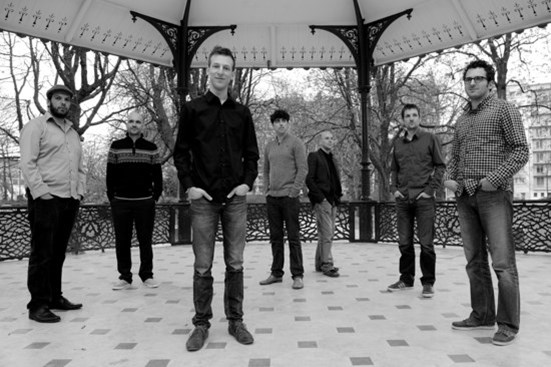 © Stefan Int Panis
Apart from your own group you perform as well in trio or with the Bravo Big Band. Please tell me more about these bands you are engaged in and what the challenge for a drummer is like.
JvG: As a drummer in a Big Band you have to push everybody in the good direction and make the transition from A to B. It is very important that the drummer gives instructions. You have to play the kicks of the composition. You have to know the music well. In a trio it is very different. It is very open and you can do whatever you want. Two different challenges I both like. I play folk music, world music and classical music too. For instance I recently joined a brass band for a concert and had to be very precise as a drummer. If you make one mistake everyone hears it. People are very critical. They might never call you again if you make a mistake. But it's all part of a way to survive as a musician: the more types of music you can play, the more you will be asked. That's the reason why I try to develop all these styles.
Thank's for talking to me.
Interview: ferdinand dupuis-panther

Informations
Jelle van Giel
https://www.facebook.com/jellevangielgroup/
http://ww.jellevangiel.be

Audio
https://soundcloud.com/jellevangielgroup

CD review
http://www.jazzhalo.be/reviews/cd-reviews/j/jelle-van-giel-group-songs-for-everyone/