Javier Girotto – interview with the saxophonist from Cordoba (Argentina) who lives in Italy
I met Javier during the Steyr Jazz Festival 2016 and had the chance to talk with him. At Steyr he performed in a terrific duo with the classical trained piano player from South Korea Soo Cho.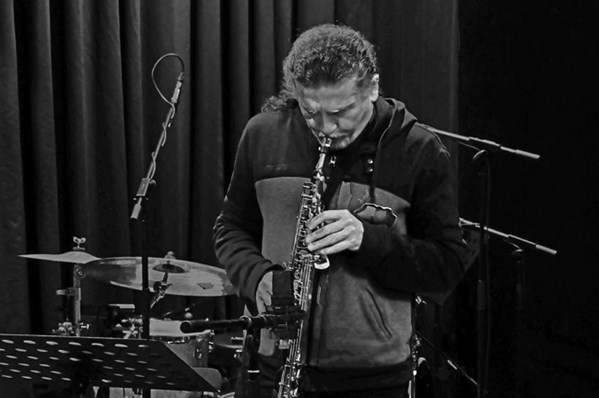 Reading your biography I got to know that your grandfather was quite important for you regarding your career as musician. Would you mind to tell a bit more about it please?
JG: He was a musician. He directed a marching band and took me to their rehearsals. When I was eight years old I started to learn how to play the clarinet. He was really a musician with passion. My granddad used to play flugelhorn in a symphony orchestra. He played the bandoneon too and performed with a Tango orchestra. He passed to me all the essentials to become a musician and took me everywhere with his bands.
Thinking of Argentina I think more about the Tango and the Tango nuevo and of course about folklore represented by e. g. Mercedes Sosa. I never ever would link your country of origin with Jazz. Is this a cliché or stereotype?
JG: When I lived in Argentina I was looking for Jazz and Jazz musicians. Argentina was dominated by folk music and Tango when I began my career as a musician. There was a moment that I couldn't handle these genres of music any longer. I actually started to hate such music. Luckily I had the chance to go to the USA to learn a lot about Jazz. In those days I was very much involved in the Amercian way of Jazz. When I left the States and came to Europe I experienced a sort of  nostalgia and was eager for the music I had been growing up with. When I performed and played Jazz music it was fascinating considering the technical part of the music. I was really satisfied being in control of the tunes but to tell you the truth I did not feel any emotion. When I stopped playing improvised music and changed the type of music I played there was an outburst of emotions. I am now 51 and have a lot of experience playing concerts.
Argentina has to offer quite a diverse range of music like the folk music with more than 300 different kinds of rhythms. It is a very rich type of music. If I think of traditional Jazz you fit into a tenth of styles I mean like fast and slow and Bossa that's it. I found my roots and want to keep my music enriched by emotions. I am really fond of melodies I have to admit.
How and when did you discover Jazz? Did you run into Jazz musicians? What was the first Jazz record you ever listened to?
JG: I met a guy in Argentina and he showed me a couple of records. One was by Massimo Urbani a sax player from Italy. He introduced me to the American piano player Bill Evans. It was very melodious. That's why I liked it. The music of Argentina is full of melodies. Most important are the rhythm and the melody more than the chords and harmony. That was the start to learn that kind of melodious Jazz.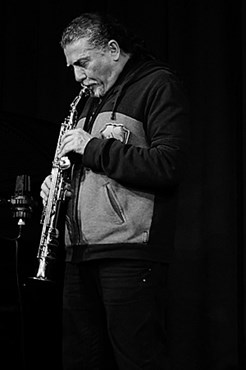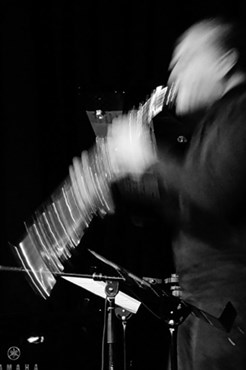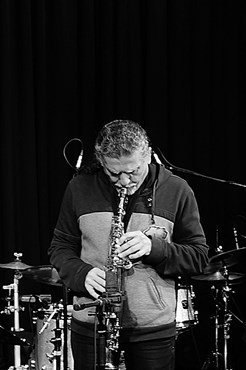 At the age of 19 you left your home country to study at the Berklee College of Music. Did that happen by accident?
JG: Yes, it was a sort of accident. First I intended to immigrate from Argentina to Europe especially to France because I had a lot of friends who went there. I was then 16 years old but my parents let me go anywhere I wanted to go. I went from my home town to Buenos Aires to take part in clinics. Finally I got a scholarship for Berklee. Due to the scholarship I got the visa for the States otherwise it hadn't been possible to immigrate.
You play different saxophones and bass clarinet plus flute. Is there any favourite instrument for you?
JG: Actually I play soprano and baritone saxophones. I do not play clarinet any longer and therefore I sold it. There are so many musicians playing superbly clarinet. I was always looking for a personal voice and did not want to play a wide range of instruments. I play Andean flutes as well. I got many of those but sometimes I only take the soprano sax and one flute when I have to fly.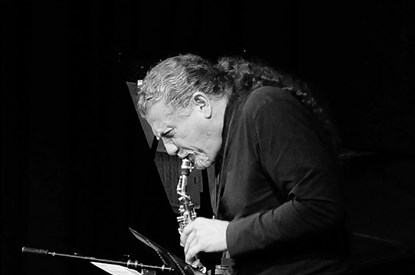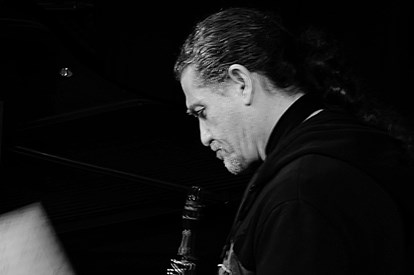 Do you see a strong connection between reeds and the human voice?
JG: Yes, I try to imitate the voice a lot. Nowadays there are so many excellent musicians. Therefore you have to be different if you want to be successful. I listened to a lot of vocalists like Tango singers. In my compositions I do an impression of their style of singing and try to apply that kind of singing to my improvisations. When I improvise I always imagine a folk singer or a Tango singer. It sounds weird but … .
How do you see the character and the role of reeds in the Jazz world? Rhythmical, melodious or harmonical way?
JG: My style of playing includes the rhythmical and the melodious aspect. I think I play quite harmonical as well because I love classical music. I just did a record of classical music together with a classical piano player who does not improvise at all. We interpreted pieces composed by Ravel and Debussy. It was up to me to improvise using the repertoire of those well known European composers. It took me one year to finish that record. Technically you can perform the music but that's not enough. It is the tricky part to find a balance after adding something to the music.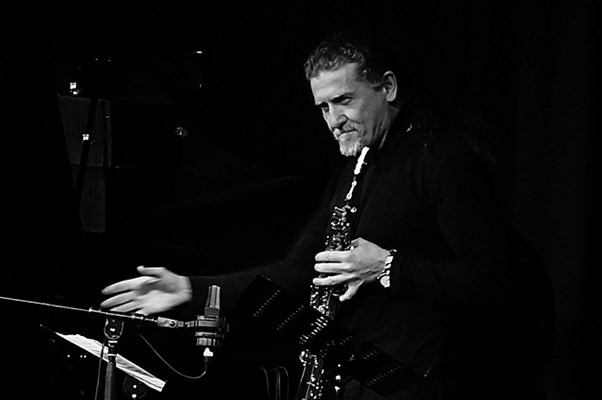 Would you mind to tell me if there were role models in your life. Or did you always try to avoid to look for Sidney Bechet, Albert Ayler, Paul Desmond, Dexter Gordon or Ben Webster and other so called heroes in the history of Jazz?
JG: I told you that it was Bill Evans in the beginning of my experience with Jazz. Then I found Astor Piazzola and his way to handle the bandoneon. I discovered the masters of the saxophones at the age of 24. Somebody told me that I was lucky to get to know them quite late otherwise I might have been hooked on their styles and had tried to copy them. It would have been pretty hard for me to get out of it again. By the way I am really attracted by Jan Gabarek referring to his sound.
You formed a number of Jazz bands. When I flicked through the list I recognized quite a few duos like the one with Ralph Towner and another with Luciano Biondini and with Soo Cho. Why are you so fascinated by the duo a quite fragile formation? In a duo you stay constantly on alert and you have to be focused on the musician you are playing with.
JG: Yes, I like to play with a duo and be busy all the time. I write a lot too as well for a duo and learn a lot. You have to be very creative if you play with somebody in a duo. When playing in a quartet I learn in another way. Most of the time we play my compositions and I act like a director. I am the one to stimulate them and push them to play solos and give directions to them.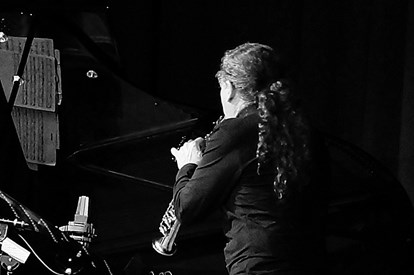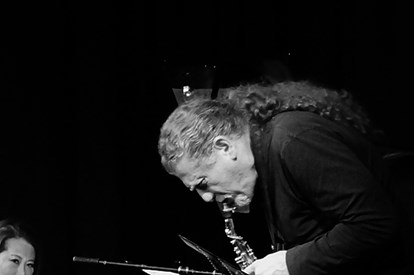 Do you miss something in a duo considering that there is no rhythm section when performing with Soo Cho?
JG: We play her compositions not mine. Her attitude towards the music is very much driven by the melody. You do not need a lot of rhythm actually. There is a lot of harmony in Soo's music too very close to the classical compositions. You have find a fine line for the beauty of the notes.
How would you describe playing together with Luciano Biondini?
JG: It is far more energetic.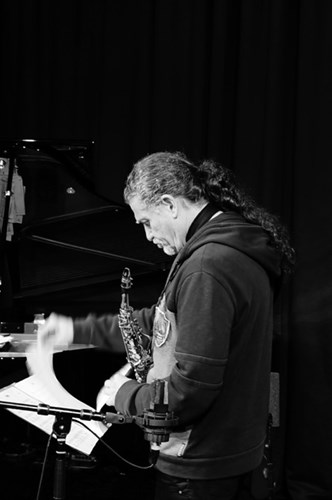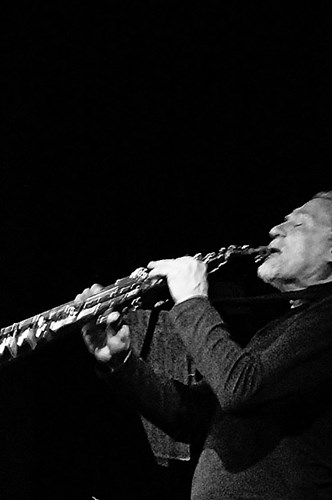 Playing with Soo Cho you play her compositions and not yours. How do you feel about it?
JG: For many years I played only my own compositions but now I am curious to perform compositions somebody else has written. It is just a way of thinking about music in a different way going into different directions. Playing with Ralph Towner means for instance to play only his music. With Luciano we play his music pieces and as well mine. When I play with the guitarist Bebo Ferra we play his tunes. I think it is better to do it this way particular when the duo consists of a guitarist and a sax player. Whenever a guitarist compose it means he orchestrates the music. Melodious chords are the most important items of such a composition by a guitarist.
Thanks for talking with me.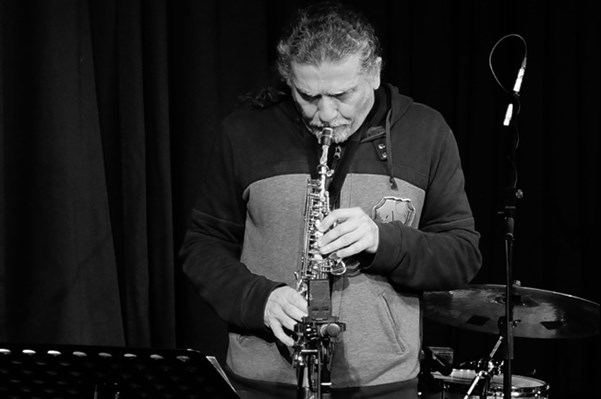 Interview and photos: (c) ferdinand dupuis-panther
Informations
Javier Girotto
http://www.javiergirotto.com/

CD Review
http://www.jazzhalo.be/reviews/cd-reviews/s/soo-cho-javier-girotto-ballerina/
http://www.jazzhalo.be/reviews/cd-reviews/j/javier-girotto-aires-tango-with-ralph-towner/