Filippa Gojo: interview with the Austrian vocalist
The vocalist and composer Filippa Gojo was born and raised in Bregenz (Vorarlberg, Austria). She took piano lessons and singing classes at the music school and was so talented and skilled that she performed in public at the age of 15. She went to Cologne for her advanced studies and followed lectures at the Hochschule für Musik und Tanz in Köln. She took singing lessons there as well and performed with the WDR Big Band apart from forming her own quartet. She also studied at the Conservatorium van Amsterdam in 2010/2011. Finally she got her Master degree when she turned 26. As the first vocalist she got the Förderstipendium der Stadt Köln für Jazz und improvisierte Musik in 2014. One year later she received the NEUEN DEUTSCHEN JAZZPREIS with her quartet and as a solo performer, too. Since 2016 she works as a lecturer at the Hochschule für Musik (Freiburg) and performs on a regular base with her quartet and with Sven Decker as her duo partner.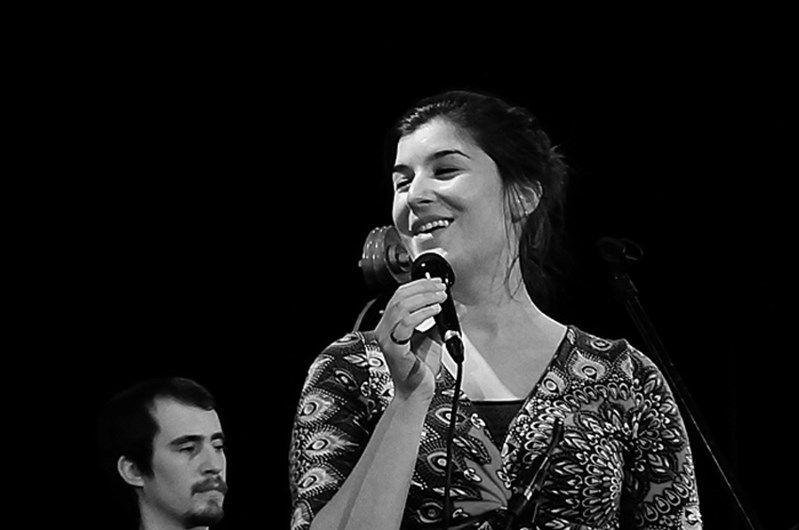 How important was music during your childhood?
FG: Yeah, for sure. My parents love music and they took us, my brother and me, to a lot of Jazz concerts during my childhood. That's when I realized Jazz music and especially improvising would be a very big part in my life and something really special for me being able to telling immediately what I am thinking and feeling in that moment.
My assumption was totally different considering that you are originally from Vorarlberg. I thought you might have joined a folk music band in your early days. The reason for those thinking are the tunes I heard which are linked to verses in the regional dialect of Vorarlberg. How did you discover that slang or the dialect works maybe better than official German?
FG: I think the point was when I tried to sing in standard German it was not appropriate for me. There were so many gaps in the language and so many harsh breaks in the language that I could not 'compose' a melody with it. My dialect is more soft and all the words are connected with each other. There are no gaps in between the words. It was a lot easier for me to form melodies with my dialect. The dialect was a sort of first mother tongue. Standard German we spoke in school and of course the Austrian way of pronouncing standard German is a bit different, you know. Standard German was not so much linked to me as the dialect is.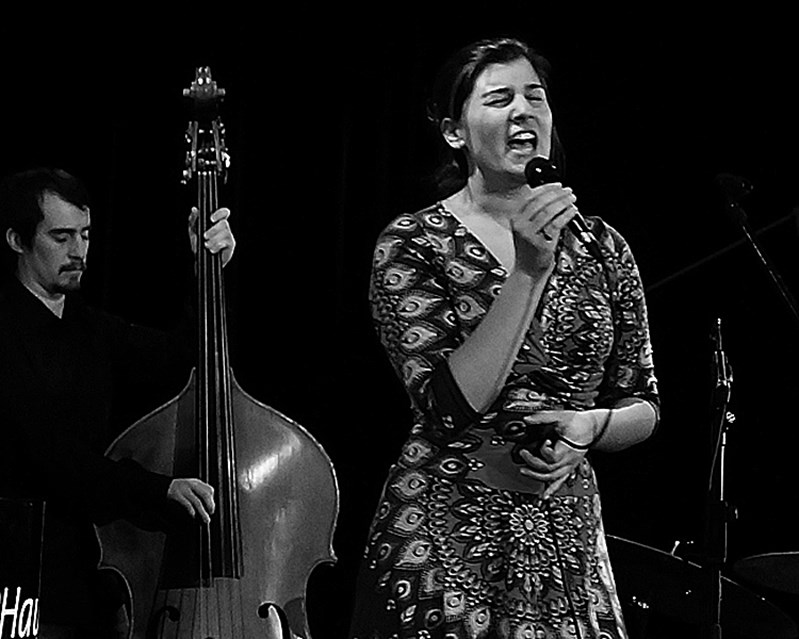 Do you remember the first Jazz tunes you came across? It is most amazing to get to know that your parents love Jazz and confronted you with that genre of music. Most Jazz musicians I have spoken with told me about the classical music as part of their early childhood experience.
FG: Mostly the Ladies of Jazz like Ella Fitzgerald, Sarah Vaughan and Dinah Washington, also Frank Sinatra, more the traditional kind of vocal Jazz. The first tune I really remember and put me in another state of mind was 'I'm beginning to see the light' by Ella Fitzgerald. I was so overwhelmed by her enthusiasm when she was singing and scating. I thought 'Wow', she is having so much fun when she is singing. That's what I wanted to do, too. I wanted to sing and to have so much fun. When I heard Ella's tunes I wanted to sing along with her most of the time.
Considering that your voice is a kind of instrument plus that lyrics are as well part of your singing how important are the verses, the lyrics, and how important is the voice as a type of instrument? Sometimes I think your vocal performance fits to an alto saxophone or a b-clarinet very well.
FG: Hm, hmhm, very interesting question. Vocals are a very special kind of instrument so to say because we have the opportunity not only to create a melody with a certain sound, but also the second level with lyrics. When I do not sing lyrics, verses, the syllables that I choose are a kind of a language in its own rights, a kind of second level. There is always the melody itself, the melody of the tones, and the melody of the language although there are only syllables beyond the first level. I use in some respect two voices in one voice. That is how I am thinking about it. Both is really, really important although there are no lyrics in a sense of standard terms and phrases. There is a kind of lyrical meaning even when there are only syllables.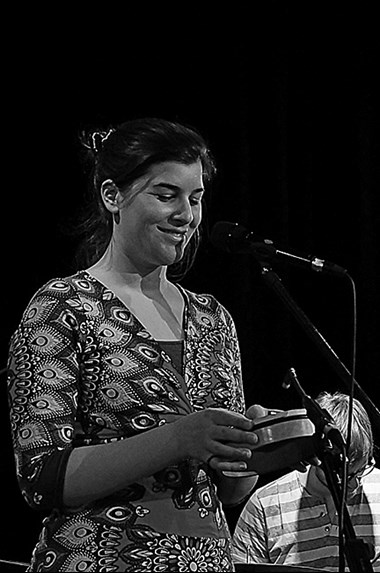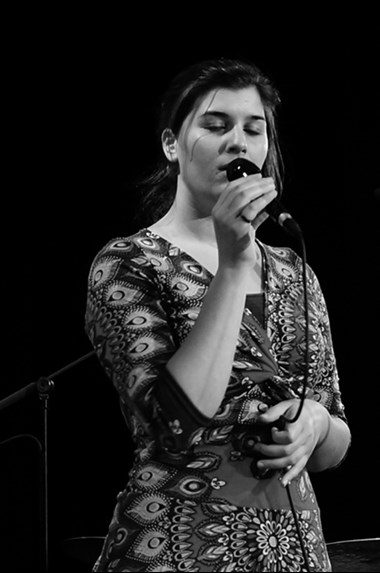 But you do not sing in the tradition of the Karnataka College of Percussion. That means you do not perform a kind of Indian rhythmical language called Konnakkol? But you use some exotic instruments like Shruti-Box and Kalimba to go with your voice.
FG: No, I do not sing that kind of rhythm language. The instruments came up to me you could say. The kalimba I am using was lying about in the flat of my boyfriend. It was the kalimba of his flat mate. I just took it and started to play around with it. Wow, I realized that this is pretty cool and reduced to some tones that you can do. I really like reduction. Creation has so much to do with reduction and to be creative has to do with reduction, too. Hm, how I discovered the Shruti-Box is another story. I attended a concert of Gabriele Hasler, a great singer. She is doing solo performances as well. I saw her using the Shruti-Box and I was totally thrilled considering that this little thing was doing the Hrhrhrhrrhaurhau. Again it is an instrument with a reduction to two or three tones and you can not change the range of tones very quickly. You have to be in a kind of meditative mood when you play it. I asked her afterwards what the name of the instrument is and bought myself a Shruti-Box.
Back to your background for a moment: How important is the folklore of Vorarlberg for your songs? How deeply rooted are you in the folk tunes of the past and present?
FG: For me the folk songs and the music tradition aren't really important but the places that I have visited as a child like Lake Constance are relevant. That is my huge 'pond of inspiration'. Whenever I've been there I look over that huge, huge, huge water, this huge, huge lake. There is something going on with me and there is no other place with the same impact on me. It is more the places I have been to and places that I got to know by visiting my parents. Those places take a big part in my live, also in my creative life, especially in the new album 'seesucht'. There are a lot of tunes that are linked to the lake and water, the thoughts about home.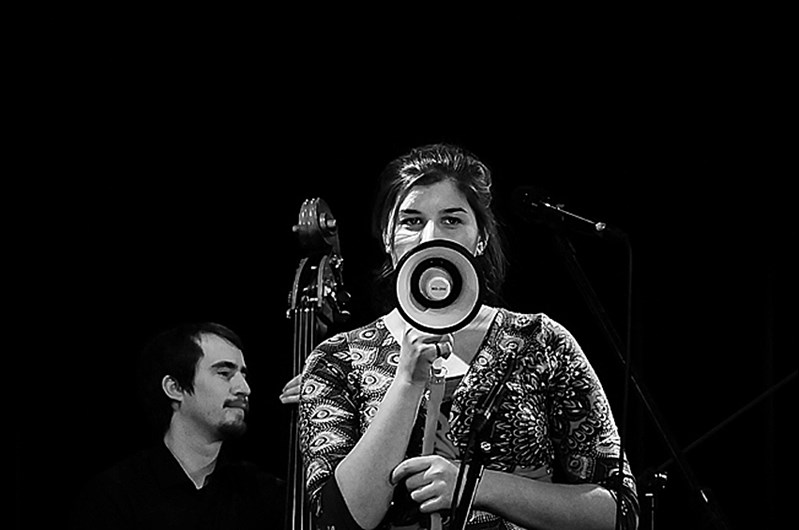 What are the challenges to perform as a duo in comparison with a quartet?
FG: I think the duo is the toughest version of making music because if you perform alone you can only cope with yourself of course. If you are doing something 'wrong' you can only balance yourself. There is nobody to help you but it is not so bad because nobody would realise if you would cope with it in a relaxed way. If there is something going 'wrong' in a trio there is a third person to assist you. Two persons are giving you the support if needed. If you are performing as a duo and one is insecure it is pretty difficult for your duo partner to support you. It works only if you know each other very well. In a duo it only works if there would be a strong bondage between the two persons. It has to do a lot with the personalities of the persons involved in a duo. You can't really rehearse everything. There has to exist a general understanding of each other otherwise it doesn't work at all. If it works well it is the best what can happen. You can be so fast in changing tunes from one second to the other to something completely different.
How important is random and control taking into account  that Jazz is mainly improvised and not fixed in chords and changes? How important are the themes, how important the variations or improvisation?
FG: In our music random doesn't really exist but control neither. We always play with the things we find. When there is a sound appearing because of ideas I have in my mind and on the other hand Sven has in mind plus there is something coming up completely new we are curious about the new sound. That does not happen by chance but is not controlled on the other hand. To be curious and observing each other, not wanting to control something or creating something is most important but never to let things just happen without meaning it as well.



Thanks for talking with you.
Interview and photos: © ferdinand dupuis-panther, 16/03/2017



Informations
Filippa Gojo
http://www.filippagojo.de

CD reviews
http://www.jazzhalo.be/reviews/cd-reviews/f/filippa-gojo-sven-decker-daheim/

http://www.jazzhalo.be/reviews/cd-reviews/f/filippa-gojo-vertraum/

http://www.jazzhalo.be/reviews/cd-reviews/f/filippa-gojo-4tet-nahaufnahme/

http://www.jazzhalo.be/reviews/cd-reviews/f/filippa-gojo-4tet-nahaufnahme/