Elmar Braß : Interview with the German pianist
Elmar Braß issued a statement by naming his latest album "Straight Ahead". The album is focused on modern Mainstream Jazz, Swing and the Great American Songbook. Elmar Braß was born in 1979 (Celle) but during his childhood he spent some years in Niger/West-Africa.
At the age of 11 he took up piano lessons in Germany and studied at the Hochschule für Musik und Theater (Hanover) between 1999 and 2004. Rolf Zielke, Bernd Homann and Nils Wogram were in charge of his study programme. After his studies in Hanover he went to New York City and attended a master class at the Manhattan School of Music. Elmar Braß won various awards and was invited to take part in the final of the international piano competition of the Jazz festival in Montreux in 2008 and the following year. He released the album "G. Yorck" by Laika Records in 2008.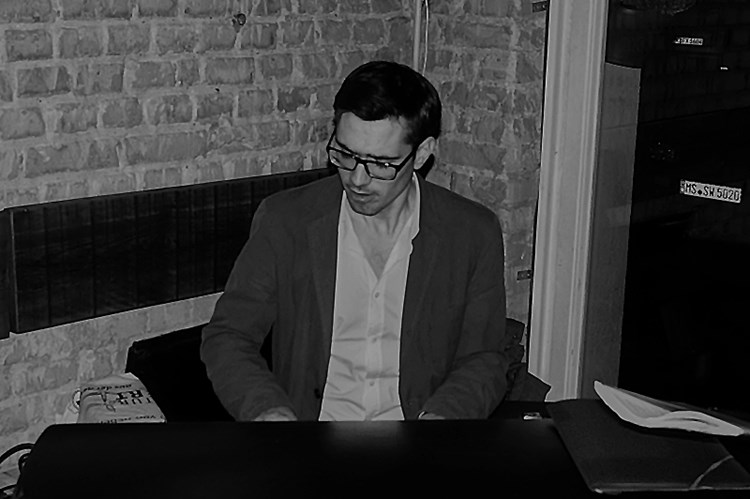 Since a couple of years Elmar Braß cooperates with the Japanese Jazz label "Atelier Sawano". He performed in the past with Peter Bernstein, Dusko Goykovich, Tony Lakatos, Ed Kröger, Stephan Abel, Martin Gjakonovski, Markus Schieferdecker, Christian Schoenefeldt, Hervé Jeanne, Phil Donkin and others.
The American Jazz guitarist Peter Bernstein describes Elmar Braß with the following lines: 'Elmar Brass is a great piano player who embodies the essence of jazz music with his joyful swing and intense virtuosity. He plays in the moment with refreshing spontaneity yet has studied the masters of the past. He is one player who can bring his music to the people and also forward as he is always looking for new things in the great tradition of jazz. He is someone we will be hearing about for a long time!'
I met Elmar Braß for the interview at the ExKaffee Münster (Germany) a venue where jazz concerts take place once a month.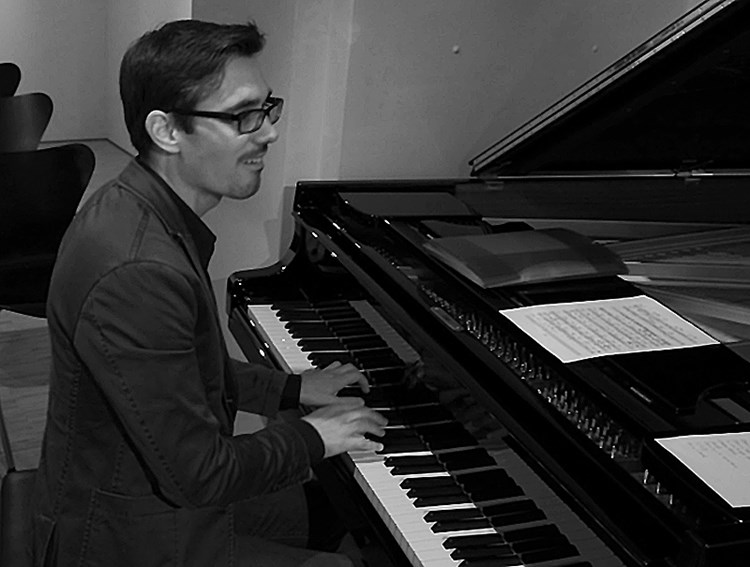 How important was music during your childhood and especially during those years you spent in West-Africa?
EB: Oh, a good question. I think in West Africa I didn't hear Jazz at all. It just started when I came back to Germany.
What type of music did you encounter whilst there?
EB: I can't remember I have to say. I was there from 3 to 9. I know I was back in Germany in 1987 and that my father owned a Duke Ellington album Live At Newport and an album by Oscar Peterson with Clark Terry. There are my first memories related to Jazz.
There was no other music around the house then?
EB: There might have been some Tuareg and Hausa music but in Niger there doesn't exist a music culture and tradition as in Mali, I think !
Do you still remember the melodies and rhythms of West-African tunes?
EB: Not at all!
Do you remember the first Jazz tunes you heard?
EB: It was "Diminuendo and Crescendo in Blue" by Duke Ellington I think but I am not sure about it.
When you started to play the piano did you focus on classical music rather than on Jazz?
EB: My piano teacher, an old lady, was very open minded. Classical music was on the agenda but I had played Boogie Woogie and Blues before, e. g. John Lee Hooker and B. B. King in parallel with classical compositions. I wasn't a very good classical pianist at all and I switched  as soon as possible to Jazz. (Laughing!)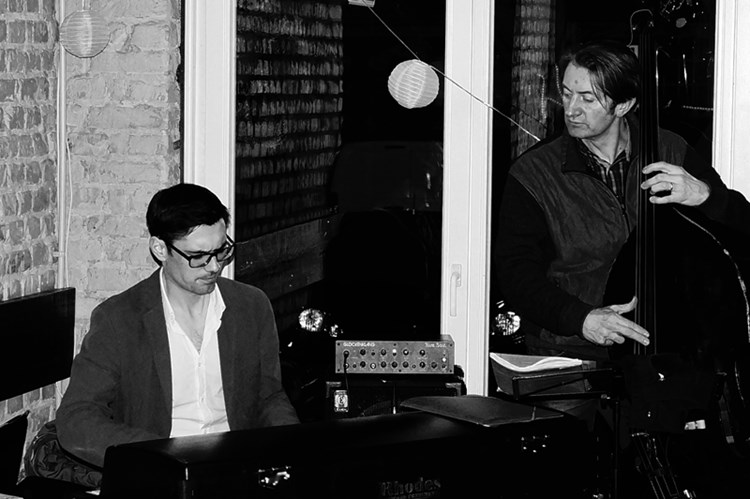 What type of Jazz did you prefer when you were younger?
EB: Mostly Blues, Erroll Garner "Concert by the Sea", Oscar Peterson "Night Train", some Bebop and Dizzy Gillespie I was listening to during my teenager years I would say.
Was there a change when you took up your studies at Hanover?
EB: Yes, it changed quite quickly. Some Bill Evans, McCoy Tyner, Herbie Hancock. If you attend the conservatory you try to learn academically.
Am I right to assume that Straight ahead Jazz is your cup of tea and preference? Why?
EB: As a listener I listen to various tunes like Free Jazz or European Jazz in general but I discovered that by playing with my trio Straight ahead Jazz is my focal point.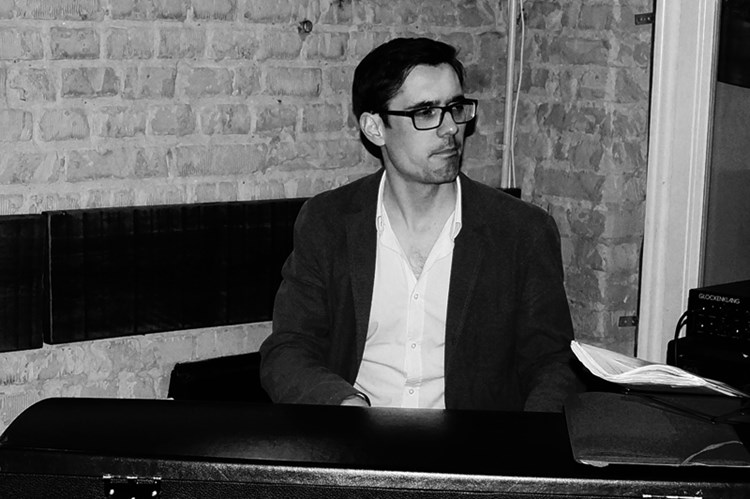 There are various famous pianists in the history of Jazz like Oscar Peterson, Erroll Garner, Thelonious Monk, Art Tatum, Duke Ellington, Herbie Hancock, Keith Jarrett and others. Is there anyone you would regard as the most influential musician as far as your style of playing is concerned? And if yes, would you mind to characterize the style you prefer.
EB: I love them all. I listen to them at times. Sometimes I listen to Art Tatum, sometimes Herbie Hancock and Erroll Garner too. It doesn't happen by purpose but it is more naturally. I would state that if you study Jazz music there are periods you listen to certain musicians. It could be Herbie Hancock today and next month somebody else.
Why did you decide to form a classical Jazz trio instead of a quintet or quartet?
EB: It has to do with my first love: the classical piano trio like those of Oscar Peterson and Erroll Garner. Mulgrew Miller was for me the modern pianist in Jazz. He was for me the further development of Herbie Hancock and McCoy Tyner and had 'his own voice' in the field of piano Jazz. The most important aspect of Straight ahead Jazz is the swinging beat, the distinctive themes and straight forms.
Did you ever intend to extent your trio?
EB: Sometimes we do that and take a guest on stage. I am happy that we played with the guitarist Peter Bernstein too.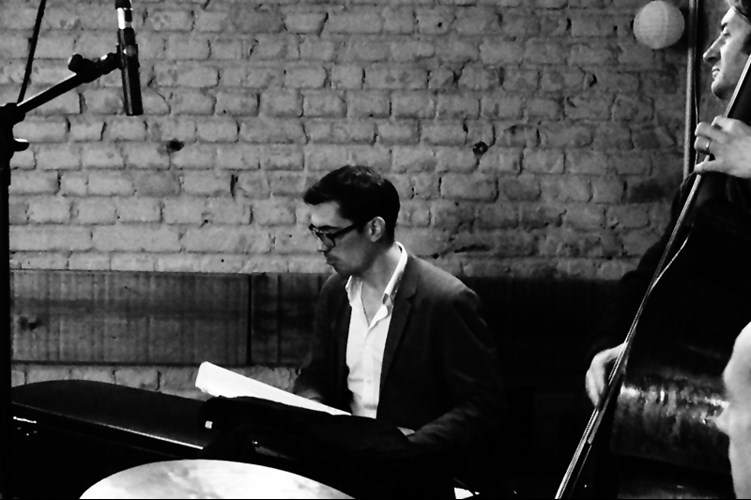 Would you mind to describe the difference between the classical Jazz trio in comparison with an extended band please?
EB: The pianist is an accompanist in a classical trio. That is what I like most. There are some arrangements referring to my trio and you are able to work like a chamber music ensemble.
How important is the tradition of European classic from Bach to Mozart, Beethoven, Bartok, Dvořák, Chopin, Grieg and Schönberg for the development of the European Jazz? And why?
EB: I love to listen to it but I never would play it in public. If you listen to Art Tatum or Oscar Peterson they could be influenced by romantic classical tradition like Arthur Rubinstein, Sergej Rachmaninoff and the likes. Bill Evans might be influenced by Ravel in a certain way. Others might be influenced by classical music as well but it's not that obvious. It has to do with the sound of the piano, the phrasing, the articulation. In those terms I would say that classical music is important for the way of thinking how a piano could sound. Listen to Horowitz what kind of touch he has in comparison with Art Tatum. Let's face it a piano is a piano.
As you spent time in the States would you mind to describe the differences between Jazz composed and performed in the States in relation to Europe.
EB: It depends where you are based. In New York everything is possible, The main differences I see is the fact that musicians start earlier to play standards in bars if they are serious into Jazz. A good example is Chris Potter. He played Bebop at the age of 15 or 16 and shared the stage with Red Rodney. Such an experience and education you can't get at a music school or conservatory. The main differences are the fact that those are still around who invented a certain style in American Jazz.



How important is random and control considering that Jazz is mainly improvised and not fixed in chords and changes?
EB: It depends if you want to work off. Hank Jones said something interesting related to the question. I give an analogous quote: 'We are improvising but we need to prepare that we can improvise in the evening.' A part is the preparation and another part is to play freely. Freely can also mean to play a standard within the harmony but with different influences than the night before.
Last but not least: I wrote in the review of your latest album: "Wer Duke Ellington, Fats Waller, Cole Porter oder Billy Strayhorn und deren ganz eigene Sterneküche des Jazz schätzt, kommt voll auf seine Kosten, wenn Titel wie "Misty" (comp. Erroll Garner) , "I'll never been in love before ( comp. Frank Loesser), "Birks Works" ( comp. Dizzy Gillespie) oder am Ende der Einspielung "Honeysuckle Rose" (comp. Fats Waller) zu hören sind." Would you mind to comment on one or the other titles and why you made that specific selection of tunes please?
EB: These are all songs I personally like very much. All have a great melody. There are different ways to express those tunes. "I'll never been in love before" you can play as a ballad or as uptempo. I really like Frank Sinatra. When I play such songs I always have singers like Sinatra in mind. The Japanese label which released the album let me do what I wanted but the essentials for the label are to play songs people can listen to.
Thanks for talking with you.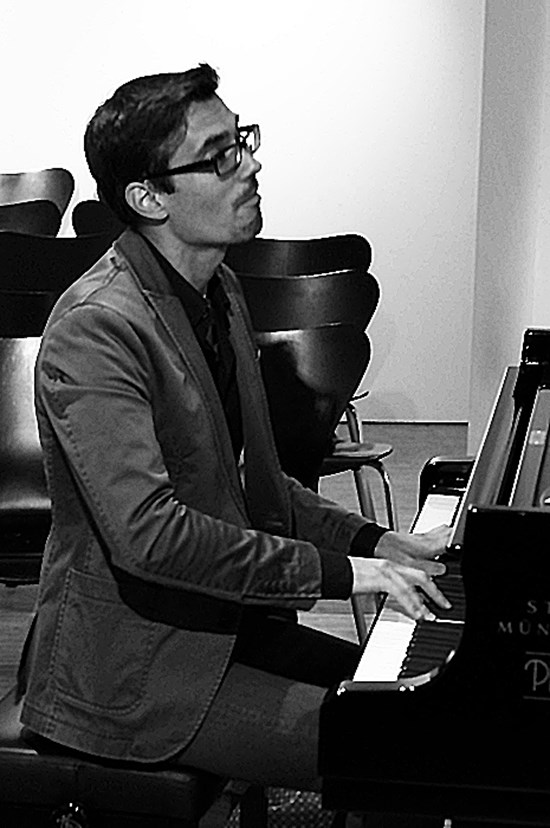 Interview and photos: © ferdinand dupuis-panther
Informationen
Elmar Braß
https://www.facebook.com/elmarbrass?fref=ts
CD review
http://www.jazzhalo.be/reviews/cd-reviews/e/elmar-brass-trio-straight-ahead/