Elin Larsson, a Chat with the saxophonist from Sweden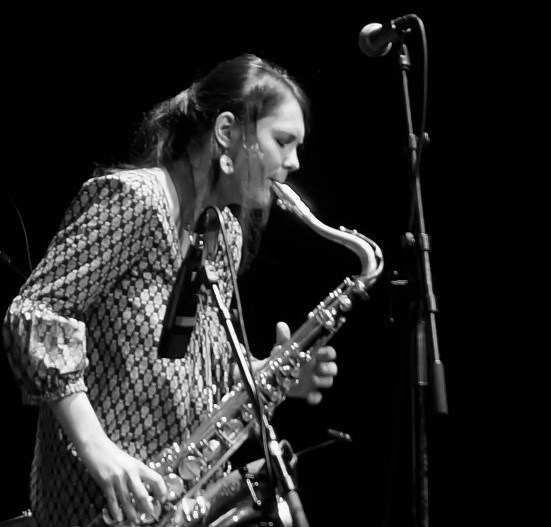 Elin Larsson's music seems a hybrid of jazz, rock, pop, folk and improvised music. What's about the storytelling? The talented young saxophonist Elin Larsson gives us the straight answer: "There aren't so many things that I could tell, but my music is just talking out of itself." Therefore you have to assume that untold stories determine the various compositions by Elin Larsson e.g. 'Growing Up' - also the title of the current recordings - or 'Monster'.
Elin was born in 1984. At age 14 she started to play the saxophone. This instrument was just tailor-made for her. At 20 she was able to attend the Royal Academy of Music in Stockholm. Five years after the start of her studies she presented her debut album 'Live and Alive'. For this successful CD she received the Swedish Radio Jazz Award "Newcomer of the Year 2010". In the same year she was the first tenor saxophonist performing with the prestigious European Jazz Orchestra. Since then the career of Elin goes steeply uphill.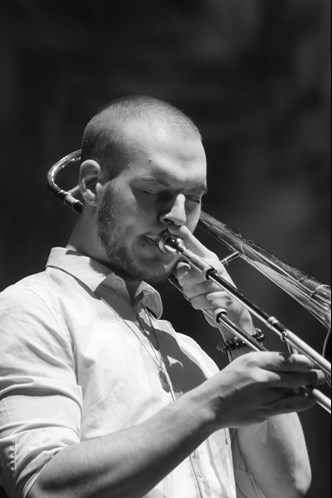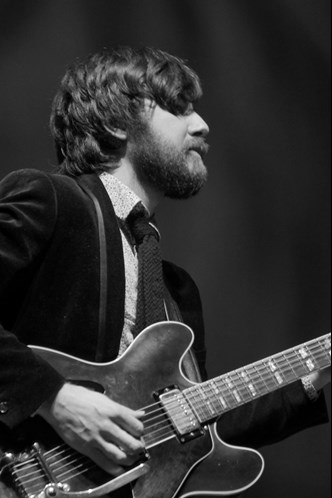 The name of her band ist ELG - short for Elin Larsson Group. Apart from Elin there is the trombonist Kristian Persson, the guitarist Henrik Hallberg, the double bass player Niklas Wennström and - last but not least - the drummer Johan Käck who jam the stage. ELG presents a fresh, vivid "brassy Jazz". Maybe you can label Elin Larsson's music as Fusion or Jazz Rock. Anyway, her music is a real delight. It is a very melodic type of Jazz and the compositions never slide off into banality. Sometimes it reminds of the landscape of the Far North of Europe like the Laponian area.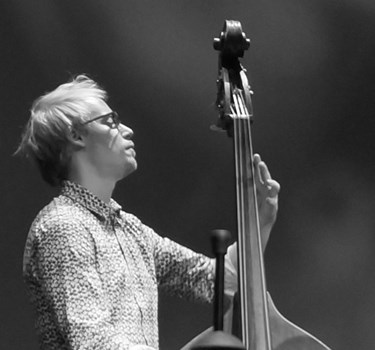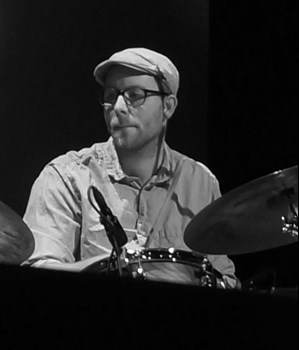 Jazz is only a word with four letters as Miles Davis stated or is there more?
E.L.: Interesting question. When I think of Jazz I always think of 'Freedom of Speech'. That attracted me first when I realised the concept of Jazz at the age of 16 or 17. I can improvise and I can play whatever I want to. I thought that is so cool. A big world opened up for me.
How important was your specific upbringing looking into your career as musician? Did you flick through the Vinyl collection of your parents?
E.L.: Not at all. My parent are not musicians. My dad always liked to listen to music but he never ever listened to Jazz. He used to listen and still listens to Rock bands of the 80s. Dire Strait was his favourite band and he was in favour of Van Morrison and Bruce Springsteen. What me influenced was the aspect of story telling referring to such Rock musicians. The stories are important all the time. The lyrics are very important. I do not write lyrics myself but I enjoy to listen to lyrics. When I compose music I have always a story in mind.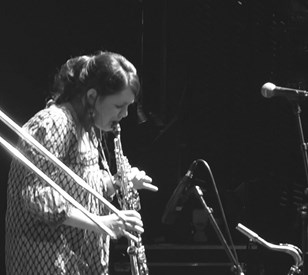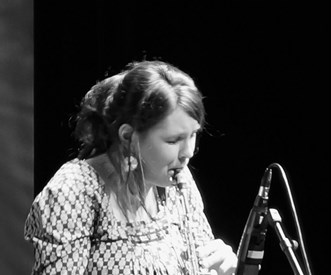 Maybe there exist lots of influences in your career as musician but please mention the most significant ones and tell me why you wanted to play Jazz starting at the age of 14 to learn to play the saxophone?
E.L.: I don't know why I picked the saxophone actually. It might be a coincidence. I liked the sound of the saxophone I assume. I wanted to try it out. When I tried it out it made immediately 'click" and I was hooked to it. I used to play piano a bit and I sang in choirs but I had to struggle. As soon as I began to play the saxophone it seemed very simple for me. Of course I had to practise my arse off to get the right tunes and sounds.
It seems that the saxophone is tailor-made for you. Why?
E.L.: What attracted me is the fact that it is very expressive. It is close to the human voice. You can really express feeling with the saxophone. That is easier than to express it playing the piano. That the saxophone is so close to the voice that suited me well. I remember actually hearing Wayne Shorter playing a soprano saxophone solo that got me hooked, really hooked. The funny thing is that it was not at all a Jazz recording. He played a lot of pop music solos and stuff like that. I heard as well Don Henley from the Eagles. He made an album called "The end of the innocence" with Wayne Shorter on the soprano saxophone. I thought: Oh my god, that is the most beautiful thing I ever heard. It really made me to play the saxophone. Therefore I purchased my first soprano saxophone. Alto never worked for me. I play the tenor and the soprano saxophone since. Lately I started to play baritone saxophone as well. The hard thing is that it is so bloody heavy. It is heavy to carry around and to play. I like it and I might pick it up now and then.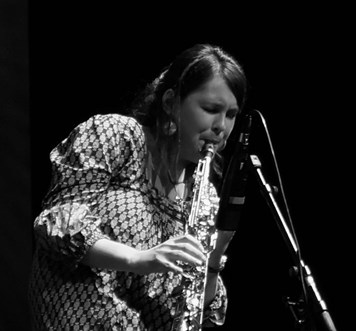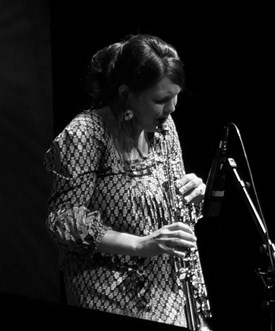 Usually girls intend to start piano lessons rather than to pick another instrument? Women playing the saxophone are still rare. Would you agree?
E.L.: Yeah, definitively. It is hard to understand why. There are always female piano players: It seems that the piano is a more feminine instrument. By the way how many female drummers do we know? I do not know how it is in Germany but in Sweden it is going the right direction. More and more women playing Jazz and playing other instruments than the piano.
Jazz exists for a long time span beginning with New Orleans Jazz over to Bebop and Swing to Hard Bop and Fusion and so on. How important are those genres for your own compositions? How do you relate in your music to those genres?
E.L.: I think it is very important, more important than I know probably. These guys did what they wanted to do and I will do what I want to do. I do not listen to the Jazz recordings of the past much. I listen to music at certain intervals but I had listened to Wayne Shorter, John Coltrane, Dewey Redman, Keith Jarrett and Bill Frisell, but I listen to Bach and Messiaen too. The later is one of my favourite composer of classical music. I listen to contemporary Rock and Pop and I am quite fond of Radiohead and Björk. I am quite convinced that the Jazz genres you mentioned made way for me. That we can improvise and play as we play we have to thank those who played Jazz before us.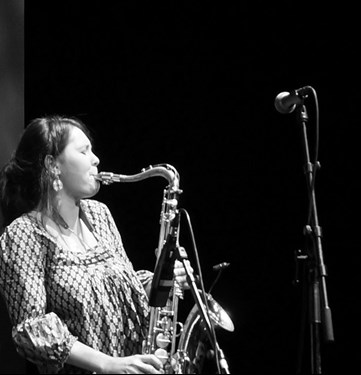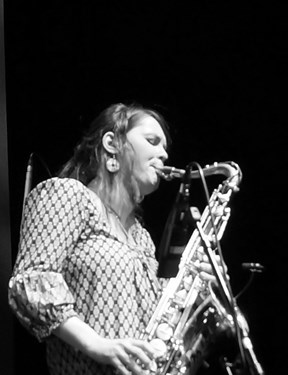 What's the importance of the 'Great American Songbook' for you and could you explain it in details please?
E.L.: It is important and not so important at the same time. I learned playing from this 'book'. I played tunes after tunes and the melodies and tried to improvise but I had a sort of hate-love relationship with the 'book' because I felt incomplete, I don't know all the tunes.
Have you ever thought of recording tunes of Charles Mingus, Miles Davis, Thelonious Monk and other giants of Jazz in a new version?
E.L.: No. Monk I love him. He is a crazy guy. With my own band I want to perform my own compositions. With other bands I actually recorded tunes by Monk and Bill Frisell. If I would do it I certainly would be focused on one musician like Elin Larsson plays Monk. I would have to dive deep into the compositions of Monk but I can not see that. At the moment I feel I have to play my own music.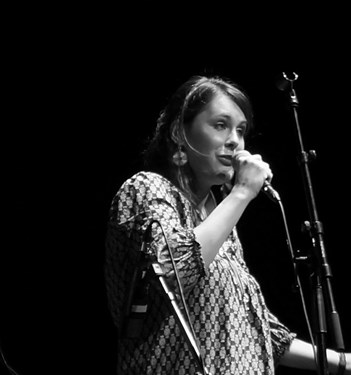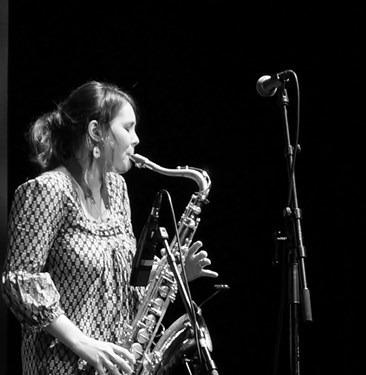 How deeply rooted is Jazz in Sweden and in which way?
E.L.: Folk music is much more popular in the country. We have a lot of great Jazz musicians and the music they play is influenced by the folk songs. We are a small group playing such music and most Swedes do not like Jazz. Jazz does not get that much attention.
Is there more in Swedish Jazz than the export of Nils Landgren and Lars Danielsson? If yes,please give more details.
E.L.: There is of course so much more but most Swedish Jazz musicians do not play abroad. There is top class Free Jazz represented by the Swedish-Norwegian band called Atomic. You might have heard of Wildbirds & Peacedrums a Swedish duo, Mariam Wallentin and husband Andreas Werliin.
Jazz is always regarded as far too intellectual? Am I right or am I wrong?
E.L.: You are correct but I wish it wasn't. That is the reason why people don't like Jazz because they do not understand it. I wish people would understand you don't have to understand everything. You don't have to know what's going on as long as you listen to tunes you like. Maybe Jazz musicians have to talk more about the music during the performance on stage.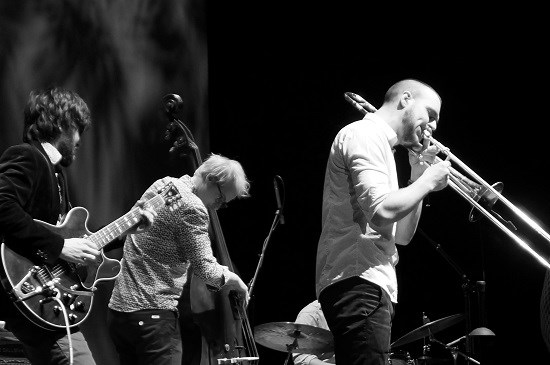 Thanks for talking with you.
Interview (c) ferdinand dupuis-panther

Informations

ELG
http://www.elinlarssongroup.com