Eigenzinnig maar ondogmatisch klankonderzoek in Parazzar!
Als afsluiter van het huidige, eind mei helaas uitdovend concertseizoen in Parazzar, staat Blue Lines Trio - Michiel Scheen (piano), Raoul van der Weide (bas), George Hadow (drums) - op het podium. Het trio wordt bovendien versterkt door trombonist Wolter Wierbos. Bij wijze van teaser ontfutselden we Raoul van der Weide enige informatie over wat op 28 mei te gebeuren staat.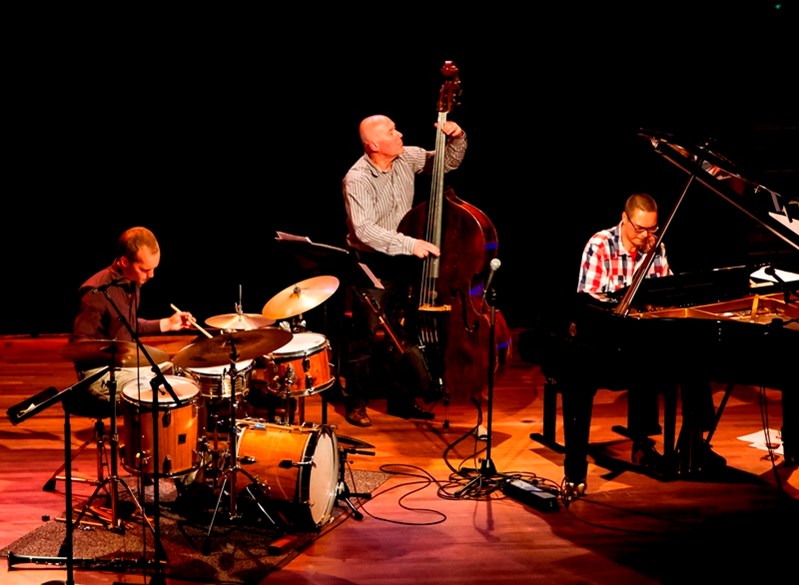 © Geert Vandepoele

Hoe ben je bij Parazzar terechtgekomen als locatie voor jullie concert: eigen spontane keuze, verzoek van de programmator zelf of tip van medemuzikanten?
Raoul van der Weide: "Ik vernam via basklarinettist Ziv Taubenfeld - die met zijn trio BONES in Parazzar optrad (2 oktober 2016, PG) en tevens lid is van mijn zevenkoppige Xavier Pamplona Ensemble - dat Soulbar Parazzar een zeer geschikte locatie voor optredens is en bovendien gekend omwille van de respectvolle publieke belangstelling. Dat laatste ook mede door de stringente hand van Joeri!"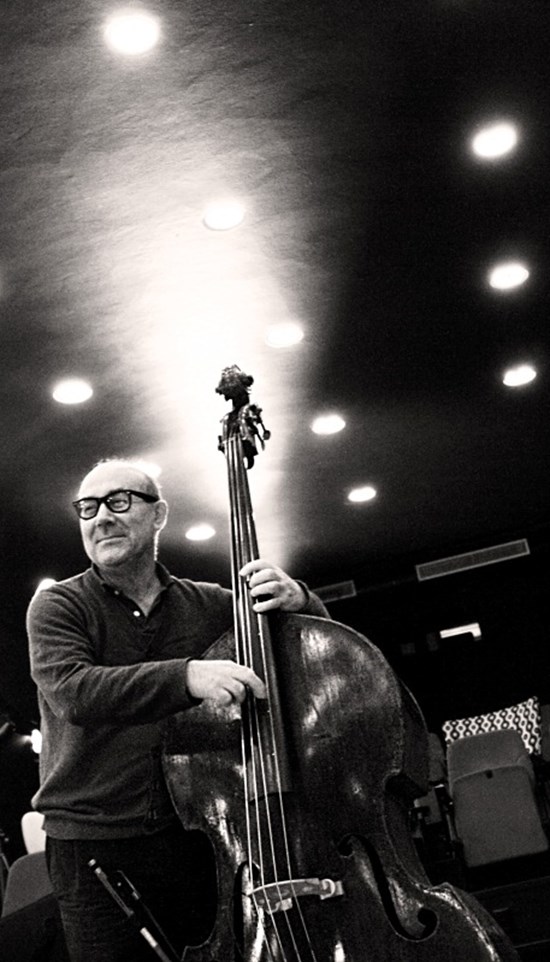 Raoul van der Weide © Geert Vandepoele

Wat mag dat inderdaad immer zéér geconcentreerde publiek op 28 mei verwachten: gecomponeerde stukken, pure impro, of een mix van beide?
Raoul van der Weide: "Met Blue Lines Trio, een collectief dat ik een paar jaar geleden bij elkaar bracht en waar George Hadow de naam voor bedacht, spelen we stukken waarvan de meeste door Michiel Scheen zijn gecomponeerd. Die stukken zijn in feite heel open frames waarin veel flexibele ruimte is voor wisselwerking met improvisatie. Dit trio is erg goed ingespeeld, vertrouwt in zijn werkwijze op eigen en elkaars intuïtie en laveert tussen een soort "quasi stuiter jazz" en eigenzinnig maar ondogmatisch klankonderzoek. Onze CD 'Blue Lines Trio' is verschenen op Casco Records 002 - http://www.subterranean.com & http://www.toondist.nl."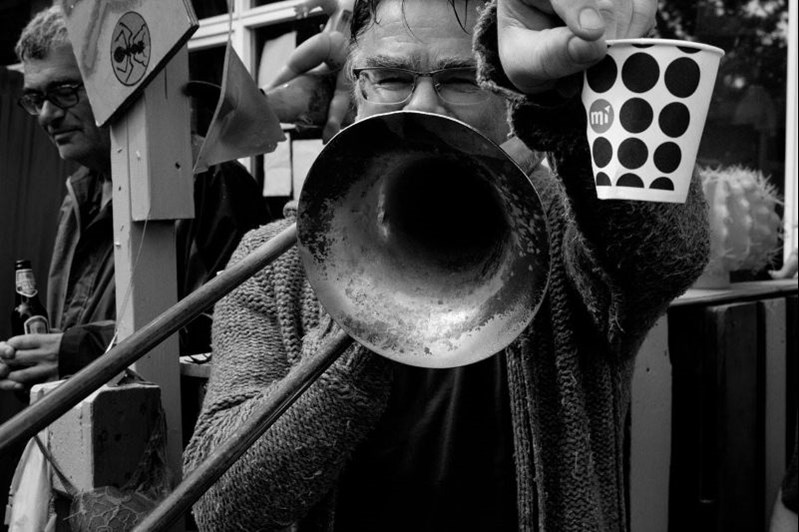 Wolter Wierbos © Andy Moor

Blue Lines Trio is voor deze gelegenheid aangevuld met trombonist Wolter Wierbos.
Raoul van der Weide: "De keuze om Wolter Wierbos mee te brengen naar Soulbar Parazzar is logisch: niet alleen maakt hij samen met Ada Rave (sax) en Bart Maris (trompet + cornet) deel uit van het Blue Lines Sextet, hij speelt ook al jaren met Michiel en mij samen, o.a. in het Guus Janssen Septet (jaren '80) en met Michiel in het Maarten Altena Quartet en Ensemble (jaren '80 en '90). Overigens is van Blue Lines Sextet recent de cd 'Live at the BIMhuis' uitgebracht op Casco Records (005), met liner notes van Guy Peters die onlangs in Enola ook een review (lees hier) schreef van een live concert/cd-presentatie bij podium SPLENDOR in Amsterdam."
Zondag 28 mei 2017 om 20.00 uur stipt in Parazzar, Brugge – http://www.parazzar.be
http://www.bluelines.bandcamp.com
Tekst © Paul Godderis