Eerste AchterHAMSession 2018
Op zondag 18 maart openen zich eindelijk weer de deuren naar de studio/het achterhuis - of de tuin, indien de temperaturen zich daar reeds toe lenen - van Ham 12 te Gent voor de eerste AchterHAMSession 2018. Bezieler Michel Mast liet zijn keuze vallen op R/V/A/W Quartet. Onder die cryptische groepsnaam schuilen John Ruocco (tenorsax), Teun Verbruggen (drums), Nicola Andreoli (piano), Nathan Wouters (contrabas).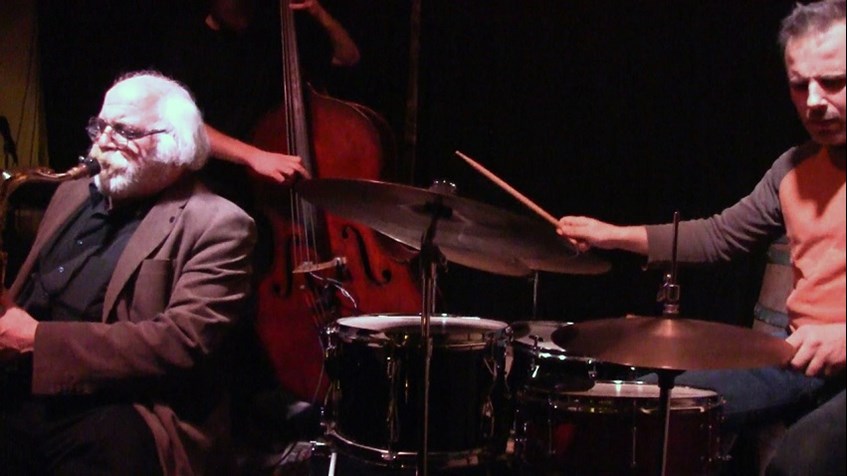 © Katja Steenhoudt

Ik beken: die naam roept bij mij geen enkele associatie op. Is dit een nieuwe groep of eerder een gelegenheidsformatie?
Michel: 'Geen gelegenheidsformatie, maar wel degelijk een nieuwe, vrij recente groep die tot stand is gekomen op initiatief van Teun Verbruggen. Dat deze vier muzikanten niet eenmalig bij mekaar komen om op AchterHAMSession te spelen, bewijst het gegeven dat R/V/A/W Quartet dit najaar of volgend jaar op tournee gaat, in een organisatie van JazzLab Series. In deze groep speelt o.a. John Ruocco, een muzikant die ik al een hele tijd ken en met wie ik aan het begin van de jaren '80 van de vorige eeuw nog samen heb opgetrokken. John staat al lang op mijn verlanglijst van muzikanten die ik graag wil uitnodigen. Zijn agenda liet een optreden op de eigenlijke HAMSessions in mei niet toe, vandaar nu in maart.'
Welk repertoire krijgen we straks te horen: eigen nieuw werk, jazzstandards,  of…?
Michel: 'Zelf heb ik dit kwartet nog niet live aan het werk gehoord, maar ze hebben mij wel muziekopnamen bezorgd en op basis daarvan kan ik bevestigen: R/V/A/W Quartet zal uitgeschreven materiaal spelen, repertoire dat men hetzij zelf heeft geschreven, hetzij herschreven. Met dit project wil Teun Verbruggen een echt akoestisch jazzkwartet opzetten, heel fris en vrij maar met respect voor de lange traditie.'
© Paul Godderis
Zondag 18 maart om 15.00 uur in Ham 12, 9000 Gent