Tutu Puoane - The Joni Mitchell Project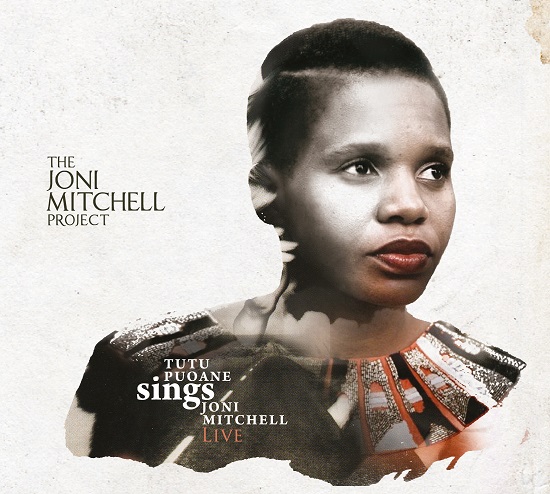 T
Soulfactory Records
Après Song de 2007, Quiet Now (2009), Mama Africa (2010), Breathe (2012), Live at De Roma (2013) et Ilanga (2014), voici le septième album personnel de Tutu Puoane, la chanteuse sud-africaine qui a notamment poursuivi des études à La Haye, avec Rachel Gould.
Avec Mama Africa, enregistré avec le BJO, Tutu rendait hommage à Miriam Makeba, ici, elle a décidé de revisiter le répertoire de Joni Mitchell. Elle n'est pas la première à le faire en Belgique: il y a quelques années, Barbara Wiernick avait eu un projet intitulé Travelling Joni Mitchell, avec Jeroen Van Herzeele au saxophone. Ce choix n'est pas étonnant, la chanteuse folk canadienne n'a-t-elle pas intitulé un de ses albums Mingus, écrivant des "lyrics" pour Goodbye Pork Pie Hat, célèbre composition du bouillant contrebassiste et, d'autre part, elle s'est souvent entourée de musiciens de jazz renommés: Gerry Mulligan, Phil Woods, John McLaughlin, Eddie Gomez et Tony Williams pour l'album Mingus, Victor Feldman et Robben Ford pour The Hissing of summer lawns, Jaco Pastorius pour Hejira, Wayne Shorter et Herbie Hancock pour Both Sides now de 2000.



Pour son album live, enregistré pour part au Stadschouwburg de Mechelen, pour part au C.C. Ter Vesten de Beveren, Tutu Puoane a choisi des chansons de différentes périodes et différents albums de la chanteuse et peintre canadienne: I don't know where I stand et Both sides now de l'album Clouds de 1969, River et My old man de Blue (1971), The Hissing of summer lawns de l'album éponyme (1975), Black Crow et Hejira de l'album du même nom (1976), enfin, Goodbye Pork Pie Hat et God must be a boogie man de l'album Mingus.
Pour ce projet, Tutu s'est entourée d'une équipe hollando-belge soudée et complice.
Au piano, comme à l'accoutumée depuis Song, Ewout Pierreux, son compagnon à la scène comme à la vie.
A la contrebasse, Clemens van der Feen que l'on avait découvert au sein du quartet Narcissus avec Robin Verheyen et qui a enregistré deux albums avec le pianiste Harmen Fraanje.
A la batterie, Jasper Van Hulten qui était déjà membre de son quartet pour Song mais aussi pour Ilanga et a enregistré cinq albums avec le trompettiste Eric Vloeimans ainsi qu'un album ECM avec le pianiste Wolfert Brederode.
Au saxophone alto et au soprano, Tineke Postma bien connue chez nous pour les deux albums enregistrés avec Nathalie Loriers (Le peuple des silencieux et We will really meet again) et qui a gravé plusieurs albums personnels de For the rhythm avec Rob Van Bavel au piano à Sonic Halo avec Greg Osby.
L'album s'ouvre avec River, une ballade introduite par la rythmique ainsi que l'alto et dont le tempo s'emballe, au fur et à mesure, avec Tutu pour se clore sur la présentation des musiciens faite tout en chantant: une habitude chez la Sud-Africaine.
D'autres ballades suivront. D'abord Goodbye Pork Pie Hat, thème introduit par la contrebasse qui prend par la suite un long solo, débuté d'abord en pizzicato et poursuivi à l'archet. Ensuite Both sides now, ballade empreinte de mélancolie, introduite par la voix seule avant que le piano n'intervienne tout en délicatesse. Ou encore Hejira, échange voix-soprano, et I don't know where I stand, ballade intimiste construite autour d'un dialogue complice entre contrebasse et voix.
D'autres palges adoptent un tempo plus vif: The Hissing of summer lawns, avec Tineke Postma à l'alto, God must be a boogie man dont les paroles sont reprises en choeur sur fond de soprano. Black Crow, avec une intro réunissant la rythmique et l'alto, prend des accents africains au travers des intonations de Tutu.
Enfin, l'album se clôt en feu d'artifice avec My old man: piano bluesy, soprano volubile, tambourin et vocalises reprises en choeur par le public définitivement conquis.
Un album à l'image de la chanteuse: généreux et passionné de bout en bout.
Claude Loxhay
Concerts:
20/10: Ternat, De Ploter
25/10: Braschaat, Theaterzaal
03/11: Mol, 't Getouw-Relax
04/11: Zaventem, De Factorij
10/11: Turnhout, Da warande
13-14/11: Ekeren, Theaterzaal
23/11: Wilrijk, De Kern
24/11: Blankenberge, Consciencezaal
25/11: Dendermonde, Belgica
01/12: Heist-op-den-Berg, Zwaneberg
20/12: Waregem, De Schakel
11/01: Alsemberg, De Meent
10/05: Brussel, Bozar.