Tineke Postma & Greg Osby: Sonic Halo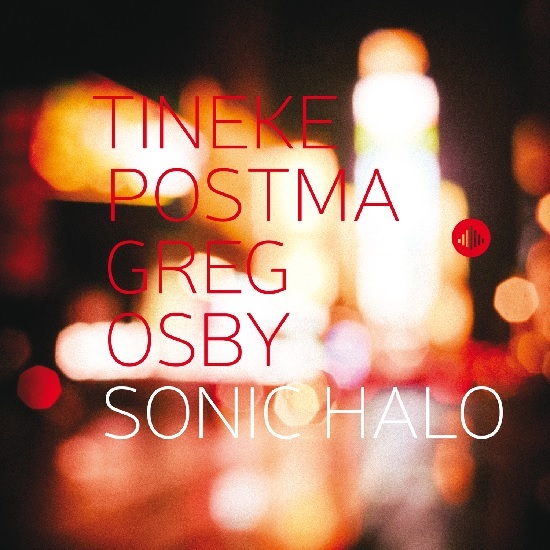 T
Challenge Records CR 73370
Zwei Alt- und Sopransaxofonisten haben sich zusammengetan, Tineke Postma und Greg Osby, um gemeinsam mit Matt Mitchell (piano, rhodes), Dan Weiss (drums) und Linda Oh (bass) kompromisslosen Gegenwartsjazz zu machen. Die Tatsache, dass zwei Saxofonisten mit Instrumenten gleicher Klangfarbe gemeinsam spielen, ist schon ungewöhnlich, wenn es darum geht, den "akustischen Heiligenschein" auszuloten. Nichts weiter bedeutet nämlich der Titel des aktuellen Albums. Halo bezeichnet aber auch Lichteffekte der atmosphärischen Optik, die durch Reflexion und Brechung von Licht entstehen, während sonic übersetzt akustisch und den Schall betreffend bedeutet. Es gibt "sonic waves", aber nicht wirklich "sonic halo", denn eine Verbindung von Akustik und Optik existiert physikalisch zumindest nicht.
Doch lassen wir mal den Albumtitel für den Moment beiseite und wenden uns der Musik zu, sprich dem Akustischen. Eingespielt wurden neun Titel, beginnend mit "Sea Skies" bis hin zu "Pleasant Affliction". Saxofone mit hohen Stimmen erwarten uns am Beginn des Albums, wenn es um den Himmel über dem Meer geht. Das Klavier sorgt unterschwellig für Akzente mit tiefer Stimme. Nein, ein Fjordsound im Sinne Jan Gabareks stimmen die beiden Saxofonisten Postma und Osby nicht an. Vielmehr scheinen ihre Klangbilder ein Schweben zu suggerieren. Irgendwie meint man außerdem, dass die beiden Saxofone auch ein wenig selbstvergessen daherkommen. Schließt man die Augen und hört ihnen zu, dann fühlt man sich an den Nordseestrand versetzt, über den ein stärker werdender Wind hinweggeht. Im Spiel der Saxofone fängt sich der Klang des Windes und der Wellen. Was bereits bei dem ersten Stück des Albums deutlich wird, ist die Tatsache, dass genaues Zuhören angezeigt ist, um die komplexen Strukturen zu erfassen. Es geht aber auch darum, das partiell antagonistische Spiel von Postma und Osby wahrzunehmen.
Facetten sind es, die uns nachfolgend musikalisch zu interessieren haben. Ungewöhnlich ist es schon, dass ein Schlagzeug den Anfang macht und uns damit eine ganz eigene Ansicht vor Augen führt. Ohne Orkanstärke zu erreichen, finden die Saxofone ihren Platz. Eher sprunghaft ist die Melodiestruktur, die wir erkennen. Kurz darf sich dann auch der Bass mal rühren. Nur eine kleine Wegstrecke ist es, die die beiden Saxofone in Eintracht zurücklegen. Anschließend verfallen sie in wechselnde, aufgeregte Monologe. Jeder scheint sich in seiner Stimme zu überschlagen, so stark ereifern sich die jeweiligen Holzbläser.
Nach dem Stück "Source Code" stellen die Musiker die Frage "Where I'm From". Nur kurz und sehr sanft werden die Tasten des Klaviers berührt. Die Töne treten uns nicht schreiend entgegen. Sie sind verhalten, beinahe nicht zu hören. Nachfolgend kommt das Stück beinahe balladenhaft daher, was im Kern die Verantwortung der Saxofone ist. Bei geschlossenen Augen drängt sich die Assoziation von einem Gleitschirmflug über eine wellige Landschaft auf. Doch die Klaviersequenzen heben diese Assoziation schnell auf. Man meint, dass die angeschlagenen schwarzen und weißen Tasten eher einen Gebirgsbach besingen, so perlend ist die Klangstruktur.
"Nine Times a Night" zeigt sich in einem beinahe rockigen Gewand, soweit es Schlagzeug und Klavier betrifft. Doch die Saxofone weben einen anderen Faden, und sie sind es, die die Hörfarben bestimmen. Sie klingen ein wenig nach Nachtschwärmern und Party bis in die frühen Morgenstunden. Es lässt sich auch an einen Partybus denken, der uns von einem Event zum nächsten bringt. Die Party scheint furios zu sein, die Stimmung auch. Die Körper zucken im Laserlicht. Ausgelassenheit und Ausschweifungen finden sich im verwegenen Spiel der Saxofone, die durch Klavierakzente auch nicht zu bremsen sind. Doch irgendwann ist der Partyrausch vorüber. Ein letztes Mal bäumen sich die Raver auf, ehe ihr Körper deutliche Signale der Erschöpfung zeigt. Oder ist mit "Neunmal in der Nacht" gar haltloser Sex gemeint, der nur selten zu realisieren ist? Man müsste Tineke Postma und Greg Osby als die Ideengeber zu diesem Stück befragen.
Nun folgen "Bottom Forty" und "Melo", ehe bei "Body and Soul" Körper und Seele angesprochen werden. Allein auf weiter Flur ist eines der Saxofone. Besingt es den Körper oder die Seele? Gedämpft erscheint die Stimmung. Kein Überschwang ist zu vernehmen. Ton für Ton wird bedächtig angestimmt. Es scheint schon weit nach Mitternacht und "Round Midnight" ist nicht mehr angesagt. Die Nacht klingt aus, so vermutet man beim Zuhören. Noch sind die Lichter im Klub nicht ausgegangen, der letzte Cocktail noch nicht ausgetrunken, doch augenscheinlich ist man schon dabei, die Stühle hochzustellen. Einige Liebespaare sind nicht zu bewegen zu gehen. Irgendwie ist außerdem ein Hauch von Bebop gegenwärtig, auch ohne Dexter Gordon und Freddie Hubbard. Mit einem sehr hörenswerten Basssolo beginnt der letzte Titel des Albums: "Pleasant Affliction". Anschließend haben wieder die Saxofone das Sagen und scheinen bis zum Ende ganz aufgebracht.
© ferdinand dupuis-panther
Press release by Challenge records
This album is promising an absolutely fresh and intriguing music. Osby's modern energetic and acoustic conceptual sounds will meet the melodic European influences of Tineke. A recording with two soprano saxophones has hardly ever been done before; it's pretty uncommon. The intriguing mix of male and female ingredients from Greg and Tineke will show that times have changed and jazz is not a music style dominated by males anymore. Greg Osby was Tineke's mentor once, now Greg admits they are peers and he has a lot to learn from her. It is a multicultural project uniting the greatest young musicians from the NYC scene, the Netherlands and Australia. Besides all, this is the first album of Tineke in the last 3 years and for the first time she has been recording as a co-leader with Greg. This album will show her new musical developments influenced by her long stays in NYC and performances with top artists of the US jazz scene.
Tineke Postma Biography
Tineke Postma is an internationally acknowledged jazz saxophonist and composer. She performs with her groups and as a sideman since 2003. Tineke lives in Amsterdam and New York. Her latest cd The Dawn Of Light from 2011 (Tineke Postma Quartet featuring Esperanza Spalding), has been released in 2011 worldwide, received raving reviews and won the prestigious Dutch Edison Award. UK "The Evening Stardard" called her "One of the leading ladies in Jazz!" De Downbeat Poll 2012 has listed Tineke as Rising Star #5 in the soprano saxophone category and #10 for alto sax. On April 30 Tineke performed for the International Jazzday at the Asembly Hall of the United Nations in New York with Wayne Shorter.
Tineke Postma Groups
The Tineke Postma Quartet (Marc van Roon on piano, Frans van der Hoeven on bass and Martijn Vink on drums) was founded in 2005 and has played at many international festivals adn venues such as Bimhuis in Amsterdam, Duc des Lombards in Paris, North Sea Jazz, Middelheim Festival in Antwerpen, Festival,Young Euro Jazz Berlin, Pori Jazz Festival (Finland) , Umea Jazz Festival (Sweden), Trondheim Jazz Festival (Norway), Molde Jazz Festival (Norway) , the Jakarta Jazz Festival (Indonesia) Yokohama Jazz Festival (Japan) and the Hanoi Jazz Festival (Vietnam). The Tineke Postma International Quartet featuring Geri Allen on piano, Scott Colley on bass and Terri Lyne Carrington on drums was founded in 2009, February when Tineke recorded cd "The Traveller. They performed at the Barbican Hall in London, The North Sea Jazz Festival, Jazz a Ramatuelle, Jazz sous les Pommiers Festival in France and at the Blue Note in New York.
Informationen
Label
www.challengerecords.com
Musiker
Tineke Postma
http://www.tinekepostma.com