Toine Thys Trio: Grizzly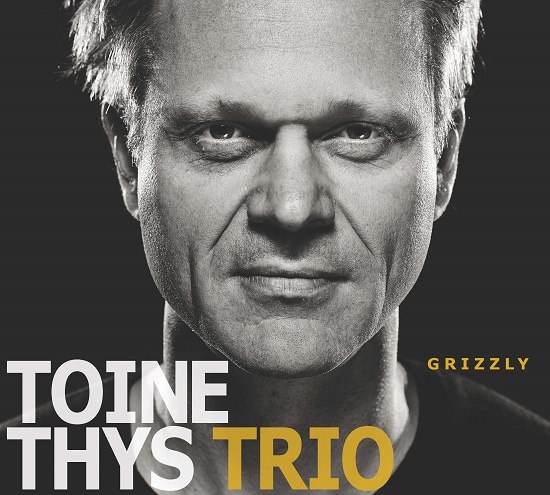 T
Igloo Records, IGL260
Für die aktuelle Einspielung hat sich der in Brüssel beheimatete, aus den Niederlanden stammende Komponist, Saxofonist und Klarinettist Toine Thys seinen Landsmann Arno Krijger, einen "Meister an der Hammondorgel", und den mit dem Toots Thielemans Jazz Award 2014 bedachten Schlagzeuger Antoine Pierre an seine Seite geholt. Alle zehn Kompositionen der aktuellen Einspielung stammen von Toine Thys, beginnend by "Don't Fly L.A.N.S.A" und endend mit "Twin Lotus".
Schnelle kurze Beats treffen bei "Don't Fly L.A.N.S.A" auf das "wabernde Wumschwumschwumsch" der Orgel und den samtenen Klang des Saxofons. Uns scheinen Flügel zu wachsen, so schwerelos erscheint die Musik. Dabei scheint der Geist von Bebop allgegenwärtig, zumindest wenn man dem Fluss der Saxofonklänge folgt. Dabei sind auch die bedacht gesetzten Akzentuierungen des Organisten Arno Krijger nicht zu überhören. Er scheint die Rolle einzunehmen, die sonst in einem Trio dem Kontrabass zufällt. Derweil vollführt Toine Thys Loops und Sturzflüge, während er davor warnt, L.A.N.S.A zu fliegen. Dass auch ein Schlagzeugsolo in den Song eingebaut wurde, ist schon ein wenig überraschend. Sonst hört man dergleichen eigentlich nur bei Livemitschnitten.
Dass ein Fakir auf sein Nagelbett ungern verzichtet, ist naheliegend, aber was macht ein Fakir mit einer Lotusblume? Eine derartige Verbindung gibt es dank der entsprechenden Komposition von Toine Thys. Zu Beginn räumt Toine Thys das Feld und Orgel sowie Drums sind allein auf weiter Flur. Doch der Kopf des Trios nimmt dann sehr rasch das Zepter in die Hand, ehe etwa zur Hälfte des Stücks Arno Krijger zeigen kann, was er aus seiner Hammondorgel herauszuholen imstande ist. Irgendwie scheinen dann auch die Zeiten wieder lebendig zu sein, die einst mit dem Namen Jimmy Smith verbunden waren. Ob der Fakir sich nun aufs Nagelbett gelegt hat oder nicht, interessiert in diesem Kontext recht wenig.
Nein, in Belgien scheint wohl keine Mitternachtssonne. Um diese Impressionen einzufangen, muss man im Sommer in Skandinavien weilen. Vielleicht war Toine Thys auch an Mittsommernacht in Schweden und hat sich zu der Komposition "Midnight Sun" inspirieren lassen. Was haben wir im Kopf, wenn wir an Mittsommernacht denken? Einen lichtblauen Himmel, Lagerfeuer, Hochprozentiges und Krebsessen satt? Wer allerdings den Saxofonklangwolken folgt, die dank Toine Thys an uns vorbeiziehen, denkt vielleicht eher an herumschwirrende Nachtfalter und andere Insekten, an ein laues Lüftchen, an ein Feuerknistern, an Ausgelassenheit. Das wird auch durch das im Verlauf des Stücks zu hörende Solo von Arno Krijger noch unterstrichen.
Wildes Getrommel sollte man doch bei "Afro Electro" erwarten oder irgendein Mix aus Afrobeat und Technosound. Doch all das vernehmen wir nicht. Eher kommt das Stück behäbig daher, so als wäre es schon lange nach Mitternacht und die Müdigkeit hätte alle übermannt. Viel flotter als diese vermeintliche Afro-Nummer ist dann "Grizzly". Dabei ist auch ein Hauch von Funk zu spüren. "Fitzcarraldo" lautet der Titel der vorletzten Komposition auf dem aktuellen Album, dem zweiten des Trios. Ist das etwa eine Anlehnung an einen Film von Werner Herzog und an den schillernden und überaus durchgeknallten Schauspieler Klaus Kinski? Wenn ja, wäre es ein weiterer Bezug zum Filmwerk Herzogs, da sich auch der Song "Grizzly" auf einen Film Herzogs, "Grizzly Man" bezieht. Ebenso bizarr, wie die Filmstory von "Grizzly Man" – es geht um einen Mann, der zwischen Grizzlys zeltet und damit wissentlich seinen Tod in Kauf nimmt – ist auch die des Herzog-Films "Fitzcarraldo". In der Filmgeschichte geht es im Kern um einen Mann, der mitten im brasilianischen Urwald ein Opernhaus – man denke an die Oper von Manaus – errichten lassen will. Der von Toine Thys geschriebene Song ist auch jenseits dieses Bezugs eine sehr schöne Melange aus Organ-Jazz und ein bisschen Fusion und Funk. Zu guter Letzt präsentiert uns das Trio dann noch "Twin Lotus".
Press Release by Igloo Records
Central figure for saxophone and bass clarinet in Europe, Toine Thys is an intense player, with a warm and full tone. The Brussels-based sax-player is accompanied for his second album by the Dutch Hammond organ maestro Arno Krijger. Arno is one of the few musicians to play chords on the keyboards and bass on the pedals – a visual spectacle reminiscent of Larry Young.
The young prodigy Antoine Pierre – house drummer for Philip Catherine and recently awarded the Toots Thielemans Jazz Award 2014 – complet the trio and multiplies the group's energy with his drive and talent. Toine Thys passes effortlessly from the tenor to the soprano saxophone as well as the bass clarinet with his sharp and inspired playing. The accent is clearly on the groove and the rhythmic side of the music.
All the tracks were composed exclusively for the trio by the sax-player. The inspiration draws on the work and approaches of other artists and his recent trips to West Africa. The title track 'Grizzly' was inspired by the documentary "Grizzlyman" by director Werner Herzog. The joyful – almost Afrobeat – melody illustrates the euphoric state of the main character Timothy Treadwell. Edging into madness, he decided to pitch his tent in the middle of wild grizzly bears in Alaska, condemning himself to certain death. Together, the trio play music with intoxicating melodies, sharp exchanges and adventurous solos of which they have the secret. The bass clarinet changes the atmosphere on several tracks, bringing a tone of sensuality and mystery to the trio.
Text © ferdinand dupuis-panther
Informationen/Informations
Label
Künstler/Musicians
Toine Thys, Clarinet, Compositor, soprano sax, tenor sax
www.toinethys.com
Arno Krijger, Organ
Antoine Pierre, Drums
https://antoinepierre.wordpress.com/