Torsten Goods: Thank You Baby!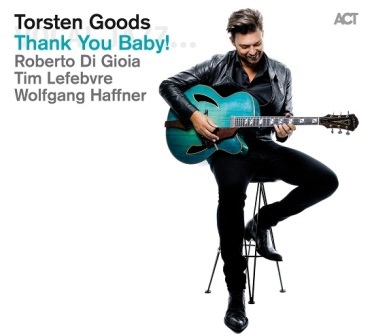 T
ACT 9731-2
Torsten Goods (eigentlich Torsten Gutknecht), der auch bei Andi Kissenbecks Club Boogaloo an der Gitarre zu hören ist, ist der Sohn einer irischen Mutter und eines deutschen Vaters. Goods musikalischer Werdegang wurde gewiss auch durch die gut bestückte Plattensammlung seiner Mutter – neben Größen von Duke Ellington bis Oscar Peterson war auch viel Irisches vertreten – gefördert. Früh fand er Zugang zum Jazz, wenn auch die ersten Schritte als Gitarrist durch Pop und Rock geprägt waren. Während des weiteren musikalischen Werdegangs standen dann Goods Virtuosen des Jazz wie Jim Hall und John Scofield sowie Bireli Lagrene zur Seite und beeinflussten seine Entwicklung merklich.
Wie bei früheren bei ACT erschienenen Alben Goods liegt nun aktuell ein weiteres Album vor, dass von Jazz, Blues, Gospel und R&B geprägt ist. Während Goods beim Club Boogaloo nur gelegentlich seine brillante Stimme hören lässt, ist dies bei seinen eigenen Alben ganz anders. Insgesamt 13 Titel haben Torsten Goods und seine Mitmusiker Roberto Di Gioia (piano, Fender Rhodes), Tim Lefebvre (Fender Jazz Bass, double bass) und Wolfgang Haffner (drums) eingespielt. Es beginnt mit "Work Song (Nat Adderley/Oscar Brown jr) geht weiter über "Hallelujah, I love her so" (Ray Charles) und Sing Hallelujah (Mike Settle) bis hin zu "Everthing must change" (Benard Ighner). Eine Komposition, "Midst of your love" steuerte Torsten Goods zu dem Album bei.
Hebt "Work Song" an, dann wird man auf eine Zeitreise mitgenommen. Es ist die Zeit der Sklavenarbeit und auch der Häftlingsarbeit in Ketten, die teilweise bis heute anhält. Es ist ein Leben angefüllt mit harter Arbeit, wie wir hören, aber auch von Hoffnung, wenn auch noch ein langer Weg vor einem liegt. In diesem Stück zeigt sich auch die Fingerfertigkeit des Gitarristen Torsten Goods. Hier und da scheinen dabei, Jim Hall und auch Bireli Lagrene durchzuscheinen. Balladenhaft und auch wenig vom Blues gefärbt erscheint "Brother, where are you". Ähnliches gilt überdies für "Midst of your love". "Nobody knows the trouble I've seen" hat zwar immer noch sein Gospelgewand, wird aber durch Goods und Konsorten sehr flott und mit sehr viel Groove interpretiert. Sehr variantenreich lässt Goods bei seinen improvisierenden Gitarreneinlagen das Thema erklingen. Da tanzen die Finger spielerisch über die Saiten, und man kommt beim Zuhören schon in Schwingungen, auch und gerade wenn man dem Wechselspiel zwischen dem Gitarristen und dem Pianisten Roberto Di Gioia aufmerksam folgt. Das Beschwingte setzt sich beinahe nahtlos in "Halleluja I love her so" fort. Mit "Everything must change" schließt sich dann der Bilderbogen, der von den Farben des Blues, des Gospels, des Jazz und R&B bestimmt wird. Wer eine solche Mischung schätzt, der greife unbedingt zu dem aktuellen Album von Torsten Goods.
© ferdinand dupuis-panther
Informationen
Label
ACT
http://www.actmusic.com
Musiker
http://www.TorstenGoods.com
http://www.facebook.com/torstengoods