Tom Guarna 5tet: Rush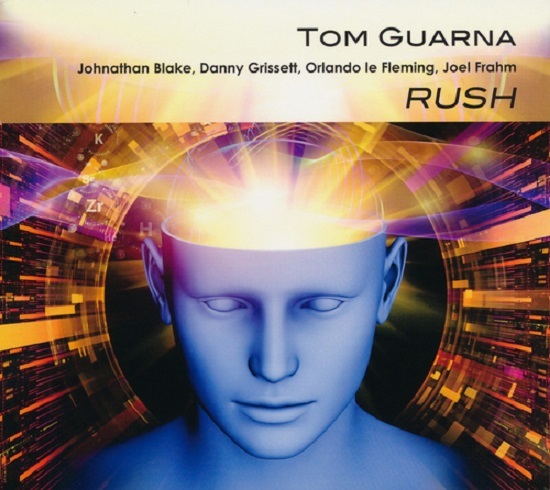 T
BJUR 040
Der aus Brooklyn stammende Gitarrist Tom Guarna ist in der New Yorker Jazz-Szene kein Unbekannter. Er hat bereits mit Blood Sweat and Tears, Wallace Roney, Branford Marsalis und Randy Brecker auf der Bühne gestanden. Doch dort war er "nur" sideman. Nun liegt nach den bereits fünf zuvor erschienenen Alben mit "Rush" seine jüngste eigene Kreation vor: "Rush was inspired by the sudden burst of creativity that can sometimes overtake you, inspiring you to seize the moment and engage in the creative process. I am always composing and conceptualizing new music, but the recording of this album followed a particularly inspired time when it seemed that I couldn't write the music fast enough."
Mit ihm im Boot saß bei der Einspielung am Klavier und Fender Rhodes Danny Grissett, mit dem Guarna zuvor in der Gruppe des Bassisten Richie Goods auf einer Europatour zusammengespielt hatte. Weitere Mitglieder der Tom-Guarna-Band sind Joel Frahm (soprano & tenor saxophones), Orlando Le Fleming (bass) und Johnathan Blake (drums).
Acht Kompositionen präsentiert Guarna auf seinem Album "Rush", beginnend mit dem Titelsong und in den "High Plains" endend. Die Töne sprudeln nur so, reihen sich aneinander, werden zu einem Rinnsal und dann zu einem steten Strom, wenn nicht nur Guarna bei "Rush" in die Saiten greift, sondern auch Joel Frahm sein Saxofon "tanzen" lässt und Danny Grissett auf dem Fender Rhodes einen samtenen Klangteppich webt. Immer wieder aber löst sich Guarna mit "schwebenden" Solopassagen, bei denen er hintergründig vom Bass und dem Klickklickklick des Schlagzeugs begleitet wird. Auf diese Passagen steigt bei "Rush" dann Grissett ein und präsentiert seine Variationen des Themas. Anbei ein O-Ton von Guarna: "This tune is about experiencing a burst of creativity and the "rush" to seize the moment before it passes."
Auf geht es dann ins "Dreamland". Ja, an Träumereien kann man denken, wenn die Musik dahinfließt. Entspannung strahlt vor allem der Pianist aus, der die Töne wie Perlen an einer Schnur aufreiht. Dramatischer wird es nur, wenn der Saxofonist zu Wort kommt. Doch danach entspannt sich alles wieder. Könnte man nicht annehmen, man liege auf einer grünen Alm und starre in den Himmel, um im nächsten Moment in den Schlaf zu fallen, der mit einem schönen Traum gepaart ist?
Tragik bündelt sich in "Elegy for Etan". Diesen Song schrieb Guarna in Erinnerung an den sechs Jahre alten Etan Kalil Patz, der 1979 auf dem Weg zum Schulbus verschwand: "If you grew up in NYC around the time this happened, you saw his picture everywhere. He was the first person to have his photo on milk cartons, and there was an enormous search for him. Heartbreaking", erinnert sich Guarna. Getragen beginnt Guarna seine Einleitung. Man möchte fast meinen, ein herzzerreißendes Trauerlied erklingt. Zugleich denkt man an einen unbeschwerten Jungen, der sich morgens voller Erwartungen auf den Weg zur Schule macht. Signalisiert da nicht das dumpf tönende Klavier die nahende Tragödie?
Ebenso wie in "Elegy for Etan" brilliert Guarna in "Forgiveness" mit herausragenden Solopartien. Mit diesen reiht er sich ohne Zweifel in die Riege der Giganten des Jazz ein, genannt seien Joe Pass, Jim Hall, Attila Zoller, Kenny Burrell oder Barney Kessel. Sehr gelungen ist das Zwiegespräch zwischen Klavier und Gitarre, und man fragt sich beim Zuhören, wer da wem Vergebung schuldet. Bei "High Plains", dem Schlussstück des Albums, hatte Guarna den "Präriestaat" Montana im Kopf. Doch wie zeigt sich das musikalisch? Nein mit "skandinavischem Fjord-Sound" operiert die Band nicht, um die weite Landschaft zu erfassen, aber der Saxofonist Joel Frahm zeichnet schon ein charakteristisches Bild von Montana: Muss man nicht bei diesem Song an wilde Mustangs, an große Rinderherden und an Cowboys denken? Gemächlich ziehen die Herden übers Land - das zumindest vermitteln die dahinfließenden Sequenzen des Saxofons. Alles scheint seinen Gang zu gehen. Manchmal muss man aber auch den Ausbruch von Rindern verhindern, oder? Dann tönt das Saxofon eher aufgeregt. Übernimmt Guarna das Geschehen, dann scheint der Alltag in all seiner Routine an uns vorbeizuziehen. Lay back scheint das Credo.
Text © ferdinand dupuis-panther
Informationen
Label
Brooklyn Jazz Underground Records
http://www.bjurecords.com
Tom Guarna
www.tomguarnamusic.com