Triio - Magnetic Dreaming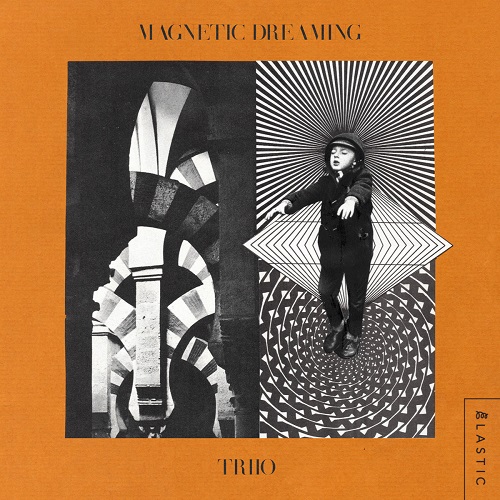 T
Elastic
'Magnetic Dreaming' is een suite als smaakmaker voor de eerste twee cd's die de Canadese bassist Alex Fournier (Dan Pitt, Tony Malaby, Lina Allemano) met zijn sextet reeds uitbracht. Zowel met het titelloze debuut als met de opvolger 'Six-ish Plateaus' kreeg hij waardering van pers en collega's waaronder Mary Halvorson en Michel Formanek. Met 'Magnetic Dreaming' zal het ongetwijfeld dezelfde weg opgaan.
Het is een ep van zes nummers in amper drieëntwintig minuten maar boordevol intense momenten. Alles begint met 'Prelude: Seven Hundred Steps Descending To The Gates Of Magnetic Sleep', een rustgevende sfeerschepping de cd-titel waardig. 'Bassalt Pillars And The Field Outside The Ferrimagnetic Order' dat volgt, barst echter meteen uit de voegen. Een splinterbom met een rondtollende sax à la Albert Ayler en een losgeslagen vibrafonist. De titels zijn trouwens stuk voor stuk intrigerend en misleidend.
In het kubistische 'The Dance That Wrought The Faciality Of The Lower Metaphysicians' staat weliswaar "dance" vermeld maar hiermee krijgt een dj zelfs de meest fervente clubbers weg van de dansvloer. Wel gedroomd voer voor liefhebbers van free gebracht met onder meer een basklarinet. Het daaropvolgende 'Fires Of The Icy Desert Plateau Of Terrella' is de gepaste chill out soundtrack om weg te dommelen in een gelukzalige roes.
Het orkestraal klinkende 'What Cycle Or Identity, In Lie Group Or Waking' is synoniem voor het geleidelijk ontwaken uit een lethargische toestand om te belanden in een schemerzone tussen nachtmerrie en verwarring. Te begrijpen wanneer je weet dat een van Fourniers favoriete auteurs niemand minder is dan HP Lovecraft. Eind goed alles goed met 'Atop The Onyx Tower; Plumbing The Sentient Field'? Hier wordt echter een onheilspellend verwachtingspatroon gecreëerd als een heuse "cliffhanger" die spannend doet uitkijken naar het vervolg. Vooral omdat de hoes met een illustratie M.C. Escher waardig eenzelfde gevoel nog versterkt. Hedendaagse postjazz van het derde type. Bij voorkeur beluisteren met koptelefoon.

© Georges Tonla Briquet

Bezetting:
Bea Labikova: alt- en sopraansaxofoon, fluit
Naomi McCarroll-Butler: (bas)klarinet
Tom Fleming: gitaar
Michael Davidson: vibrafoon
Alex Fournier: contrabas
Stefan Hegerat: drums.

www.alexfournierplaysbass.com
BANDCAMP