Trió Kontraszt - Cryptic scattered images of time forgotten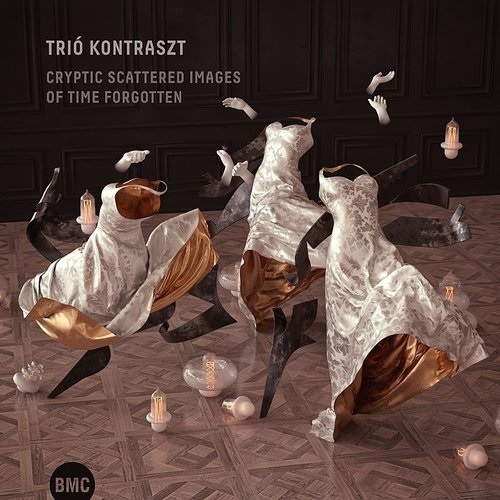 T
BMC
Le pianiste et claviériste Stevan Kovacs Tickmayer est né à Novi Sad en ex-Yougoslavie. Suite à la guerre dans son pays, il a émigré: il a étudié au Conservatoire de La Haye puis à Paris avec Márta et György Kurtág. Il s'oriente vers la musique improvisée avec Mihály Dresch et István Grencsó et fonde Formatio, entre musique classique et contemporaine. 
 
Avec István Grencsó, il crée le Trió Kontraszt, dont le nom fait référence à une composition de Bartok dédiée à Benny Goodman. En 2013, avec Tamás Geróly aux percussions (celui-ci a enregistré avec Mâäk), le trio enregistre un premier album puis, en 2016, avec Szilveszter Miklós, un deuxième From Dyonisian sound sparks to the silence of passing.
István Grencsó est lui né en Hongrie en 1956. Il a rejoint le quartet de Mihály Dresch puis a créé en 1985 le Grencsó Collective qui a invité des musiciens free comme Paul Termos ou Peter Kowald. En 2014, en quartet avec le pianiste Maté Pozsár, le contrebassiste Robert Benkó et Szilveszter Miklós à la batterie, il enregistre Flat puis, avec Rudi Mahall à la clarinette, il enregistre, en sextet, Marginal Music chez BMC. Pour Adyton Records, il enregistre River Music avec le Grencsó String Collective: sax/cl/fl du leader, avec deux guitares et contrebasse.
Revoici le Kontraszt Trió, avec Cryptic scattered images of time forgotten, soit 9 compositions de Tickmayer parmi lesquelles The garden of the wizard dédiée à Màrta Kurtág.
Tout au long de l'album, Tickmayer marie piano, orgue (Dark Ramifications, Nocturnal zones), Fender Rhodes (In the garden of the wizard) ou piano préparé dans des atmosphères surchauffées (Different divisions and rags, In the garden of the wizard), des thèmes voltigeurs (Sinbad waltz, Trash tango) ou des climats plus apaisés (Nocturnal zones). De son côté, Grencsó se démultiplie: clarinette (The garden of wizard), soprano (Different divisions and rags, Nocturnal zones), soprano suivi de clarinette basse (Sinbad waltz, Trash tango), sax ténor (Night song) ou alto (Dark ramifications).
Le tout propulsé par l'énergie de Szilverszter Miklós à la batterie et aux percussions.
Un bel exemple de jazz hongrois contemporain.
© Claude Loxhay