Trapper Keaper – Meets Tim Berne & Aurora Nealand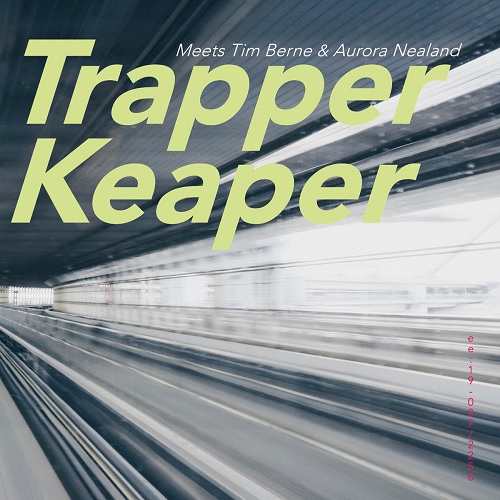 T
Ears & Eyes Records/Caligola Records
Trapper Keaper heeft New Orleans als uitvalsbasis maar vergis je niet. Dit duo houdt zich mijlenver verwijderd van de lokale tradities. Zij zijn actief in het domein van free industrial postjazz en afgeleide vormen hiervan. Voor de gelegenheid nodigden ze twee gelijkgestemde beeldenstormers uit.
De sjamanistische aanvangsexplosie met een langgerekte oerschreeuw, beklemmende drums, percussieve toetsen en een jankende saxofoon duiden op de instelling van dit gezelschap. Stem, instrumenten en (electro) effecten smelten op organische wijze samen. Dat deze turbulente introductie als titel 'Boom' kreeg, is dus niet echt verwonderlijk. Met het daaropvolgende 'Trapper Keaper Meets Tim & Aurora' wordt een al even chaotische storm van expressionistische geluidsstructuren ontketend. Dreigend over heel de lijn met de saxofonist in de rol van een revolutionair volksmenner op zijn wenken bediend door een drummer/percussionist. 'Unidentified Flying Objection' is een amalgaam van slepende, schurende en blazende geluidstaferelen annex vocale kunstjes, net iets meer gestroomlijnd maar al even moeilijk te vatten en thuis te brengen. In 'Passage' doen ze dan toch een lichte toegeving om het net wat meer coherent te laten klinken maar met mate. Denk aan een uit de hand gelopen kruisbestuiving tussen Blurt en Kimmo Pohjonen, inderdaad met flarden accordeon! Ze sluiten af op misleidende manier met 'Amarcord (Fellini Memories)', een ode aan de Italiaanse filmregisseur. Zijn ondertussen overleden vaste componist Nino Rota zou bij dit eerbetoon wel even raar de oren gespitst hebben, al respecteren ze op hun wijze de poëtische kant van zijn werk.
Steeds nieuwe combinaties en volumeverschillen zorgen voor een ontwrichtende luisterervaring. Drie kwartier lang zorgt dit kwartet voor koude rillingen of opperste genot, naargelang je eigen ingesteldheid. Ideale groep voor Werkplaats Walter of Les Ateliers Claus en zeker voor wie het werk van de hele scene rond Ken Vandermark en Rob Mazurek genegen is.
© Georges Tonla Briquet



Musici:
William Thompson IV: toetsen, electronics, stem
Marcello Benetti: drums, cymbalen, stem
Aurora Nealand: altsaxofoon, accordeon, effecten, stem
Time Berne: altsaxofoon

www.trapperkeaper.com