Tower of Power - 50 Years of Funk & Soul live at the Fox Theater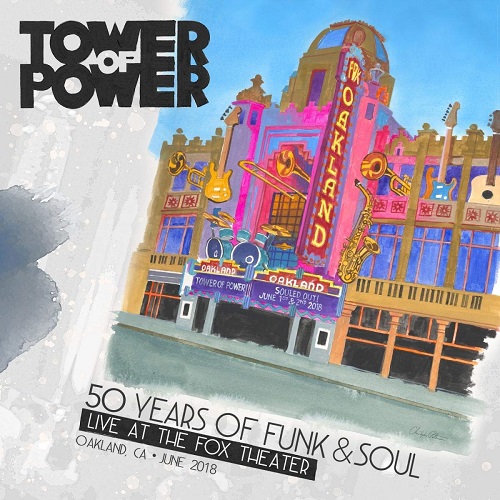 T
Mack Avenue / Newartsint.
Certes du groupe fondateur ne restent "que" Emilio Castillo (sax tenor), Stephen « Doc » Kupka ( sax baryton) et Francis « Rocco » Prestia (basse), ce dernier présent sur quatre titres, n'empêche, fêter les cinquante ans d'un groupe sur scène c'est quelque chose ! 
Nous sommes en juin 2018 à Oakland où tout a commencé en 1968 pour le super band de la soul et du R&B « Tower of Power », légende du funk et de la soul qui a non seulement sorti une vingtaine d'albums personnels, mais a aussi participé à des enregistrements de Santana, Ray Charles, Rod Stewart…
Pour ce concert, tous les succès du groupe s'enchaînent dans un maelström rythmique : « So Very Hard to To Go », « You're Still a Young Man », « What is Hip » et « Don't Change Horses » puis un medley « Diggin' on James Brown » d'enfer, avec des special guests comme Chester Thompson au Hammond B3, Lenny Pickett au sax tenor ou Bruce Conte à la guitare.
C'est chaud chaud, ça fait danser et surtout aussi ces cent-vingt minutes de straight music font un peu oublier l'absence de live qui nous fait mal, d'autant que le dvd joint aux deux cds rend à merveille l'ambiance d'un concert de feu… Et puis il y a « Soul Vaccination »… Après ça, on se sent bien.
© Jean-Pierre Goffin