Toots Thielemans Presents The Thierry Lang Trio - Cully 1989 & 1990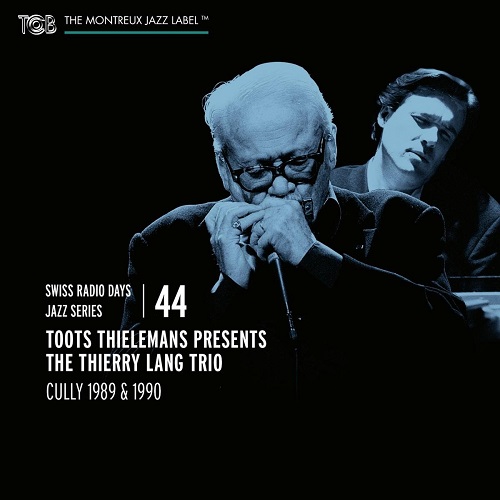 T
TCB Music
Swiss Radio Days Jazz Series Vol. 44
Dat Toots Thielemans een bijzondere neus had voor pianisten bewees hij door de samenwerking en de opnames met George Shearing, Bill Evans, Herbie Hancock, Fred Hersch, Kenny Werner, Brad Mehldau, Martial Solal en dan noem ik slechts een handvol helden en ga nog voorbij aan de vele begeleiders worldwide, natuurlijk ook hier bij ons en in Nederland.
Een misschien minder opgemerkte pianist is de Zwitser Thierry Lang (62) die met zijn trio Toots al nodigde op het album The Blue Peach, een studio-opname op het TCB label in 1994 en uitgebracht in 2012. Blijkbaar bleef de aandacht voor dit album onder de radar rond de viering van Toots 90ste verjaardag.
Nu brengt het Montreux Label eerdere opnames met het Thierry Lang trio en Toots Thielemans uit, live vastgelegd in maart 1998 en 1990. Voor Toots herleefde de spirit van Bill Evans in deze ontmoeting met Thierry Lang, die Evans ook duidelijk als mentor en invloed herkent. En ze gingen zelfs over tot het hernemen van liefst drie nummers van het Evans Affinity album: The Days of Wine and Roses, I Do It for Your Love en Sno'Peas.
Helemaal in de lijn van deze onvergetelijke klassiekers wordt het enthousiaste publiek betoverd en ingepakt door A Weaver of Dreams, Stella By Starlight, My One And Only Love en Estate. Je voelt de synergie en intense interactie van het trio met de schitterende soli van Toots in topvorm. Wat een spelplezier!
Onbegrijpelijk dat zulke opnames die echt een hoogtepunt vormen en nu ook tot het beste ooit van Toots Thielemans gaan behoren nooit eerder zijn gereleased.
Het is bovendien ontroerend en uniek om Toots' fijne kwinkslagen en pittige interventies te mogen aanhoren. "C'est beau, la musique, hein!?!..." besluit een emotionele Toots na My One And Only Love. En daar zijn het volkomen mee eens en al helemaal met dit hartverwarmend en authentiek album, klasse jazz met een strik erom heen. Op en top Toots Thielemans en een uitzonderlijk inspirerend Thierry Lang trio.
Als historische release nu al bovenaan de lijst. Hopelijk duiken er nog unieke opnames op, want het indrukwekkende parcours van Toots Thielemans met legendarische jazzmuzikanten houdt verrassingen in die nog niet publiekelijk beschikbaar zijn.

© Bernard Lefèvre

Musici:
Toots Thielemans (harmonica)
Thierry Lang (piano)
Ivor Malherbe (bas)
Marcel Papaux (drums)