Tony Overwater/Atzko Kohashi - A Drum Thing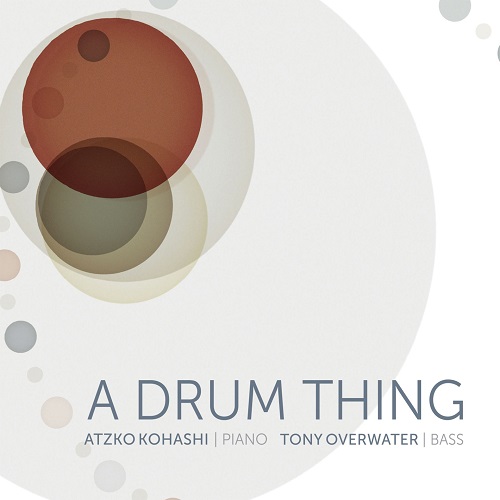 T
Jazz In Motion Records
Na het succesvolle duo-album 'Crescent' als hommage aan John Coltrane komen de Nederlandse bassist Tony Overwater en de Japanse pianiste Atzko Kohashi met een vervolg dat zijn inspiratie haalt uit composities gelinkt aan drummers. Met de titel 'A Drum Thing' verwijzen ze nog naar Coltranes 'Crescent', namelijk het afsluitende nummer op dat album geschreven voor Elvin Jones.
Naast nog twee andere composities opgedragen aan drummers ('Blues in Motian' van Charlie Haden en 'Tale of the Fisherman' van Tony Overwater) zijn de overige tracks composities van drummers: Sunny Murray ('Angel Voice'), Paul Motian ('Trieste', 'Bya Blue', 'It Should've Happened a Long Time Ago/For Turiya'/Charlie Haden), Peter Erskine ('Journey to the Centre of The Blues'), Jack DeJohnette ('Pastel Rhapsody', 'Riff Raf') en Al Foster ('The Chief').
Dat drummers als componist al eens minder belicht zijn, wordt in 'A Drum Thing' rechtgezet met een prachtige voorbeeldige selectie die compositorisch nog meer de kwaliteit onderlijnt door de drumloze interpretatie van sobere piano en contrabas. 
De opnames vonden plaats in de radiostudio's van Hilversum door geluidsman Frans de Rond die de fijne nuances van het spel door pianiste Atzko Kohashi en bassist Tony Overwater voortreffelijk capteerde. Het samenspel is bijzonder spontaan en direct en creëert ruimte die op elk moment de eigenheid van beiden stuwt naar heerlijk 'instant' musiceren. 'A Drum Thing' is oorstrelende muzikale schoonheid.

© Bernard Lefèvre



Musici:
Tony Overwater (contrabas)
Atzko Kohashi (piano)