Tom Guarna - The Wishing Stones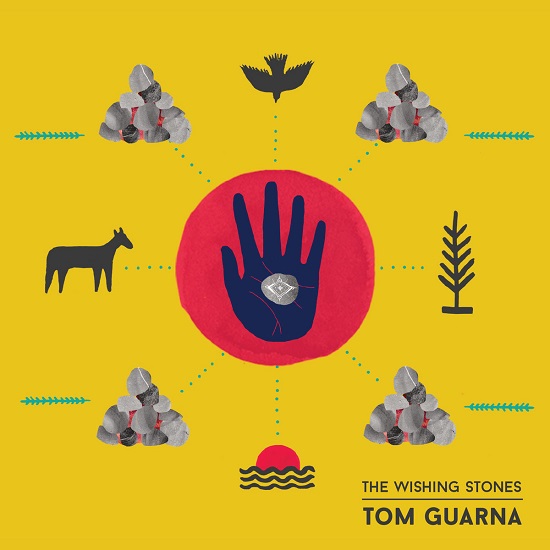 T
Destiny Records/Membran
Le guitariste Tom Guarna a grandi en jouant du rock mais il a aussi étudié la guitare classique au Conservatoire de Brooklyn.
Très vite, il s'est passionné pour le jazz, au travers de guitaristes comme Jim Hall ou John Scofield et a peaufiné sa formation auprès de John Abercrombie. Il a ainsi joué avec Chick Corea, Wallace Roney, Brandford Marsalis ou Mark Turner, tout en rejoignant Blood Sweat and Tears.
Il a, par le passé, enregistré six albums personnels: Get together, Out from the underground, Wingspan, Major Minor, Bittersweet et, en 2014, Rush avec John Frahm au saxophone et Danny Grissett au piano.



Pour The wishing stones, son 7e album, il a fait appel à une équipe solide et soudée.
Au piano, et au Fender Rhodes sur deux titres, Jon Cowherd. Membre du groupe Brian Blade Fellowship (album Season of changes), il a aussi fait partie du trio de John Patitucci.
A la contrebasse, justement, John Patitucci, membre de l'Acoustic comme de l'Elektric Band de Chick Corea. Il a aussi fait partie du quartet de Wayne Shorter, tout comme Brian Blade.
A la batterie, Brian Blade qui a donc côtoyé Cowherd comme Patitucci à de nombreuses reprises: la garantie d'une réelle complicité et interactivité entre les musiciens du quartet.
Au cours des 11 compositions originales enregistrées à New York, Tom Guarna marie jazz, funk, soul et rythmes d'inspiration latine.
Le titre The wishing stones est inspiré par une visite à l'île d'Aruba et, plus particulièrement, au Rock Wish Garden: "Chacune de ces piles de pierres a une histoire: il est étonnant de voir ce que les gens ont construit à partir de leurs désirs, de leurs aspirations et de leurs souvenirs. J'aimerais que mes morceaux - mes piles de pierres - aient une résonance similaire chez mes auditeurs."



L'album s'ouvre sur un Prelude très mélodique, beau dialogue entre une guitare très "jazz" et le piano. Ce dialogue se prolonge sur des tempos plus vifs avec Song for Carabello, Hope ou Modules puis, à d'autres moments, dans une atmosphère plus sereine comme sur Surrender Song, avec un délicat jeu de balais de Brian Blade. Unravel et Beacon sont beaucoup plus électriques avec recours au Fender Rhodes et, pour Guarna, une sonorité proche d'une guitare synthé. Sur The wishing stones, à noter la belle intro en guitare solo et, sur Run signal, celle tout en musicalité de la contrebasse de Patitucci, qui prend aussi un beau solo sur Moment = Serenity. Beaux solos de Guarna et Cowherd sur Song of Carabello.
Un album qui s'inscrit dans cette lignée ouverte par John Scofield et Kurt Rosenwinkel.
© Claude Loxhay

Tom Guarna: guitare
Jon Cowherd: piano, Fender Rhodes
John Patitucci: contrebasse
Brian Blade: batterie