Tom Bourgeois - Murmures / Rumeurs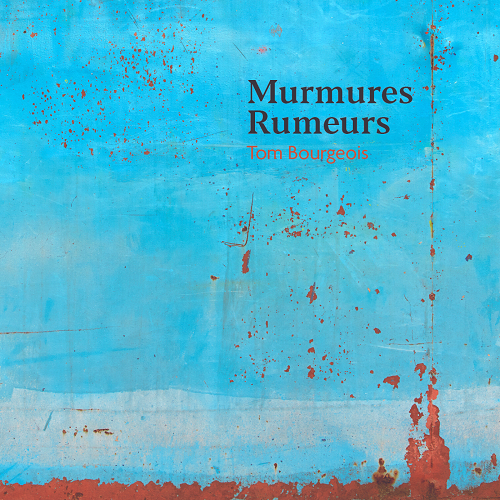 T
Neuklang
Een saxofoon-solo-album, "Moanin'Birds", een zeer succesvol duet met de contrabassist Fil Caporali, en nu een intrigerend dubbelalbum, Tom Bourgeois zit niet stil. Beter nog, elk van zijn projecten opent een hele reeks wegen/stemmen voor nieuwsgierige oren en dat is niet om ons te mishagen.
« Murmures / Rumeurs », een quasi-anagram dat een project aankondigt waarbij de composities zelf deelnemen aan dit spiegelspel waaraan een dubbele formatie is gewijd: het reeds bekende kwintet van "Mumures" bestaande uit Loïs Van op zang, Tom Bourgeois op sax en klarinet, Thibault Dille op accordeon, Florent Jeuneaux op gitaar en, op een nummer, Veronika Harcsa die ook op de integrale tweede plaat terug te vinden is, terwijl Loïs Van ook terugkeert voor de ouverture.
Dan is er voor "Rumors", een grote formatie. Naast de eerder genoemde musici komt er nog een blazerssectie bij: Thomas Mayade op trompet, Ruben Verbruggen op alt- en baritonsax, Quinten De Craecker op trombone en Esinam Dogbatse op fluit en percussie, plus een ritmesectie bestaande uit Dorian Dumont op de piano, Jelle Van Giel op drums en Victor Foulon op contrabas. Dit is het decor, want dat is het: Tom Bourgeois schrijft voor cinema en documentaires en deze hang naar regie domineert ook dit project dat een ongelooflijke originaliteit uitstraalt.
Het is moeilijk om het juist te omschrijven omdat alles een samensmelting is van meerdere referenties. Bij de eerste schijf zonder ritmesectie is kamermuziek het eerste wat bij je opkomt. Impressionisme bij "Sonatine II" van Maurice Ravel, waarvan beide versies uitblinken in het zoeken naar klankkleuren. John Dowland - een componist die in de overgang van de 16e en 17e eeuw leefde, en wiens muziek door Sting's album 'Songs from the Labyrinth' opnieuw in de mode kwam met zijn nostalgische kleuren - waarvan Tom Bourgeois "Tell me, true love" arrangeert met een finesse gesublimeerd door de prachtige stem van Veronika Harcsa. Dan worden er kleuren toegevoegd op "Love tell me the truth" dat met de grote formatie wordt uitgevoerd.
"Soir (29)" is het enige stuk waar we het thema duidelijk terug vinden in beide versies, maar de rest van het album speelt met kleuren en timbres, harmonieën en instrumentale setting, zonder het traditionele idee van solo of algemene effecten die we in grote traditionele groepen terugvinden. En als we absoluut een verwijzing naar jazz willen vinden (op zich overbodig omwille van de pure schoonheid van de muziek), is het misschien bij Ravel dat we die vinden in de kabbelende en wiegende kant van beide versies. Laat ons ook niet de prachtige teksten van François Vaiana vergeten te citeren - een luxe dat ze in het boekje opgenomen werden - die de heldere en verfijnde stem van Loïs Le Van benadrukt.
In tegenstelling tot veel huidige producties, vereist de muziek van "Murmures/Rumeurs" aandachtig, zelfs herhaaldelijk luisteren om alle subtiliteiten te begrijpen, maar het bezorgt je een zowel vredig als gelukkig gevoel.

© Jean-Pierre Goffin
Een samenwerking JazzMania / Jazz'halo