Toine Thys - Orlando (bl)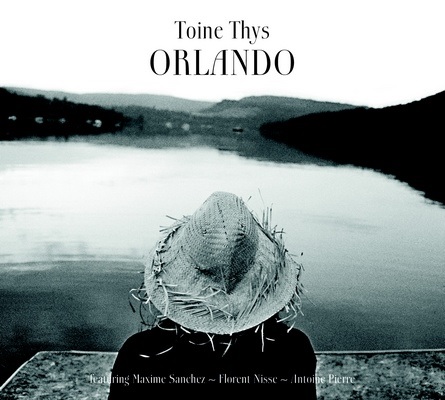 T
Hypnote Records
Je mag gerust stellen dat Toine Thys (48) een rusteloze ziel is die in zijn muziek met een brede kijk vele werelden absorbeert. Naast eerdere projecten zoals Rackham, Take the Duck en DERvISH is er zijn betrokkenheid met het stichten in 2014 van een instrumentenschool (Len Ventistes du Faso) in Burkina Faso. In 2010 creëerde hij zijn Organ trio met Arno Krijger (NL) op twee albums ('The End of Certainty', 'Grizzly'), en de Amerikaanse Hammondmeester Sam Yahel op een derde album ('The Optimist') en als gast Hervé Samb op gitaar. De drummers van dienst waren Joost Van Schaik, Karl Jannuska en Antoine Pierre.
Met Antoine Pierre is er ook een link met Urbex en voor 'Orlando' vormen ze een tandem met twee Franse muzikanten: bassist Florent Nisse (Michel Portal, Yaron Herman, Joachim Kühn, Logan Richardson) en pianist Maxime Sanchez (Magic Malik). Overigens leiden Nisse en Sanchez in Parijs samen het kwartet Flash Pig.
Toine Thys koos ervoor geen studio te gebruiken, maar op te nemen in Espace Senghor met alle muzikanten dicht bij elkaar in één ruimte wat de interactie en stemming bepaalt. Die wisselt van luchtig en kalm, ingetogen en verstild tot opgewekt, heftig of avontuurlijk wat helemaal aanleunt bij 'Orlando', ontleend aan Virginia Woolf en haar uitspraak: "Nothing thicker than a knife's blade separates happiness from melancholy".
Toine Thys legt de nadruk op de poëtische muzikale benadering en is vooral gefocust op sopraansax en basklarinet om wat hij als verstilde klanken wil oproepen. Exemplarisch zijn 'Orlando', 'Gospel Simple', 'Forever Ago'. In laatstgenoemd nummer voegt bassist Florent Nisse prachtige accenten toe. Hij soleert nog schitterend in het door hem geschreven 'Angel De La Guarda'.
In 'Vautour', 'Romanian Circus' en 'Mandingue' wordt de virtuoze Toine Thys heel subtiel en avontuurlijk gedreven door de ritmesectie en het intrigerend pianotoucher van Maxime Sanchez. Een ware ontdekking! Het energetische overheerst in 'Bad Gang' en Antoine Pierre's 'Survival Mode' al blijft de sfeer altijd ingetogen.
'La Dengue' herinnert aan Toine Thys verleden in Burkino Faso waar hij doodziek werd met knokkelkoorts (dinguevirus overgedragen door muggen). Heel expressief en tegelijk melancholisch.
Voor wie dieper wil graven in de verschillende composities moet er het originele inlegboekje bijnemen met 10 zwart-wit foto's van fotograaf Gil Mirande die je zelf mag koppelen aan de 10 titels.
Toine Thys creëert met 'Orlando' een sensueel geladen muzikale ontdekkingsreis vol avontuur, onderhuidse spanning en sprankelende virtuositeit. 'Orlando' is alvast een van mijn top-vijf albums van 2020!
© Bernard Lefèvre






Musici :
Toine Thys (tenor- & sopraansaxofoon, basklarinet)
Maxime Sanchez (piano)
Florent Nisse (contrabas)
Antoine Pierre (drums)