Tim Brady - Actions Speak Louder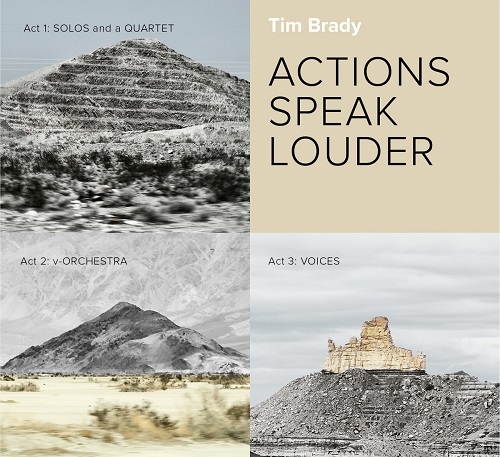 T
Redshift Music
This beautifully presented 3 CD set by composer and guitarist Tim Brady displays a wide musical pallette, from free improvisation to highly organised choral/orchestral works. CD1 is mainly solo guitar pieces, plus a quartet for Brady's regular guitar ensemble "Instruments of happiness". CD2 presents a concerto for electric guitar, tabla/percussion, violin and "virtual" orchestra whilst CD3 covers two song cycles for vocal and chamber ensembles. Each CD has a very different feel but together they showcase an exceptional composer and guitarist.
In a recording career which began in 1988 Brady has produced 24 albums, toured his native Canada with various ensembles and composed pieces including "While 100 Guitars Gently Weep: Concerto for George Harrison". The style and production values of his new album have a contemporary classical feel - no jazz idioms and rhythm section - but improvisation plays a central role. The solo guitar pieces explore a huge range of electric guitar tones and ideas; Brady plays Godin guitars and the distinctive Godin attack - a combination of slightly metallic edge and underlying wood tone - give the playing a distinctive voice. His extensive use of electronics often achieves dramatic changes in registration, which sometimes reminded me of the French tradition of Cathedral organ improvisation. This guitar music is highly original with an intriguing mix of composed and improvised material, plus melodies and harmonies which are unpredictable without sounding random. Some of the pieces are solo guitar, others are multitracked or use a looper.
The triple concerto "Because everything has changed" explores Brady's ideas about the future of music; how it is being affected by technology, changes to the concert hall economy and the pandemic. He created the orchestral score using NotePerformer artificial intelligence instruments driven by Sibelius software; this provides convincing orchestral textures which don't sound "electronic" and have a sense of space with expressive playing. The ear is not fooled all the time and is intrigued to get "inside" the sounds, which for me is a plus. Audio files of the orchestral parts were sent to the soloists, Helmut Lipsky violin and Shawn Mativetsky, tabla and percussion. Brady himself plays the solo electric guitar featuring his trademark fast tremolando picking. The solo parts were all improvised freely but are well integrated with the orchestral canvas; Lipsky's playing is particularly impressive and his contributions are sometimes reminiscent of the Berg concerto, perhaps not surprising given that he studied with Itzhak Perlman.
The song cycles on CD3 date back 28 and 20 years and show that Brady's style has evolved; they sound more obviously "minimalist" than the newer works. Both feature large ensembles of singers and instrumentalists live, beautifully performed and produced. "Revolutionary songs" uses texts from Russia, France, Angola and Nicaragua to explore personal experiences of revolutions. "As it happens" is an angry response to the 1960s psychological experiments in Montreal, using drug and shock therapy to "reprogramme" people. Both cycles are dark and discordant, again highly imaginative but far from easy listening.
Overall this set is a persuasive introduction to a rich lifetime of work by Tim Brady, repays repeated listening and opens up new territory for composer/guitarists.
© Stephen Godsall