Thundercat – It Is What It Is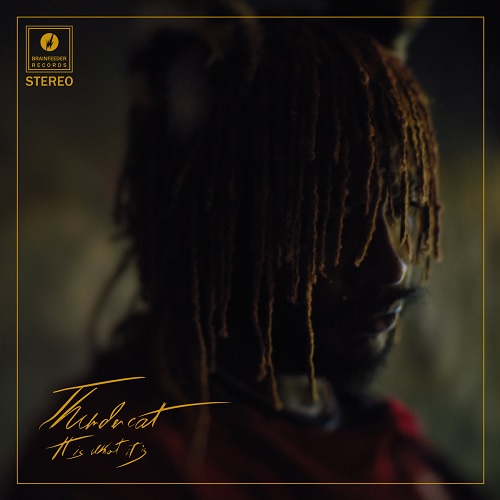 T
Brainfeeder
Wat maakt het West Coast Get Down collectief van Los Angeles zo bijzonder? Stephen Lee Bruner aka Thundercat geeft een (gedeeltelijk) antwoord onder de nogal gelaten titel 'It Is What It Is". Allemaal "with a little help from my friends" als daar zijn Kamasi Washington en Flying Lotus.
Met zijn vorige cd 'Drunk' (2017) werd de bassist op dezelfde hoogte geplaatst als deze twee laatst genoemden. Dat ze voordien op elkaars platen meespeelden, is tekenend voor de hele beweging daar in een deelwijk van Los Angeles. Voor 'It Is What It Is' werd eenzelfde formule gehanteerd. Een hele rits gastmuzikanten om te beginnen. Strikt noodzakelijk? We dachten zo van niet maar commercieel weegt het door natuurlijk. En bovenal verdenken we het collectief ervan om gewoon voor het plezier samen de studio in te duiken of op een podium te verschijnen.
Muzikaal vallen er eigenlijk geen aardverschuivingen te noteren tegenover 'Drunk'. Vijftien snaphots in amper achtendertig minuten. Zappen à gogo tussen funk, disco, soul, jazz en drum-'n-bass.
Het album is opgedragen aan rapper Mac Miller (Malcolm James McCormick aka Larry Fisherman) die in 2018 overleed op zesentwintigjarige leeftijd. Referenties, al dan niet verdoken, genoeg alleszins. Humor en zelfrelativering zijn eveneens aan de orde van de dag. Bekijk eens de clip van 'Dragonball Durag'. Het zijn weliswaar de wervelende baslijnen die het succes verklaren, nu eens diep groovy om dan weer plotsklaps te muteren in een glijdende melodiefrasering.
Thundercat die in zijn eentje de erfenis van The Funk Brothers katapulteert naar de 21e eeuw? Ergens wel maar dan vooral gekoppeld aan de discografie van Prince en Michael McDonald gepimpt met wat de hedendaagse scene uit Los Angeles zoal te bieden heeft. Beluisteren met koptelefoon is een aanrader.
© Georges Tonla Briquet