The Workshop – More Conversations With The Drum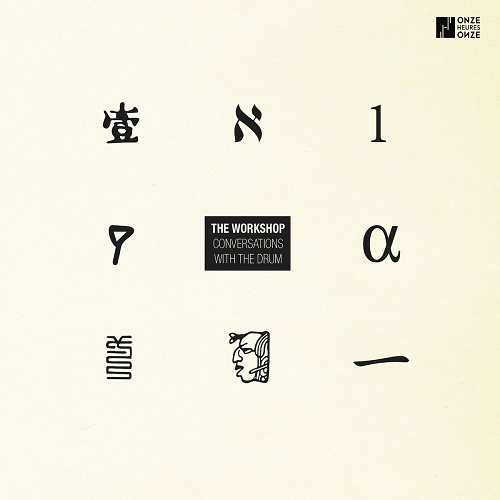 T
Onze Heures Onze
Deel 3 van dit erudiet collectief dat onder leiding van de Franse altsaxofonist Stéphane Payen de kloof tussen compositie en improvisatie dicht aan de hand van een eigen dialectiek.
De werkwijze van Payen en C° was in het verleden die van zovele andere improvisators. Samen aan de slag gaan zonder vooraf vastgelegde thema's en vervolgens proberen het eindresultaat toch in een bepaalde structuur te gieten. Voor 'More Conversations With The Drum' waren er wel degelijk partituren (allemaal van Payen) en werd het basiskwartet (Stéphane Payen, Olivier Laisney, Guillaume Ruelland, Vincent Sauve) uitgebreid met een extra drummer (Thibault Perriard). Door het toevoegen van nog twee extra gastmuzikanten (gitarist Nelson Veras, baritonsaxofonist Bo Van der Werf) werden de mogelijke opties nog vergroot. Sowieso zijn dit allemaal heren die niet meteen bekendstaan om zich lustig uit te leven op de tonen van zwierige swing of classic neobop.
Een aantal nummers werd opgedragen aan onder meer Pierre Van Dormael, het legendarische kwartet Old And New Dreams, Benoît Delbecq en de Franse contrabassist Sarah Murcia. Dat Payen in het verleden tevens al in de weer was met composities van György Ligeti en Charles Ives verraadt eveneens welke invloeden en referenties hier zoal opduiken.
De acht nummers zitten volgestouwd met ideeën en concepten die steeds verder reiken en gelaagder opgebouwd worden. Fijne vondst daarbij is dat de twee drummers elk een apart kanaal ter beschikking kregen (Sauve links, Perriard rechts). De solo toonmomenten dienen duidelijk niet om een muzikant in de kijker te plaatsen maar zijn volledig inherent aan het geheel en ingebed in de verhaallijn zodat ze geen remmende factor vormen. Repetitieve motieven en trancedrums worden omgebogen tot een aparte dynamiek. Dit mondt gelukkig niet uit in een polemiek van gradaties en correlaties maar in een samenhangende verzameling van gerichte krachtlijnen uitgevoerd met precisie.
Aanrader voor fans van Octurn en Aka Moon (de hypnotiserende beat in 'Lyon Part 3' lijkt wel uit hun catalogus gelicht). Wie 'More Conversations With The Drum' apprecieert, gaat best op zoek naar Payen zijn opnamen met onder meer Ingrid Laubrock, Guillaume Orti, Bricabracomaniacs en natuurlijk met Thôt.
© Georges Tonla Briquet



Bezetting:
Stéphane Payen: altsaxofoon
Olivier Laisney: trompet
Guillaume Ruelland: bas
Vincent Sauve: drums
Thibault Perriard: drums
Bo Van der Werf: baritonsax
Nelson Veras: gitaar

http://www.stephanepayen.com/?page_id=250