The Viper Club - Tain'T No Use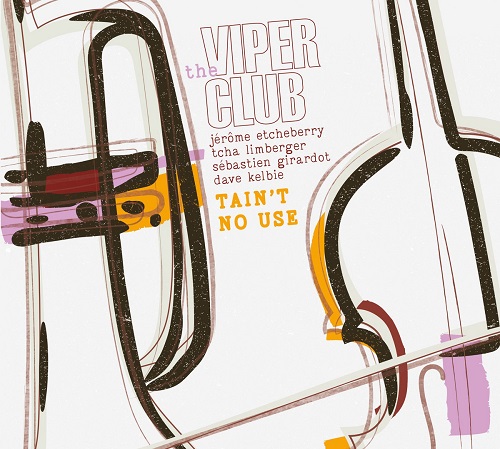 T
Lejazzetal Records
The Viper Club met de Belgische violist Tcha Limberger en Franse trompettist Jérôme Etcheberry in de frontlijn inspireert zich in 'Tain't No Use' losjes op de opnames van violist Stuff Smith en trompettist Jonah Jones in de Onyx Club in New York midden de jaren 30.
Stuff Smith (1909-1967) was een Amerikaanse swingviolist en best bekend van zijn nummer 'If You're a Viper' (1936), vandaar The Viper Club. De Amerikaanse trompettist Jonah Jones (1909-2000) kreeg als bijnaam King Louis II uiteraard verwijzend naar Louis Armstrong.
Gitarist Dave Kelbie wil toch benadrukken dat ze met dit kwartet een eigen en toch serene benadering nastreven. De expressieve dialoog van viool en trompet is diep geworteld in blues en het swingt authentiek in stijl met de Australische bassist Sebastien Girardot en de Britse gitarist Dave Kelbie, omschreven als 'the Rolls Royce of rhythm sections'.
Met bovendien een vleugje zang en ook al eens fluitend ('Baby Brown') brengen ze een uitgelezen repertoire van aanstekelijke vooroorlogse jazz met standards zoals 'My Blue Heaven', 'Lawd you made the night too long' (Victor Young), 'Tain't no use' (Burton Lane), 'I'm crazy 'bout my baby' (Fats Waller), ''s Wonderful' (George Gershwin), 'I'm putting all my eggs in one basket, 'My Walking Stick' (Irving Berlin), 'After you've gone' (Turner Layton/Hernry Creamer). 'Vipers moan' (Willie Bryant) en 'Onyx club spree' (Stuff Smith) refereren duidelijk naar de originele inspiratie. Liefst 17 nummers roepen de 'hot' sfeer op van het New York clubleven van de jaren 30-40.
Met trompettist Jérôme Etcheberry die nog recent hommage albums aan Louis Armstrong uitbracht, Tcha Limberger die de manouche jazzstijl op viool als geen ander bespeelt, gitarist Dave Kelbie die de gypsystijl van Django beheerst en Sebastien Girardot die een stevige baslijn à la New Orleans swing en gypsystijl ontwikkelt, verenigt The Viper Club vandaag levende en levendige topmuzikanten musicerend op het hoogste niveau van memorabele jazz van de jaren dertig.
Voor fans van legendarische hotjazz met een fijnzinnige twist.

© Bernard Lefèvre



Musici:
Tcha Limberger (viool, zang)
Jérôme Etcheberry (trompet)
Dave Kelbie (gitaar)
Sebastien Girardot (bas)