The Singing Painters Meet Carver & Horn – The Food Supplement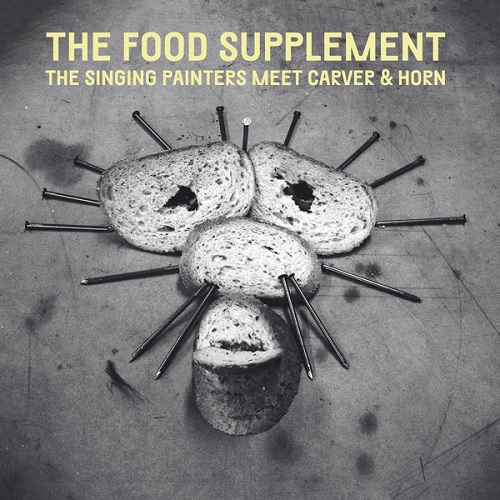 T
el NEGOCITO
Een plaat die tot nu toe niet echt de aandacht kreeg die ze verdiende. Dat het om de registratie gaat van een live improvisatieconcert, heeft daar waarschijnlijk een en ander mee te maken. Voor de liefhebbers nochtans een absolute aanrader.
Het verhaal van The Singing Painters begon twintig jaar geleden met Laura van (vocals), Michaël Borremans (!) op gitaar en Merlyn Paridaen als drummer. Na wat meningsverschillen en personeelswissels werden knopen doorgehakt en ontstond The Singing Painters Meet Carver & Horn met nog steeds Laura van en Merlyn Paridaen, nu in gezelschap van Bart Maris, Peter Jacquemyn en Mathias Van De Wiele.
Op 28 mei 2016 kwamen ze samen in Croxhapox (Gent), lieten alle remmen los en improviseerden voluit. Duidelijk een memorabele avond waarop ze allemaal in topvorm verkeerden. Er wordt constant gedialogeerd en uitgedaagd maar telkens met het besef waar de limiet ligt wanneer het geen zin meer heeft om over een bepaald punt verder te redetwisten.
De openingstrack klinkt alsof de mannen van Monty Python verdwaalden in improvisatieland. Meteen al een heel extreme introductie. Van hieruit gaat het steeds harder en rauwer maar telkens ook met respect en aandacht voor elkaar. Er gebeurt zoveel dat het onmogelijk is om hier alles te beschrijven. Vooral Bart Maris en Mathias Van De Wiele gingen er helemaal voor terwijl de fulminante vocalen van Laura van hartverscheurend weerklinken.
Een amorfe geluidssculptuur en meteen ook een krachtig en provocerend statement volledig volgens de visie van el NEGOCITO.

MUSICI:
Laura van: vocals
Merlyn Paridaen: drums, bells & metals
Bart Maris: trompet
Mathias Van De Wiele: gitaar
Peter Jacquemyn: contrabas

Live: 3 juni Citadelic Festival (Gent)

© Georges Tonla Briquet