The Preacher Men – Blue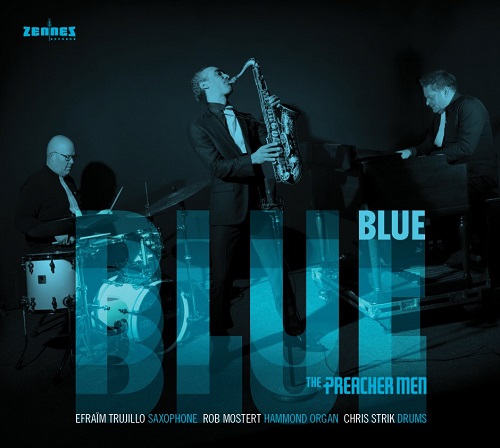 T
ZenneZ Records
The Preacher Men leveren met 'Blue' drie kwartier ongeremde swingende Hammond-grooves af, helemaal gedrenkt in de jazztraditie van de jaren zestig.
Rob Mostert (Hammond), Efraïm Trujillo (saxofoon) en Chris Strik (drums) winden er geen doekjes om. Voor hen waren Jimmy Smith en Jack McDuff maar ook Lou Donaldson en Stanley Turrentine de grote jazzgoden die het vuur aan de lont staken. Zij doen dat op hun beurt aan de hand van acht eigen nummers en een versie van Mal Waldron zijn 'Fire Waltz'.
Van bij de eerste noten is het raak. Pure groovalicious souljazz door de hitsige combinatie van Hammond en saxofoon ondersteund met perfecte drumpatronen. Heel wat parallellen ook met het werk van King Curtis indertijd en dat is als compliment bedoeld.
Tweemaal wordt gas teruggenomen. Met de soulblues 'Into The Blue' vakkundig ingezongen door Eline Gemerts en met trompettist Michael Varekamp die de smachtende sound extra inkleurt door het gebruik van sourdine en ook nog eens met de al even bluesgetinte afsluiter 'The Sweet Memories Of My Childhood'.
Verantwoorde retrotrip naar het gouden tijdperk van Blue Note.




Musici:
Rob Mostert: Hammond
Efraïm Trujillo: saxofoon
Chris Strik: drums

© Georges Tonla Briquet