The Nu Band - In memory of Mark Whitecage, live at the Bopshop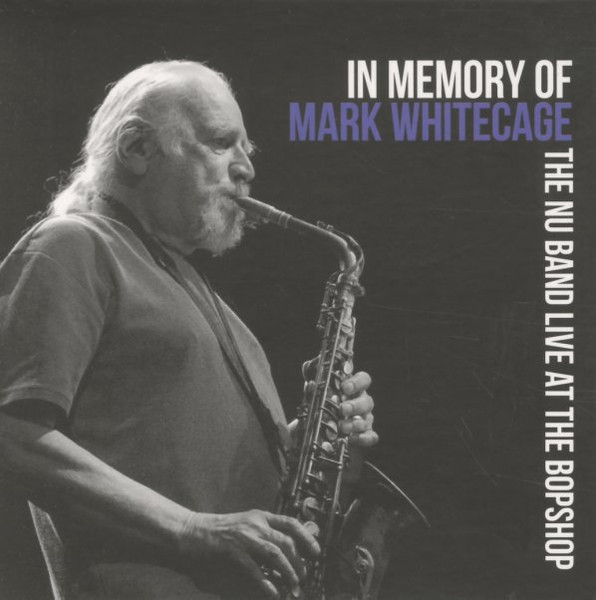 T
NotTwo Records
The Nu Band has been together since 1999 and features compositions from all four members, Mark Whitecage – alto saxophone, clarinet, Diné flute; Thomas Heberer – quarter-tone trumpet; Joe Fonda – bass & flute and Lou Grassi  – drums & percussion.
This live recording, from 2018 at The Bop Shop in Rochester, New York, is released in memory of Mark Whitecage, who left us last year. It begins with "Prayer for the water protectors", his soliloquy for Diné flute, a native American instrument which is joined by didgeridoo type drones and toms to create an atmosphere of rapture.
It's a perfect lead in for "Five o'clock follies"; a tremulous and growling sax intro followed by a bebop swing ensemble and bass solo. The 10 minute track has echoes of Roland Kirk in the pungent ensemble work, great interplay with trumpet, sax, bass and drums.
"One for Roy" has Joe Fonda's bowed bass (with ponticello techniques) combined with Heberer's quarter tone trumpet combining in a multi-textured canvas over which drums and bass lay some expressive lines in the free-est of tempos, evoking the flight of many bumblebees. "The closer you are, the further it gets" is one for musicians and hillclimbers everywhere, a high energy bass solo joined by the band with rubato tempos under unison lines, then the trumpet explores it's sinuous low range before being joined by some furious alto sax.
For "Christophe and Ornette" Whitecage switches to clarinet and Fonda to flute while the drums add rattle and castanet textures and the trumpet plumbs trombone depths with angry vocalisations. After four minutes the bass and drums lay down an infectious groove of lopsided funk, overlaid by some wild free bop lines on sax and trumpet, moving skillfully in and out of ensemble. This really swings adding an irresistible momentum to this nine minute track, enthusiastically applauded by the live audience.
"Minor madness" arrives walking a tightrope between abstract expressionism and danceability - this is a band that can play closely together and freely at the same time and orchestrate their music with apparent telepathy. "Dark dawn in Aurora" is more reflective, minor modes and martial bass and drums recalling Duke Ellington's "Black and tan fantasy", an emotional trumpet solo building to a climax.
With some recordings of free jazz concerts there's a feeling that "you had to be there" but this album translates brilliantly to home listening. Fittingly it finishes with Whitbread blowing up a storm, full of energy and invention to the last flourish.
© Stephen Godsall




Tracklist:
1. Prayer for the Water Protectors (4:03)
2. Five O'Clock Follies (10:23)
3. One for Roy (6:31)
4. The Closer You Are, the Further It Gets (14:17)
5. Christophe and Ornette (9:25)
6. Minor Madness (8:37)
7. Dark Dawn in Aurora (10:27)

Line-up:
Mark Whitecage – alto saxophone, clarinet, Diné flute
Thomas Heberer – quarter-tone trumpet
Joe Fonda – bass & flute
Lou Grassi – drums & percussion

Recorded:
January 18, 2018 at The BopShop in Rochester, NY