The Milk Factory - Aula (ov)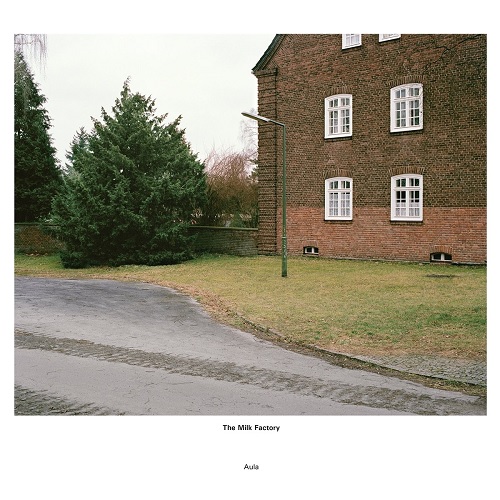 T
W.E.R.F. 163
Het in de Gentse jazzscene ontstane The Milk Factory is het geesteskind van gitarist Edmund Lauret (Nordmann) en pianist Thijs Troch (o.a. Keenroh an Hypochristmutreefuzz). Waar Nordmann en Hypochristmutreefuzz – copypasten is leuk, doch dit terzijde – vrij hevig tekeer kunnen gaan, worden hier miniatuurtjes geschilderd met akoestische gitaar (op deze plaat zowel door Lauret als Troch) en fluitist Jan Daelman in de hoofdrol. De tenorsax van Viktor Perdieus krijgt veel ruis mee wat de dromerige sfeer alleen maar versterkt. Dat dromerige gaat gelukkig hand in hand met richting en daar zit drummer Benjamin Elegheert zeker voor iets tussen.
De erg korte titeltrack halfweg is niettemin een welgekomen intermezzo waar Thijs Troch en bassist Kobe Boon het voortouw mogen nemen. 'Schroom' krijgt dan weer de prijs voor meest toepasselijke titel: bijna een minuut lijkt iets maar niet op gang te willen komen, tot de regelmaat van de drum de nodige zekerheid biedt. In 'Bunny' is het woord dan weer aan de elektrische gitaar die de fakkel doorgeeft aan de tenorsax. Voorbij halfweg barst het nummer zelfs los, maar er zit duidelijk een glazen stolp op. Bij afsluiter 'Papegaai' verwacht je elk moment de stem van Boudewijn De Groot, maar na tien instrumentale tracks is dat vermoedelijk te vergezocht en blijft het een duet tussen de twee gitaren van Lauret en Troch. O ja, ook 'Roundish' en 'Whistle Island' verdienen een vermelding.
Alles bij elkaar zit hier geen enkel ondermaatse compositie in en is 'Aula' bijzonder toegankelijk en geschikt om in deze vreemde tijden met zachte avonden van te genieten, al dan niet met een boek, een glas met iets dat zich het liefst traag laat degusteren. Fans van Schnitzl, Hendrik Lasure Warm Bad, maar ook Radiohead of Mark Knopfler zullen hier eveneens een kluifje aan hebben.
Met 'Aula' is deze band haar volwaardige albumdebuut een feit.
© Olivier Verhelst