The Eric Ineke Jazzxpress featuring Tineke Postma - What Kinda Bird Is This ?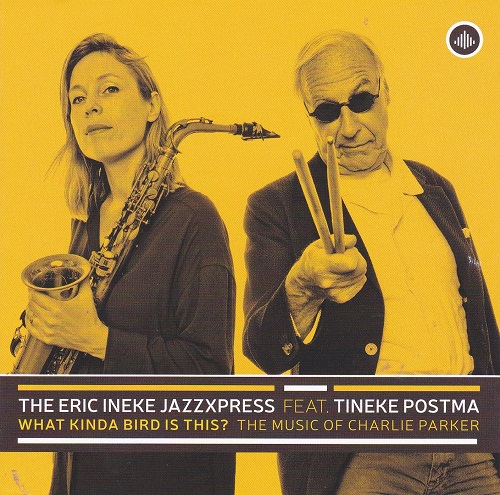 T
Challenge Records
The Music of Charlie Parker
Poser la question à de nombreux musiciens sur leurs influences et sûr que vous aurez le tiercé Monk - Coltrane-Davis en tête dans le désordre. Et pourtant placer Charlie Parker parmi les « outsiders » serait une énorme injustice, une erreur impardonnable même. Il faut toutefois admettre que le centième anniversaire de la naissance du « Bird » (le 28 août 1920) est passé relativement inaperçu…
Si il y a bien un musicien qui a transformé le langage du jazz, c'est bien Parker : les libertés qu'il prenait sur les schémas harmoniques de grands standards dont il éludait le thème – sans doute pour éviter les royalties -, la complexité des improvisations, les inventions rythmiques, la sonorité de l'alto, la profondeur du chant dans les ballades, tout ceci associé à une technique de l'instrument hors du commun a fait de Parker un des créateurs fondamentaux du jazz moderne.
Eric Ineke fait bien partie de ceux qui contribuent au respect de la tradition : avec son « Jazzxpress », il a rendu hommage à Dexter Gordon (« Dexternity »), aux grands ténors (« Let There Be Life Love and Laughter »), aux ballades du répertoire (« Blues, Ballads and Other Bright Moments ») et bien d'autres… Cette fois, c'est à l' « Oiseau » qu'il reprend une grande partie du répertoire de son nouvel album : sept compostions dont certaines peu jouées, comme « Merry Go Round » ou « Bongo Beep », trois thèmes souvent repris par Parker – « Lover Man », « Just Friends » et « Stupendous » - et deux compositions de Marius Beets, le talentueux compositeur et contrebassiste attitré de Eric Ineke, qui sur sa composition « Birdie Num Num » joue le thème à l'unisson avec les souffleurs.
Il fallait aussi trouver le sax-alto qui allait faire prendre la sauce, sans tomber dans le mimétisme voire la surenchère, et là Tineke Postma est bien « the right person at the right place ». Si nous la connaissons surtout ces dernières années pour sa remarquable participation au trio de Nathalie Loriers, Tineke Postma est depuis déjà longtemps reconnues par ses pairs américains comme une des grands saxophonistes d'aujourd'hui.
Petite entorse au line-up habituel de la rythmique du « Jazzexpress », Rob Van Bavel est remplacé par … trois pianistes : Peter Beets, Rein De Graaf et Rob Agerbeek. Et deux souffleurs, le trompettiste Ian Cleaver et le sax-ténor Sjoerd Dijkhuizen complètent la formation à géométrie variable passant du trio (version lyrique de « Lover Man » par Tineke Postma au son plus proche de Konitz que de Parker) au sextet.
Dès les premières mesures, Eric Ineke propulse ses comparses dans le tempo, l'ensemble sonne quelque daté, mais très inspiré et donne du plaisir de la première jusqu'à la dernière note d'un « Au Privave » court mais bon ! Eric Ineke poursuit là son inlassable travail de mémoire du jazz des années 40/50, une mission dont on ne peut que le remercier.
© Jean-Pierre Goffin