The Eric Ineke Jazzxpress featuring Tineke Postma - What Kinda Bird Is This ? (bl)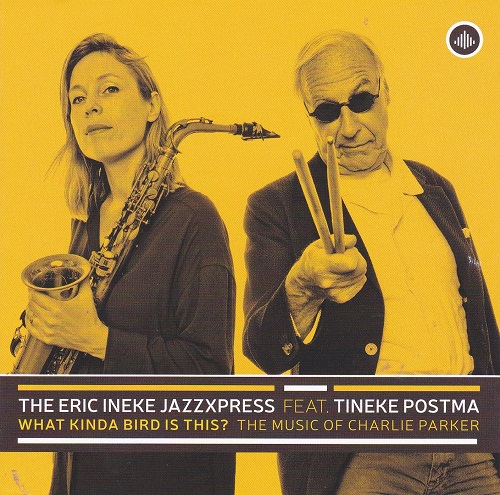 T
Challenge Records
The Music of Charlie Parker
Eric Ineke (73) leidt sinds 2006 zijn bebopkwintet JazzXpress en speelt al 40 jaar drums in het trio van pianist Rein de Graaff (78). Dat trio ging in 2015 op tournee met Tineke Postma (42) waardoor de hoofdrolspelers van dit album met elkaar vertrouwd zijn, maar ook vanuit hun achtergrond zeer doordrongen van de moderne jazz en bebop waar Charlie 'Bird' Parker zijn patent op heeft. Die werd op 29 augustus 2020 honderd jaar geleden in Kansas City geboren.
"Waar een klassiek musicus niet om Bach en Beethoven heen kan, zo kan een jazzmusicus niet om Charlie Parker heen", aldus Ineke. Hoe energiek, melodieus en vooral tijdloos de songs van Bird zijn, bewijst ook speciale gast Tineke Postma, die internationaal weerklank geniet en in dit album glansrijk schittert.
Vaste pianist van JazzXpress Rob van Bavel moest passen voor de opnames en werd vervangen door drie pianisten: Peter Beets, Rein de Graaff en Rob Agerbeek allen zeer vertrouwd met Eric Ineke. Op tenorsaxofoon Sjoerd Dijkhuizen ook bekend van het Metropole Orkest en op bas Marius Beets, beiden vaste waarden in JazzXpress.
En de jongste van de band is de talentvolle Amsterdamse trompettist Ian Cleaver (°1996). In 2016 won hij het prestigieuze Prinses Christina Concours en daarmee ook een studiereis naar New York en een optreden als gastsolist met het Jazz Orchestra van het Concertgebouw.
De titel 'What Kinda Bird Is This?' geeft aan dat het album staat voor een eigengereide selectie, interpretatie en ingrijpende bewerking van het fenomeen Parker. Bovendien kozen ze niet voor de meest populaire, maar eerder minder gespeelde stukken zoals 'Bongo Beep', 'Merry Go Round', 'Steeplechase' en andere uitdagende Parker originals:  'Relaxin' at Camarillo', 'Ah-Leu-Cha', 'Parker's Mood' en 'Au Privave'.
Bassist Marius Beets brengt daarnaast twee eigen composities in: 'Birdie Num Num' geïnspireerd op Parkers 'Confirmation' en 'What Kinda Bird Is This?' met een knipoog naar Parker's 'Moose the Mooche', Cole Porter's 'What Is This Thing Called Love' en Tadd Cameron's 'Hot House'.
En om het helemaal af te ronden lenen ze de door Parker vereeuwigde versies van 'Lover Man' (Jimmy Davis), 'Just Friends' (John Klenner) en 'Stupendous' (Howard McGhee).
Rond Parker's 100 jaar schreef de gerenommeerde musicoloog Lewis Porter dat velen zich vergapen aan de snelle tempo's van bebop. In essentie was bebop een bevrijding van jazz als dansmuziek en kende zowel snelle als erg trage wendingen. Het geniale van Parker was het creëren van muziek die mogelijkheden openhield naar de toekomst. Veel jazz die vandaag modern of hedendaags klinkt is schatplichtig aan Parker.
Eric Ineke verdient alvast een pluim met zijn elan voor het genie Parker, die nu eenmaal niet altijd zo gemakkelijk in het gehoor ligt als Miles. Dit album maakt er een brok aanstekelijke muziek van, zowel uptempo als in de prachtige ballads.
In 'Lover Man' en 'Au Privave' plooit de band terug tot trio met een verbluffend solerende Tineke Postma. Maar even opmerkelijk is de interactie van Tineke Postma met Sjoerd Dijkhuizen en Ian Cleaver in de frontlijn en de stuwende ritmetandem van Eric Ineke en Marius Beets en de telkens heel eigen accenten van de verschillende pianisten.
'What Kinda Bird Is This?' verkent de fascinerende muzikale complexiteit van Charlie 'Bird' Parker in een open benadering op het scherpst van de snee en met een moderne twist. Om met een gevleugelde uitspraak te besluiten: Now's The Time!
© Bernard Lefèvre




Musici:
Eric Ineke (drums)
Tineke Postma (altsax)
Ian Cleaver (trompet)
Sjoerd Dijkhuizen (tenorsax)
Peter Beets, Rein de Graaff & Rob Agerbeek (piano)
Marius Beets (bas)