The Dime Notes - Daylight Savin'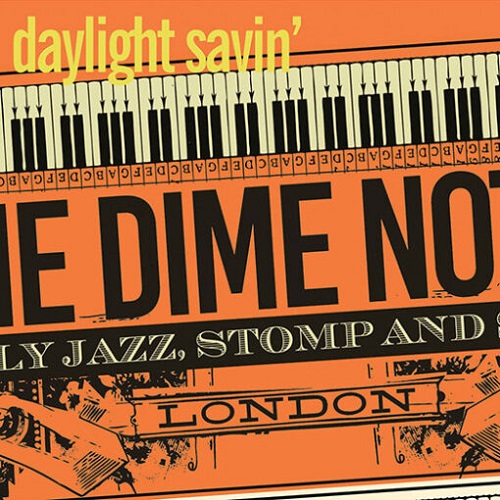 T
Lejazztal Records
David Horniblow en Andrew Oliver realiseerden als duo een hommage aan Jerry Roll Morton (zie HIER) en namen met een zelfde bezieling voor New Orleans jazz van de jaren 20 in kwartet als The Dime Notes het album 'Daylight Savin' op in de Master Chord Studio te Londen in 2018 en 2019.
Ze kregen het gezelschap van de in Londen gevestigde en gewaardeerde gitarist Dave Kelbie (Evan Christopher's Django à la Creole, John Etheridge's Sweet Chorus) en bassist Louis Thomas. Ze nemen de draad verder op van Jerry Roll Morton  in vier tunes ('Grandpa's Spells', 'Fickle Fay Creep', 'Pep', 'Why').
The Dime Notes zoeken het verder in de blues gerelateerde sound van de periode met vintage nummers van Jimmy Noon ('El Rado Scuffle'), Mel Stitzel ('The Chant'), Perry Bradford ('Daylight Savin' Blues'), Jesse Pickett ('The Dream'), James P Johnson ('Worried & Lonesome Blues'), Duke Ellington ('Jubilee Stomp'), McPhail And Michels ('San') en eentje van Andrew Oliver ('Ten Cent Rhythm').
De aanpak van The Dime Notes met groovy jazz van vervlogen tijden die straalt in alle charme van de periode klinkt tijdloos aantrekkelijk. Zet je schrap voor moeilijk te weerstaan authentiek door 'stomp' en blues gedreven vroege jazz.
© Bernard Lefèvre



Musici:
David Horniblow (klarinet)
Andrew Oliver (piano)
Dave Kelbie (gitaar)
Louis Thomas (contrabas)